A story about my last dirt track sponsor, Ace Cycle World
BASIL PROSKIN and ACE CYCLE WORLD
First ten paragraphs by Buzz Walneck, the rest by Dan Schmitt
I had the pleasure of sitting at the same time with a real giant in the motorcycle business the other day at The Chicagoland Motorcycle Racing Legends Brunch." This is an annual event attended by about 100 racers, shop owners and enthusiasts.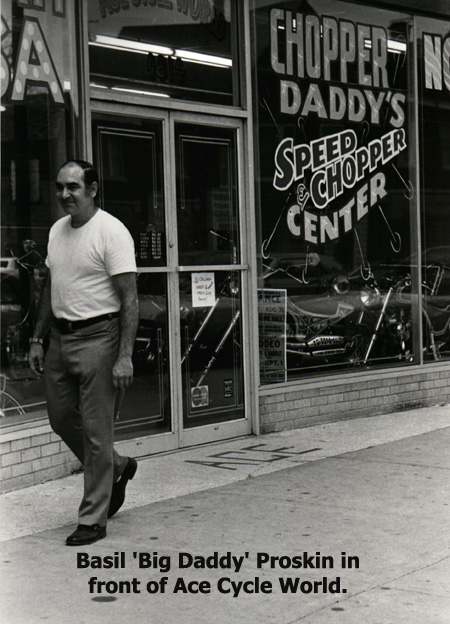 The man next to me, Basil Proskin, opened up a typical motorcycle shop of about 900 square feet to house the shop, showroom, parts department, restroom and office. The year was 1947 and British bikes were the hot item.
Those were the good old days. Basil was a dealer for Velocette, Triumph, BSA, Royal-Enfield, James, Ariel, Norton, Ducati and Moto-Guzzi, and he later took on Honda as well. What a wealth of knowledge Basil is. He is sharp as a tack, funny and remembers so much as to the good and bad of the bikes he handled.
He said that in 1949 a brand-new BSA B33 500 single sold for $895.00 based on the $2.85 British pound. England then devalued the pound to $2.50 to export more goods, and the BSA price dropped to $550.00 U.S. dollars! This was tough on dealers selling imports.
Basil's business started growing, and in 1958 he wound up moving into a 2,000 square foot building with an additional 1,000 square feet in the basement. Not a lot of people were allowed to go downstairs, and there are many Chicago stories of the treasures that lurked down there, or the bike with a bullet hole through the gas tank.
Some customers really like to relate to those old days where floors were dirty. There was a 55-gallon drum near the center of the shop and it was for garbage. Woe to the thoughtless person who threw paper or trash on the floor. Basil would boom out "You animal!"
I was also asked to mention Rosie, who was a pencil sketch of a lady, in the men's room. An occasional beer can could be seen floating around. Basil was known to have his beer after work mostly, but others tell of him taking them for a demo ride down the alley as a passenger when Basil had a little beer in him early. Nobody was allowed to take or try a demo ride before buying a motorcycle, period.
What kind of bike did Basil own? None. He just used whatever trade-in that came in. He has driven so many different makes and models, it boggles the mind.
While telling me these things, he occasionally says things like, "Do you know why a Moto-Guzzi Falcone 500 single, with the horizontal engine, runs backward? The crankshaft flings some oil into the bottom side of the piston for lubrication and cooling." Or he would say, ""What is the worst motorcycle ever made?" and I would say, "Basil, I don't know. What is the worst motorcycle ever made?" His answer was a Norton 400 Electra. The starter motor sounded like a dump truck and when they would start, they vibrated so badly that the factory came out with a fix by sending two metal bars to attach to the motor and then up to the frame.
Ace cycle World kind of sponsored some riders as their racing team. Basil referred to them as his "Horizontal Riders," as they were always falling down.
In the early 1960's Ace Cycle World expanded to become the largest motorcycle dealer in the Midwest. A modern showroom of six thousand square feet had over one hundred motorcycles on display. Besides being one of the greatest Honda dealers in the USA, Ace led the region in BSA, Norton, MotoGuzzi and Ducati sales. Right behind the showroom was the Parts Department, equally as large, with tens of thousands of parts stacked floor to ceiling. Next door, the Service Department was one and one-half times as large with ten to fifteen full time mechanics.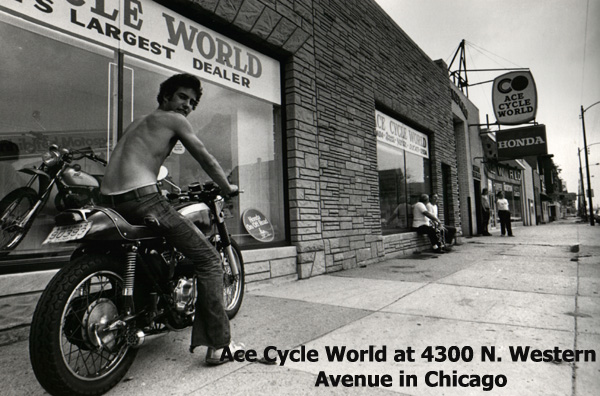 VonEsser joined 'Shaboogie' (Schaumburg) as the one-two salemen. Warren White moved up to run the organized parts department and Jack became the service manager. Basil just let these three departments compete for the 'top dollar achievement' every month.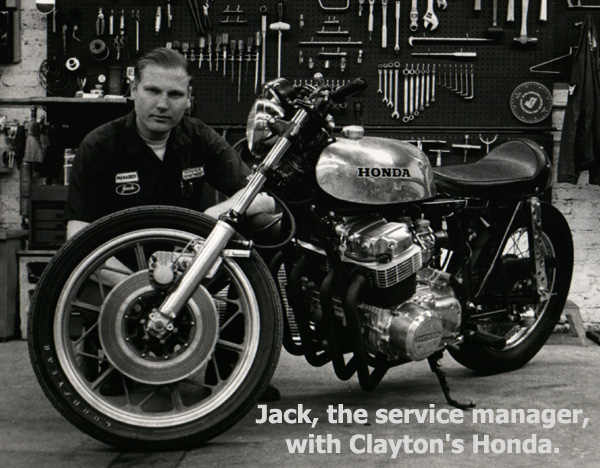 It was the service department that had the most action with the largest number of employees. Across from Jack was Ronny, the assistant service manager, next to him was either Willie 'the missing' Link, who raced Ducatis, Jimmy Woods, Tracy and Carl Rutheford, three flat trackers. Not all at one time, but they worked there. Next to Jack was Jim Bowling and then Dancin' Dan. In the next room over, it was Hud, VanSkyke and Larry Pfrenger, who was replaced by Jake. Another ten to fifteen mechanics worked at Ace over this twenty year span, too many to name. Next door to that was the warehouse where mechanic trainees uncrated the new bikes and got them ready for delivery. They had a spray booth where Robert VanSkike did custom paint jobs and stored his Corvette.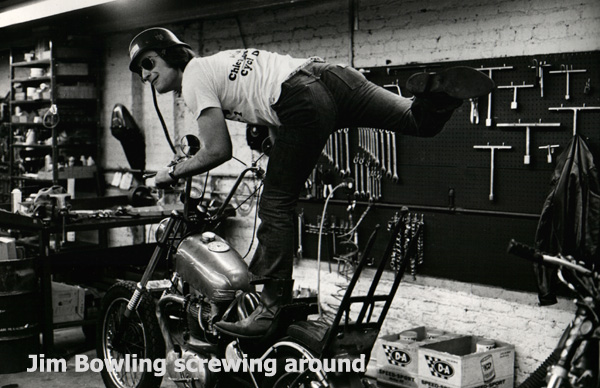 The annual Christmas party was beyond comparison. A beer tapper was in back with five-cent beers and the latest XXX rated video was playing on one of the early VCRs. What a way to celebrate the holidays! Later, when Basil's sons were older and had a band, they joined Joe Charles and some of the other mechanics to play rock'n roll and blues music well into the night. This was one of the greatest draws for the loyal customers. The Christmas parties over the years produced some of the greatest live music I ever witnessed. Robert, Jake, young Bobby, etc, the list goes on. These moments will live forever in the memories of those who were there.
But then, that was it, Ace closed down for the month of January. Everyone got a month's vacation. Basil handed out the vacation checks before he locked up the door. Additionally, it should be mentioned, his employees shared in a profit sharing pension plan.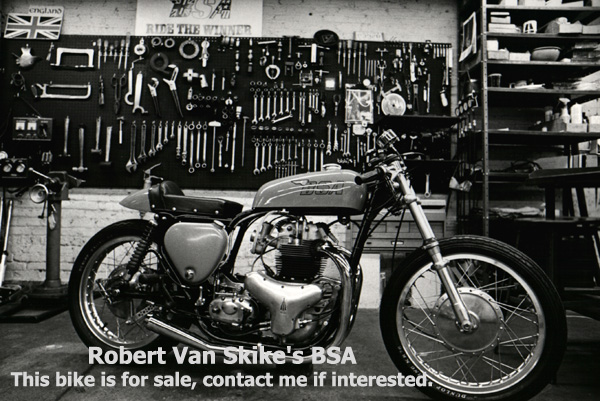 In 1974, Tom Prassas, Jack's brother-in-law, joined the crew and was instrumental in the launch of Basil's new product, MAXUM 75. After Basil bartered for the design of this cable lock from John Gunther, Tom began to set up the machinery to manufacture the lock in the warehouse. A 1920's one-hundred ton press was used to press the ends of the cable, a hydraulic snipper cut the cable and a pneumatic tool finished the product. With the design of the STOP package, the product was introduced to the public in 1975. It was a big success with motorcycle distributors lining up for delivery and Sears signing a contract for a huge commitment.
Ace Cycle World sold hundreds of bikes, on a good Saturday, they nearly reached the one-hundred mark. And this was a cash only business, they didn't take checks. Financing was hard to come by from banks and credit cards did not exist.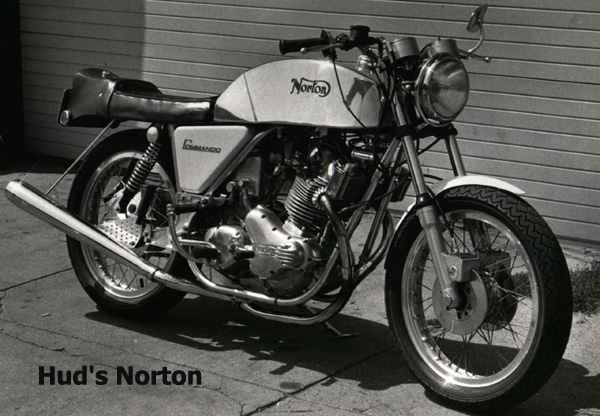 A few riders revved up their new bikes in front, dropped the clutch and ended up on the porches of the houses across Western Avenue. One poor soul wheeled out of the driveway and ended up under a CTA bus. That pressed frame SL90 was really pressed. All in all, most customers survived and came back for bigger and better motorcycles.
After building one of the largest motorcycle dealers in the nation and creating a hot selling cable lock, Basil looked around for another market to conquer. He went to Missouri to buy some land, run some farms and invest in a grain elevator. Whereas in Chicago, a handshake is a man's bond, his partners in Missouri were scheming, worthless, --it eating rascals. Besides this problem, he left the management of Ace Cycle World to his two sons. They had their own problems and did not have the fortitude of their father. With two brush fires raging in two states, Basil threw in the towel and took an early retirement.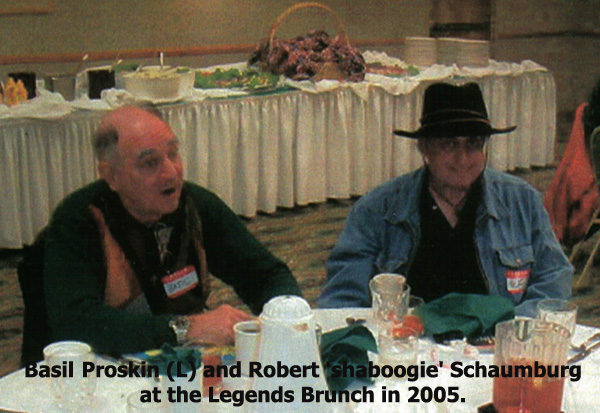 An era ended on Western Ave in Chicago on January 10, 1987. A time of motorcycle sales, parts sold and bikes repaired passed. Great friends lost a truly remarkable location for telling tales, bench racing and great deeds done. But maybe in hindsight, it was a blessing. With the over management of business practice by the manufacturers, lawsuits from idiotic customers and regulation from over zealous government bodies, the motorcycle business has changed and the fun filled, casual days of old are gone forever.
Black and White Photos by Robert Van Skike