Vesrah Suzuki wins first Dunlop/WERA National Endurance 6-Hour at Jennings GP.
Jennings GP Roadcourse, Jennings, FL
March 26, 2005 by Dan Schmitt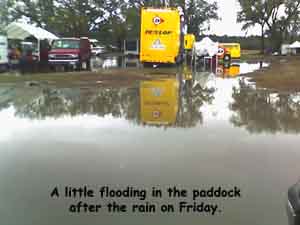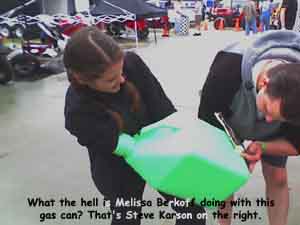 The weather presented the greatest challenge to the forty-nine teams at the first round of the Dunlop/WERA National Endurance Series at this beautiful motorcycle only roadcourse in northern Florida. After a flooding rain in the morning, the sun finally came out to dry the track, but twenty minutes before the official start, the sky opened up with golf ball size hail and more rain. As scheduled, the green flag flew at 11:30 a.m., and Tray Batey took the early lead on the Vesrah Suzuki GSXR-1000. Dixie Mafia's Derek Keyes charged to second on the Suzuki 600 with Army of Darkness' Ben Walter and Team Xtreme/Maxxis's Billy Etheridge battling for third. These teams were on 'rain tires' along with eight other teams. The action came to an end when Backmarker Racing dropped their SV in turn ten bring out the red flag and medical removal.
As I build a new team this year, Alan Cottingen was called up to ride with Team Chicago. Alan did not roadrace last year, but the last time I saw him race at Road Atlanta, he was a jet. At this race, with the wet track and my threats to 'kill him if he crashed the bike' might have been the reason he started out so slow. We were pretty far back for the restart.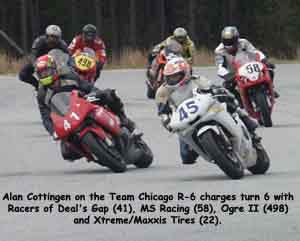 During the 'down time' the sun dried the track. With the green flag again, and running on a dry track, Rubin Frankenfield on the Team Velocity R-1 took the lead when Vesrah pitted for slicks. Yamaha R-6 mounted Red Star charged to the front with Team Eclipse. As the second hour ended, Vesrah Suzuki regained the lead with Army of Darkness second.

During the third hour, a rain cloud appeared over the track, first dousing the backside of the track and then wetting the front. Some teams returned to the pits for 'rains', some stayed out with their DOT's. The SuperBike teams made the needed pit stops and began to pull away. At the end of the third hour, Vesrah Suzuki took a two-lap advantage over Army, and Red Star held a lap over Four Feathers Racing, the leading Middleweight SuperStock team. Bell's Suzuki took fifth with Team Velocity sixth.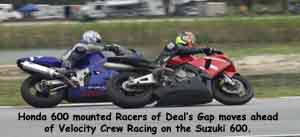 Chuck Ivey was on the move during the fourth hour on the Team Velocity R-1 as he grabbed second. Dixie Mafia on the Suzuki GSXR-600 moved to fifth as Need a Sponsor snatched eighth from Velocity Crew Racing. Vesrah Suzuki continued to lead with a three-lap advantage.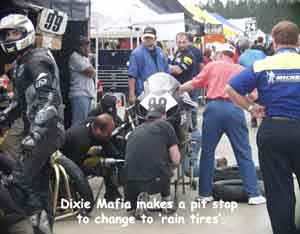 With some quick pit stops, Army regained second as their teammates, Dixie Mafia, moved to fourth during the fifth hour. The battle in the Lightweight SuperBike class heated up as Ghetto Customs moved to within one lap of the class leader, Collegiate Bookstores.

As the checkered flag flew at 5:30, Vesrah Suzuki took their first overall win of the 2005 season with a six-lap advantage over Army. Fifty-eight seconds back came Team Velocity with Red Star fourth. Dixie Mafia rounded out the top five. About their victory, Mark Junge stated, "Last year, we had a rough start of the season, so it's great to win the first race. We have a new crew chief, Tony Pogue, and everything went just perfect today."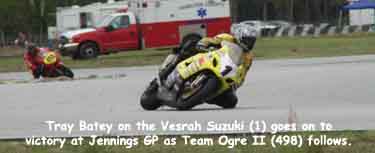 This was not a great race for Team Chicago. I rode a few tenths faster than last year, but not quick enough. The bike ran flawlessly, but I could not depend on anyone in the pits to help change to 'rain tires' quickly, so when it began to rain during the third hour, I just stayed out there on 'Dots'. Things will be different at the Autobahn Country Club in Joliet, Illinois on May 7th.
RESULTS:
Overall:
1.Vesrah Suzuki, Suz 1000, 2. Army of Darkness, Suz 600, 3. Team Velocity Racing, Yam 1000, 4. Red Star, Yam 600, 5. Dixie Mafia, Suz 600, 6. Four Feathers Racing, Yam 600, 7. Bell's Suzuki II, Suz 600, 8. Velocity Crew Racing, Suz 600, 9. Need A Sponsor, Yam 600, 10 Racers' of Deal's Gap, Hon 600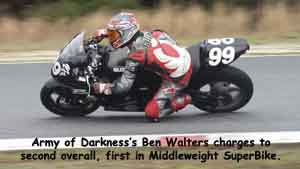 By
Class:
HSB: 1. Vesrah Suzuki, 2. Racers' of Deal's Gap, 3. Team HMR, Honda 954
HSS: 1. Team Velocity Racing, 2. Team Eclipse, Suz 750, 3. 5150 Racing, Suz 750
MSB: 1. Army of Darkness, 2. Red Star, 3.Bell's Suzuki II
MSS: 1. Dixie Mafia, 2. Four Feathers Racing, 3. Need A Sponsor
LSB: 1. Collegiate Bookstores, Suz 650, 2. Ghetto Customs, Suz 650, 3. Deals Gap Racing, Suz 650.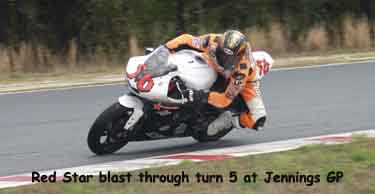 PHOTOS by PHOTO ONE, Brian Durso
www.jenningsgp.com 352-584-0696