TODAY is March 11, 2014
WELCOME TO THE TEAM CHICAGO WEBSITE
NOW IS THE TIME TO GET YOUR APPLICATION IN FOR THE 2014 SCHOOL Just click on the link below to down load the application, mail it in and get ready for the best time of your life.
2014 ROADRACING SCHOOL APPLICATION
INSTRUCTORS: Please get signed up soon so I can begin to organize the groups...
I will still produce the TV show and race a few events this year. I will try to print a schedule so you can come out to a race and hang around.
I will continue to update this website. I intend to complete the list of TV shows produced over the years. If you haven't been there, click on TELEVISION above and see the hundreds of shows produced by TEAM CHICAGO.
UPDATED: March 11, 2014
LIST of Pre-Entered STUDENTS FOR THE 2014 Roadracing School
As you may have read or heard, I did not win the campaign for the Illinois 5th U.S. House Seat. I am keeping that website and I will be writing political opinions. Please visit the website often: www.walkwithdan.com.

Starting March, 2012, Team Chicago on YouTube

Click to link below show title
2011 Grattan/Team Chicago School
WERA NATIONAL MILLER 2011
2012 Oshkosh Winterfest
2011 EAA AirVenture
2010 Cadillac Dirt-track Action
2009 WERA National Grattan Raceway
1999 WERA National Talladega GP
DON'T FORGET TO LOOK HERE FOR THE SCHOOL!
CLICK ON YOU TUBE TO SEE LIST OF SHOW NOW ON THAT SITE.
After April 10th, 2013
GRADUATES FROM PREVIOUS SCHOOLS:
2011 list of graduates with updates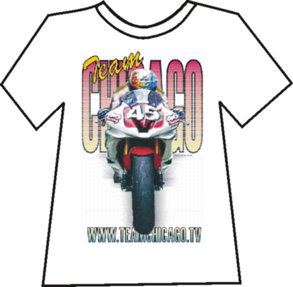 TEAM CHICAGO T-SHIRTS,
CHICAGO T-SHIRTS, DVD and Videos and Ordering Info.
THIS WILL BE UPDATED SOON PLEASE COME BACK FOR EASY ORDER INSTRUCTIONS
POLITICAL SHIRTS WILL BE INCLUDED AT THIS PAGE
AMERICAN MADE SHIRTS AVAILABLE AT A SMALL INCREASE IN PRICE.
THE JACK PINE ENDURANCE DVD is done and looks great!!!! 56 minutes of rare, off-road footage from the old days.....
WATCH FOR THE SCREENPLAY written by Dan Schmitt in 1976. This screenplay is a story about a motorcycle racer traveling the National Circuit. Click here for "NATIONAL"

The entire screenplay is up. Please let me know what you think of my story. Are you interested in making a movie, just call.....