DUNLOP/WERA National Endurance Series Round 2
Autobahn Country Club, Joliet, Illinois
May 7, 2005 by Dan Schmitt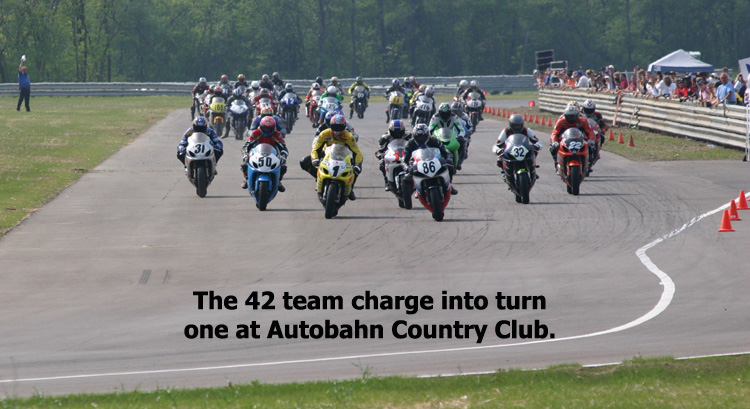 For the second round of the 2005 season, WERA was invited to bring this action packed DUNLOP National Endurance race to the privately owned Autobahn Country Club located a few miles west of the NASCAR track in Joliet. For me, this was great, just forty-five miles southwest of downtown Chicago.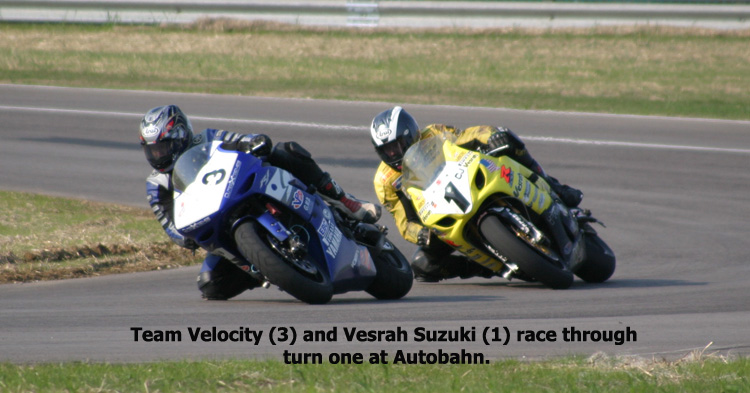 Joining Team Chicago at this venue was Boyd Bruner. Besides being one of Chicagolandís fastest roadracers, Boyd has a personality as wide as his smile. Boyd got started in roadracing after watching Team Chicago Challenge on TV every Wednesday night on Channel 19 at 7:30 PM. Alan Cottingim also traveled down from Wisconsin to race with us.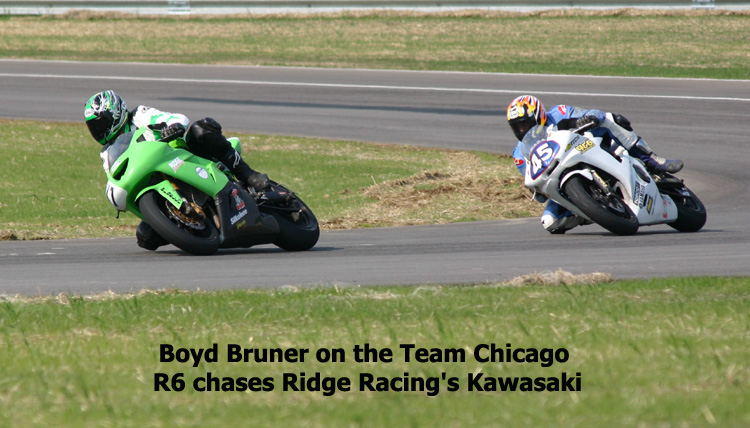 Forty-two teams made the trek to Chicagoland to challenge this two-mile roadcourse. The weather was perfect for an endurance race with the sun shinning, and the temperature in the mid-seventies. When Chuck threw the green flag at 1:00 PM, Tray Batey on the Vesrah Suzuki stole the lead from Army of Darkness, Red Star, Team Velocity and a fast moving Bellís Suzuki. On the second lap, Roger Bell moved to second, Red Star third and Velocity fourth. Because of our sad showing at the first race, Boyd had to start from the second wave. After a few laps, he move the 4 & 6 prepared, Yamaha Dealers, Team Chicago Yamaha R6 to sixteenth. Army of Darkness did not come around on the sixth lap, so they went to their back-up bike. It seems they dropped a valve on the ĎAí bike.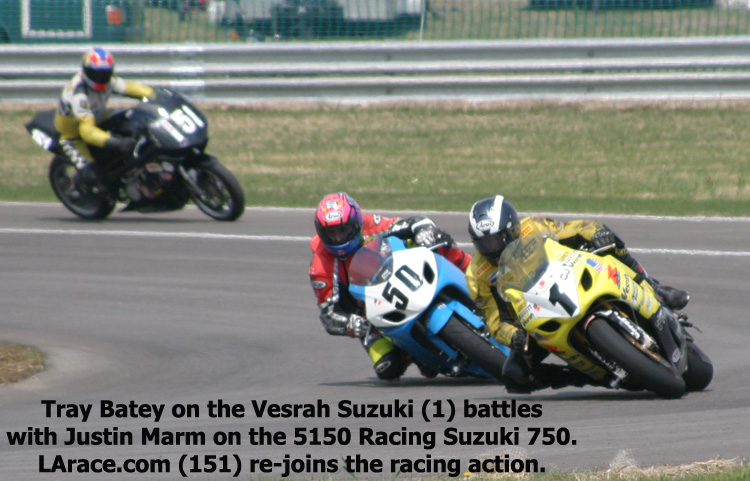 I took over during the second hour. This was my first time at Autobahn, but I used every practice on Friday to bring up my speed. Steve Karson, now riding for SMP Racing, got by me and I picked up a tow. Vesrah continued to lead with Yamaha mounted Red Star in second and a fast moving Team Eclipse charged to third. I gained a couple of spots to fourteenth as the red flag came out a few minutes after the halfway point. This brought everyone back to the pits as the safety crew began to clean the oil in turn ten. It seems that Checkout Racing blew an engine.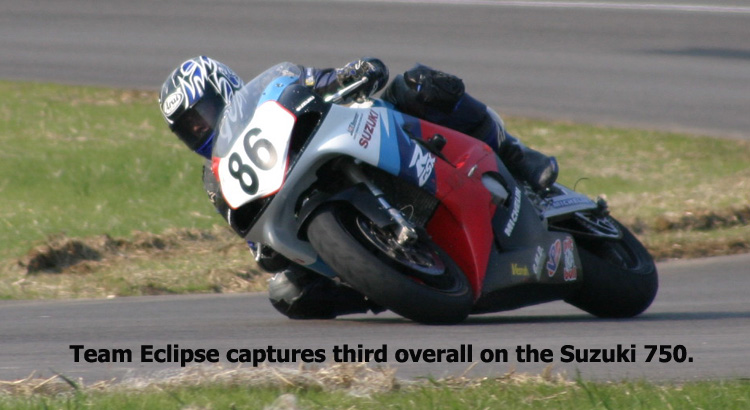 750 Suzuki mounted Team Eclipse took the lead off the restart, followed by Vesrah Suzuki, Red Star and 5150 Racing. Eclipse was two laps down, so John Jacobi on the Vesrah Suzuki 1000 took it easy, looking for the signal to pit. Royalty Racing and Ed Bargy RS Endurance took fifth and sixth. Boyd ran three laps and then came in for fuel. He was now ready to charge to twelfth, although he ran off the track in turn five during the third hour.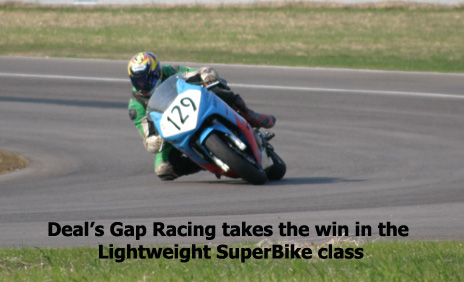 Vesrah Suzuki continued up front, building their lead by four laps. Red Star and Team Eclipse battled for second as 5160 and Royalty went back and forth for fourth overall. Boyd turned the Team Chicago R6 to Alan, but the bike was faltering. It would not rev over 10,000. Maybe the off track adventures of Boyd caused the positive lead to loosen, causing the ignition to cut out. It was up to Alan to nurse the bike home. Steve Karson and Phil Caudill took the SMP Yamaha to eighth.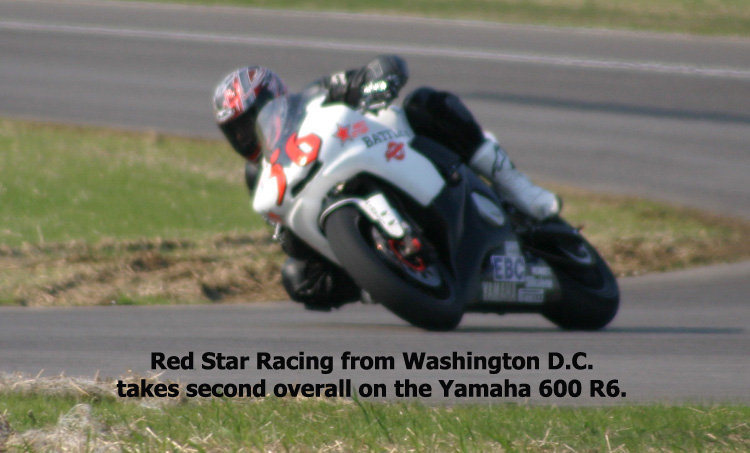 As the checked flag flew, Vesrah Suzuki took their second win of the year. Vesrahís Tray Batey stated, ďThis track is a lot of fun, the real challenge is the way the corners are laid out, there are some fast corners that you canít see around, you have to be where you need to be. It is hard to be perfect, so you are always looking for that next lap.Ē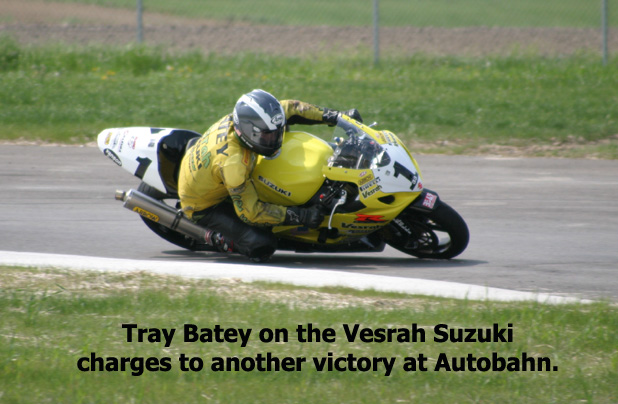 We did much better than the race at Jennings, Florida. Boydís help really paid off as we moved up in the class points and the overall.
RESULTS: OVERALL
Vesrah Suzuki, Suz 1000, 2. Red Star, Yam 600, 3. Team Eclipse, Suz 750, 4. Royalty Racing, Suz 600, 5. 5150 Racing, Suz 750, 6. Ed Bargy RS Endurance, Suz 750, 7. Bellís ARNCHU Racing, Suz 750, 8. SMP Racing, Yam 600, 9. Team Velocity, Yam 1000, 10. Team Xtreme/Maxxis, Suz 750
RESULTS: By Class
HS/bk: 1 Vesrah Suzuki, 2. Ed Bargy RS Endurance, 3. Team Xtreme/Maxxis
HS/stk: 1. Team Eclipse, 2. 5150 Racing, 3. Bellís ARNCHU Racing
MS/bk: 1. Red Star, 2. SMP Racing, 3. Velocity Crew Racing
MS/stk: 1. Royalty Racing, 2. Dalke Motorsports, 3. Four Feathers Racing, 4. Need A Sponsor, 5. Team Chicago.
LS/bk: 1. Dealís Gap Racing, 2. Ghetto Customs, 3. Blue Ridge Performance
Photos 1 & 3 by Sean McNamara
The rest of the photos are by Gordon Lunde