WERA/BRIDGESTONE NATIONAL ENDURANCE SERIES, ROUND 1
Jennings, G.P., Jennings, FL
March 25, 2006 by Dan Schmitt
Before you know it, the 2006 season arrives and whether or not you are totally ready, you have to go race. With the problems with the 2006 Yamaha R6, I decided to wait and see what was going to be the solution before I receive the new Yamaha for Team Chicago. We will start the season with our re-build 2004 Yamaha R6.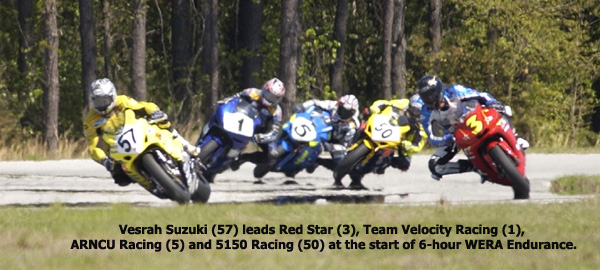 I headed out on Thursday morning (March 23rd) to take a leisurely trip to Florida. This year, my grandson, Brandon Griffith, has committed to race the entire series. I call Joe Ball to join us so I could have extra time to shoot extra video footage.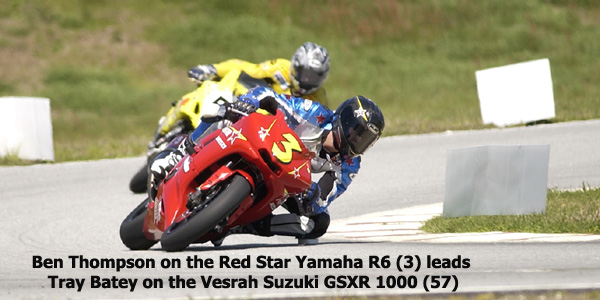 The weather was perfect and practice went well on Friday. Saturday morning went well and we were ready for the race that would start at 11:20 AM. It was a wonderful day for a motorcycle race in northern Florida as the WERA National Endurance Series kicked off with forty-seven teams taking the green flag. Ben Thompson on the Red Star Yamaha R6 snatched the lead from Tray Batey on the Vesrah Suzuki 1000 on the third lap. Justin Marm took the 5150 Racing GSXR1000 to third. ARNCHU Racing, Dalke Motorsports, Team Velocity Racing and Team Maxxis Racing followed. Suzuki SV mounted Deals Gap Racing led Blue Ridge Performance on the brand new Kawasaki 650 twin in the Lightweight SuperBike class. Joe took the start wearing an extra helmet camera and I think this slowed him down.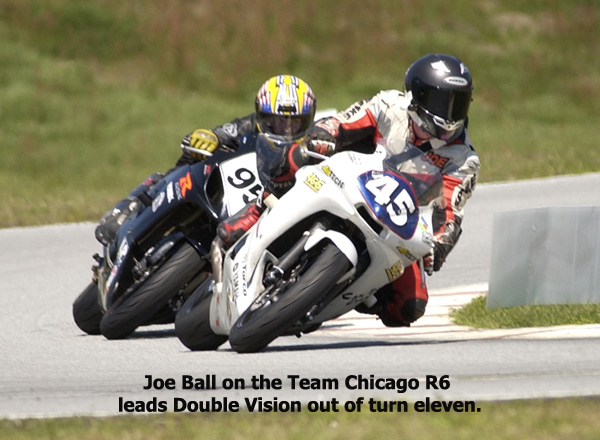 Forty-five minutes in and ARNCHU Racing crashed, another bike blew its engine and the red flag flew. I ran pretty well in practice on Friday, so I decided to take the restart. Red Star led the restart but went down in turn seven. Vesrah Suzuki took the lead as Thompson headed back to the pits to re-tech. Vesrah and Team Velocity ran up front as Dalke Motorsports and Triple R Racing battled for supremacy in the Middleweight SuperStock class. Ghetto Customs moved up to create a three-way contest in the Lightweight class, getting by Blue Ridge and charging after Deals Gap. I ran a few good laps and came back in the pits to refuel. This pit stop went perfectly and I was out again.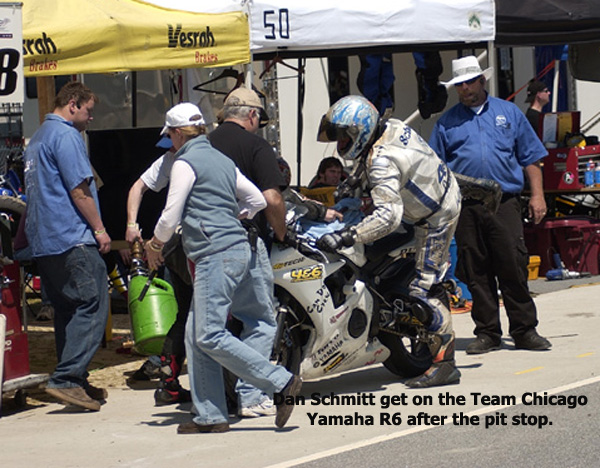 Another red flag flew. Richard Koeing crashed the Team Chicken Aprilia 250 in turn eleven and knocked himself out. This again brought the racing action to a pause as he was airlifted. The teams lined up of another restart. I guess I helped to move us up, because this time, the Team Chicago R6 was staged in the second wave. I got a great start, lead the second wave into the first corner and started catching the first wave, passing a few bikes in the process. Red Star charged off the line, leading the race, but running second overall, one lap down on Vesrah. 5150 was hot on the heels of Team Velocity, looking to take the lead in the Heavyweight SuperStock class. Deals Gap, Ghetto and Blue Ridge ran a tight pack providing some entertaining action. At the halfway point, it was Vesrah, Red Star, Team Velocity, 5150, Dalke, Triple R, Wizard Racing, Wikle Racing, Ed Bargy and TVR II making up the top ten. Team Chicago moved up to 26th overall.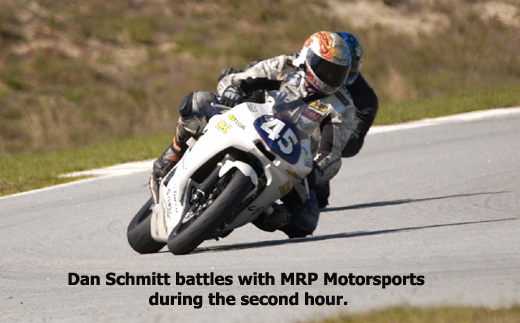 I came back into the pits as the fuel ran low and turned the bike over to Brandon. He ran an entire hour, making one re-start, due to another red flag. During Brandonís time on the bike, he dropped his lap times down to 1:35ís, from the 1:38ís he ran in practice.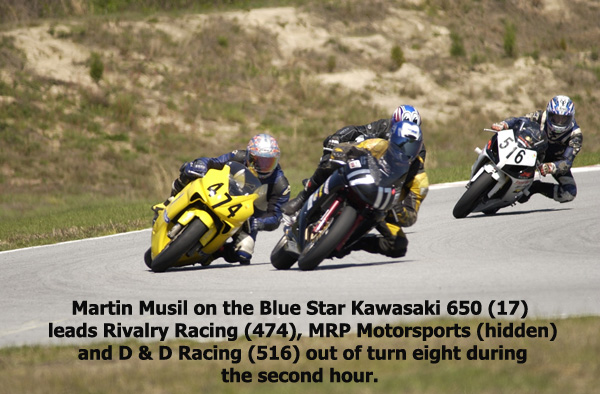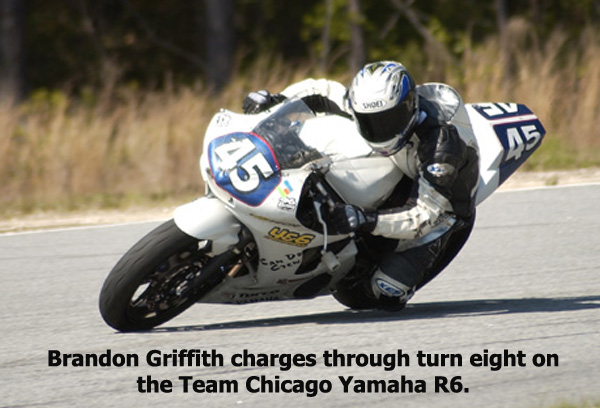 Another red flag came out and the teams returned to the pits again. With about one-hour and ten minutes left in the race, Joe took the fourth restart of the day.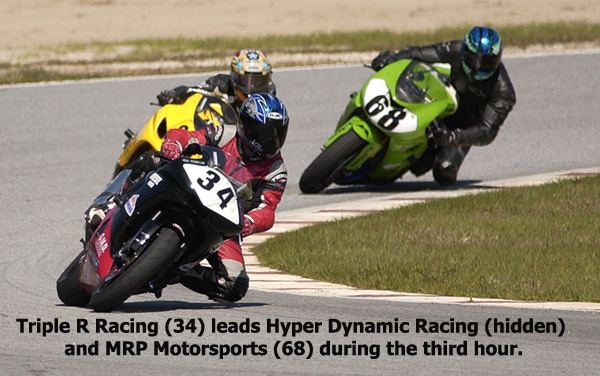 Vesrah enjoyed their one-lap advantage over a charging Red Star. Dalke and Triple R were neck-in-neck. 5150 gained a lap over Team Velocity. Neighbor of the Beast on a Suzuki SV moved up to challenge Blue Ridge on that new Kawasaki twin.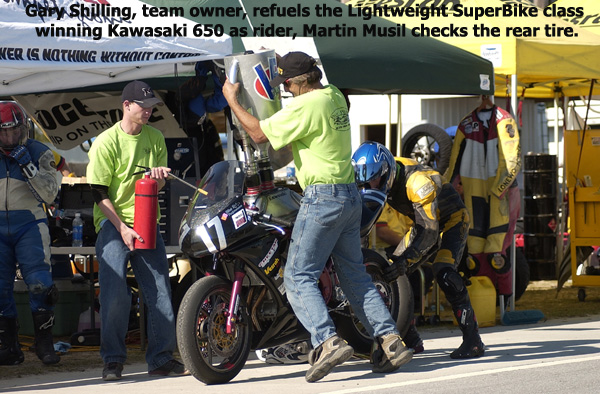 Then Crooked River crashed their Ducati 998 in turn one and the red flag flew a fifth time. The WERA crew quickly got everything cleaned up and with exactly thirty-one minutes on the clock, the forty-three running teams charged into turn one, looking at a knock-down, drag-out sprint to the end. I decided to run this final thirty minutes to get some more great video footage.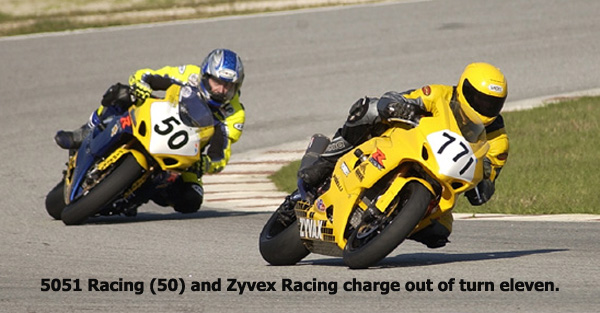 Red Star was flying but they had to make up a lap to catch Vesrah. 5150 gained another lap on Velocity and Triple R finally got by Dalke. Blue Ridge put a lap on Neighbor, looking for the first Ďnational winí for the Kawasaki 650. Honda mounted Team HMR and two of the Wizard Racing bikes maintained their top ten standing to the end.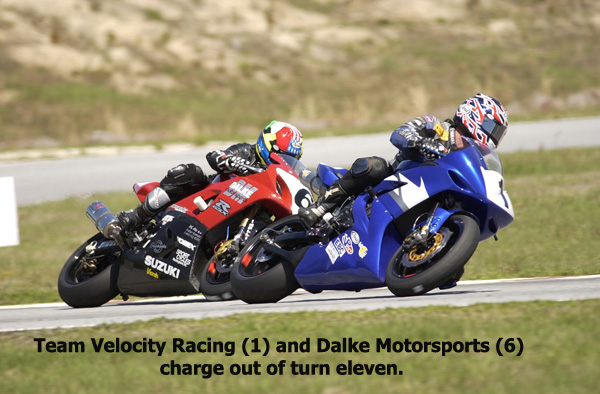 With the checkered flag flying at 5:20 PM, Vesrah took their first victory of the 2006 season. Running an impressive second overall, Red Starís William Lindsay stated, ďOur plan was accomplished by running faster laps than anyone else and by running Dunlops. We only had to make one rear tire change; the front went the entire race. We lost two laps with the crash, and almost made it all back up.Ē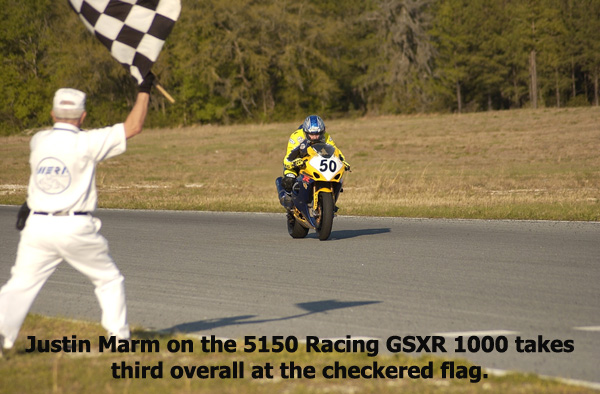 We finished mid-pack, sixth in class. No one crashed and the Yamaha R6 ran perfectly. I have to thank Ed Hilton and Jim Rashid at 4 & 6 Performance in Skokie. Ed rebuilt the engine and Jim rebuilt the front forks. Reed at DesPlaines Yamaha got the parts I need in time. Not a great start of the season, but Iíll take it. Brandon can only get faster and I was two seconds faster at Jennings than ever before.
RESULTS:
OVERALL:
1. Vesrah Suzuki, Suz 1000, 2. Red Star, Yam 600, 3. 5150 Racing, Suz 1000, 4. Team Velocity Racing, Yam 1000, 5. TVR II, Yam 600, 6. Triple R Racing, Yam 600, 7. Dalke Motorsports, Suz 600, 8. Wizard Racing, Suz 1000, 9. Team HMR, Hon 600, 10. Wizard Racing II, Suz 600.
BY CLASS:
HSB: 1. Vesrah Suzuki, Suz, 2. Wizard Racing, Suz, 3. Ed Bargy RS Endurance, Suz
HSS: 1. 5150 Racing, Suz, 2. Team Velocity, Yam, 3. Zyvax, Yam
MSB: 1. Red Star, Yam, 2. TVR II, Yam, 3 Wizard Racing III, Suz
MSS: 1. Triple R Racing, Yam, 2. Dalke Motorsports, Suz, 3 Team HMR, Hon.
LSB: 1. Blue Ridge Performance, Kaw, 2. Neighbor of the Beast, Suz, 3. Ghetto Customs, Suz.
PHOTO by Mirror Images, Ken Gossom
www.mymirrorinages.photoreflect.com