DUNLOP/WERA National Endurance Series, Round 5
Las Vegas Motor Speedway, Las Vegas, Nevada
June 25, 2005 by Dan Schmitt
The racers of the Dunlop/WERA National Endurance Series received a break in the weather, as temperatures at Las Vegas Motor Speedway hovered in the mid-nineties for the fifth round of this series. A dry easterly breeze came across this 1.75 mile roadcourse as the green flag flew at 12:30. Tray Batey on the Vesrah Suzuki overcame the holeshot of Ben Thompson on the Red Star Yamaha R6. Team Velocity Racing, Advanced Kawasaki and Team Eclipse battled for third during the opening laps. Batey continued his charge during the first hour gaining an one-lap advantage over Team Velocity and Red Star.
Boyd Bruner flew out to join Team Chicago for this race. It was great having a real go-fast riding with me. Boyd took the start and ran in the top ten. I had an extra battery to cover the electrical problem we experienced at Willow.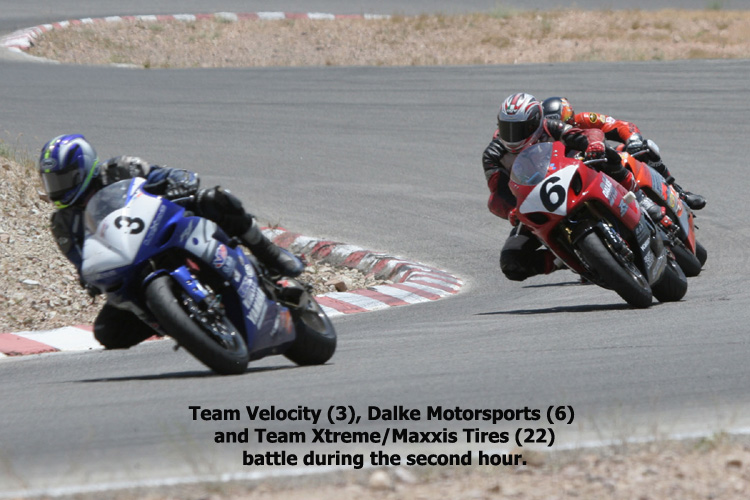 Eighty-five minutes into the race and after a quick pit-stop, changing both tires and refueling, Batey turned the Vesrah Suzuki over to John Jacobi. But after a few laps, Jacobi had a problem on the back stretch as the engine died. Quickly, John began the long push back toward the pits as Red Star took the lead with Team Velocity second. Dalke Motorsports was on the charge to third overall and first in the Middleweight SuperStock class. One lap back the battle for fourth heated up between Advanced Kawasaki, Bellís ARNCHU Racing and Dixie Mafia. Blue Ridge Performance on the 4 & 6 Racing SV 650 had a lock on the Lightweight SuperBike class, running thirteenth overall.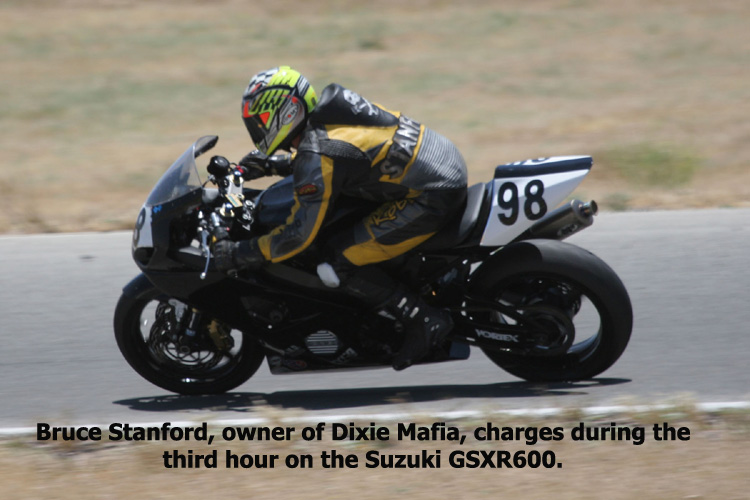 With ninety minutes to go, Vesrah Suzuki had another problem. This time the bike died across from the pits with Mark Junge on board. Mark wanted to push it across the track, but the officials made him wait for the track truck. As Team Velocity gained fifty-five seconds over Red Star for the lead, the Vesrah crew was busy changing the gas tank. The first time they stopped, it was only a fuse; this time the fuel pump gave out. Dixie Mafia made the big push to fifth overall and grabbed the lead in the Middleweight SuperStock class. Blue Ridge Performance held a two-lap lead over MS Racing II.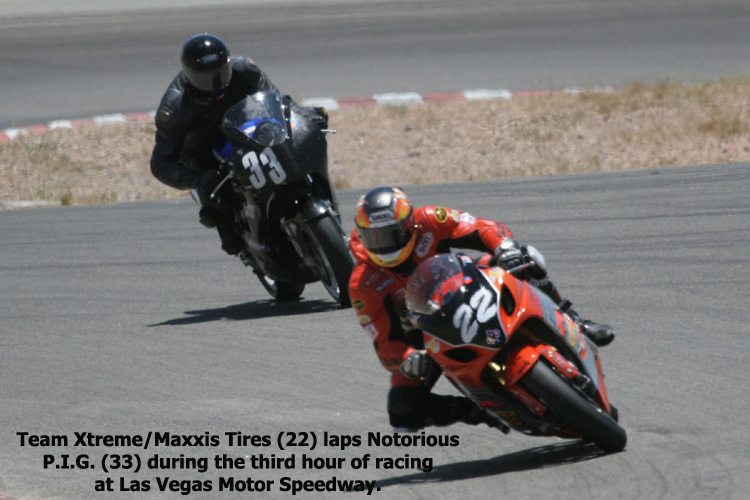 Well, I thought I had the battery problem covered, but I was charging the backup battery with a Battery Tender, and it was just not enough. During the final hour, with me on the track, the bike again began to run slowly. I stayed out as long as possible, but finally got red flagged. Not a good finish, but we did gain some valuable points.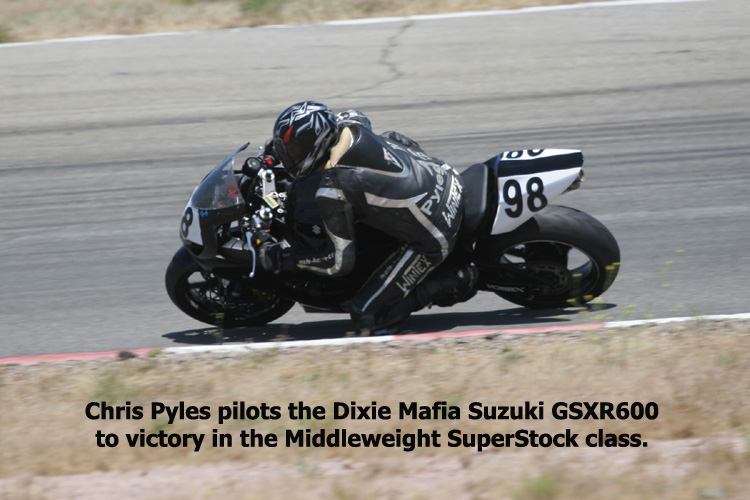 During the final hour, Red Star lost their engine and was out of the race. Advanced Kawasaki made the big push to catch Team Velocity for the overall and Heavyweight SuperStock victories, but could not make up the two-lap disadvantage. With steady riding, Bellís ARNCHU Racing took third overall and the Heavyweight SuperBIke win. The two teammates, Army of Darkness and Dixie Mafia, ran the last twenty laps together and took home both the Middleweight SuperBike and SuperStock wins. Owner and rider of the victorious Team Velocity Racing Yamaha R1, Chuck Ivey stated after the race, ďThe key to our success is putting ourselves in the position to win. Seeing that we are on a SuperStock bike with that classís restrictions, we have to ride hard, we try to make no mistakes and we try to ride consistent, just doing it right.Ē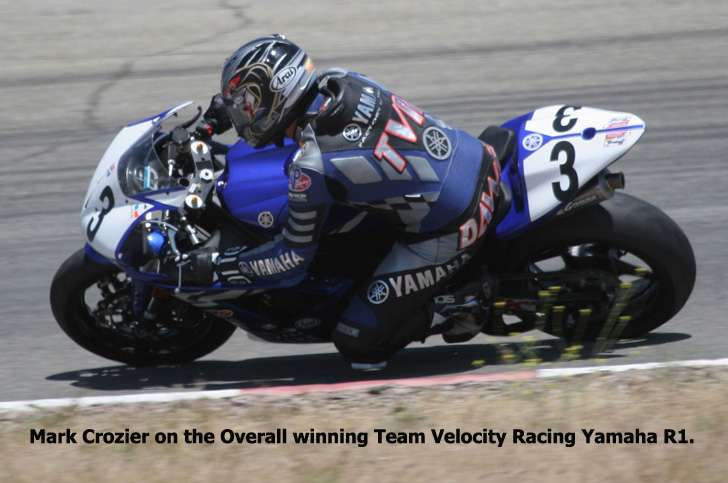 RESULTS
1. Team Velocity Racing, Yam 1000, 2. Advanced Kawasaki, Kaw 1000, 3. Bellís ARNCHU Racing, Suz 750, 4. Team Eclipse, Suz 750, 5. Army of Darkness, Suz 600, 6. Dixie Mafia, Suz 600, 7. Team Xtreme/ Maxxis Tires, Suz 750, 8 5150 Racing, Suz 750, 9. Dalke Motorsports, Suz 600, 10. Need a Sponsor, Yam 600, 11. Mad Kaw, Kaw 636, 12. Blue Ridge Performance, Suz 650, 13. Zyvax, Yam 600, 14.Deals Gap Racing, Suz 650, 15. MS Racing, Suz 650
RESULTS: By Class
H/S/Bk: 1. Bellís ARNCHU Racing, 2. Team Eclipse, 3. Team Xtreme/Maxxis
H/S/Stk: 1. Team Velocity Racing, 2 Advance Kawasaki 3. 5150 Racing
M/S/Bk: 1. Army of Darkness, 2. Red Star, 3 SMP Racing
M/S/Stk:1. Dixie Mafia, 2. Dalke Motorsports, 3. Need a Sponsor
L/S/Bk: 1. Blue Ridge Performance, 2. Deals Gap Racing. 3. MS Racing II
Point Standing: Overall (after 5 rounds)
1. Vesrah Suzuki, 502; 2. Team Velocity Racing, 481, 3.Red Star, 421; 4. Army of Darkness, 420, 5. Team Eclipse, 357, 6. Darke Motorsports, 347, 7. Bellís ARNCHU Racing, 332, 8. Team Xtreme/Maxxis, 326, 9. 5150 Racing, 307, 10 Dixie Mafia, 270.