Dunlop/WERA National Endurance Series Round 2
Nashville SuperSpeedway, TN,
May 1, 2004 by Dan Schmitt
Under bright, sunny skies, and the temperature in the mid-70ís, the green flag flew to start the second round of the Dunlop/WERA National Endurance Series. Tray Batey, on the Vesrah Suzuki took the early lead with Bradley Champion, on the Team Velocity Racing Yamaha R-1, breathing down Trayís back. But three laps in to this 4-hour event, Champion high-sided coming out of the ultra-slow turn 2, allowing Batey to stretch his lead unchallenged. Roger Bell on the Bellís Suzuki SV was tearing up the track as he made his way through the pack. All of the Georgia boys were on the gas, with both of the Canton Racing teams and the Team Xtreme/Maxxis Tires running in the top ten. The riders in black, Army of Darkness and Neighbor of the Beast ran together, jockeying toward the front.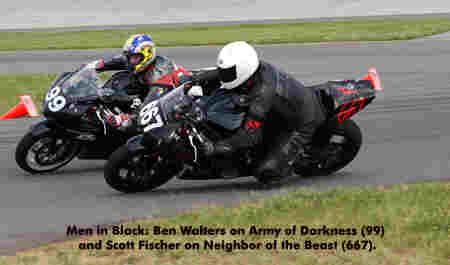 Within the first twenty-minutes, Batey was lapping through the field, turning his fastest lap at 1:03:86. This SuperSpeedwayís track measured one and one-half miles with the first fast corner leading to four tight slow corners in the infield. Add the chicane off the back straight and the 33 teams were making hundreds of shifts per lap. At the first hour mark, Vesrah held a one-lap advantage over the 600 Suzuki of FDK with Matt Lynn onboard. Bellís Suzuki ran third and Xtreme/Maxxis took fourth. Taylor Knapp Racing lost their lead in the Middleweight SuperStock when their chain came off.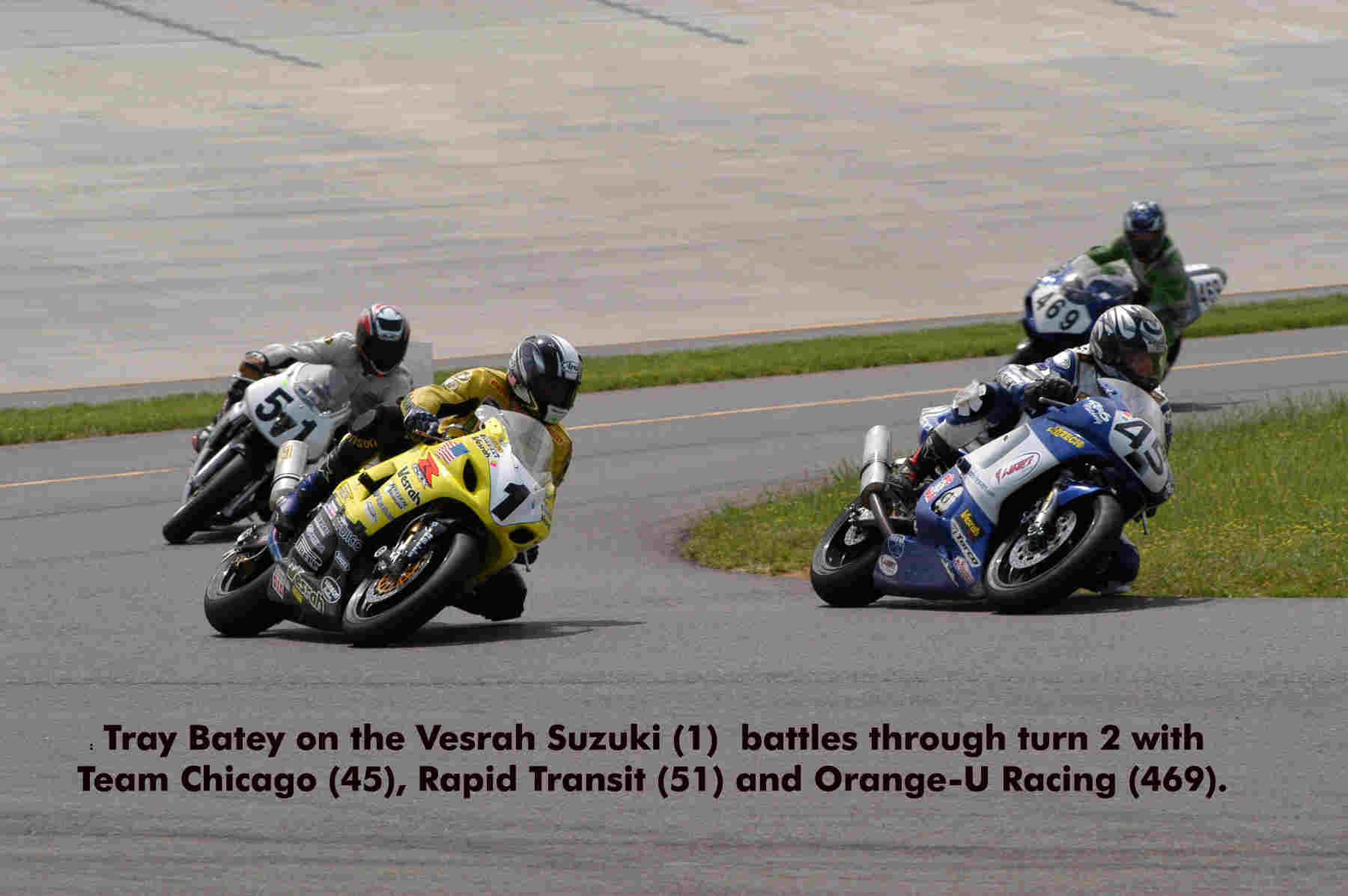 Thirty-five minutes into the second hour, two bikes went down, bringing out the first of three red flags. With the restart, Vesrah again took the lead as Army of Darkness moved to second. Bellís Suzuki held third, Xtreme Maxxis in fourth and CherokeeChallenge.com grabbed fifth.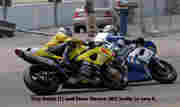 Vesrah continued to run a perfect race with a flawless pit stop, as John Jacobi took control. Bellís Suzuki II moved to second with FDK third. CherokeeChallenge fell and dropped back to fifteenth as Neighbor of the Beast moved to eighth, first in Middleweight SuperStock. The Canton Racing teams ran together in sixth and seventh.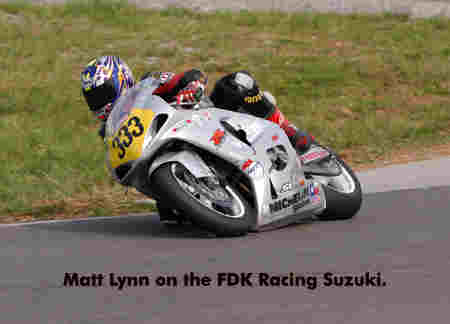 Dan Schmitt on the Team Chicago R-6 got booted off into the center field grass at one-hundred mph as T-Bone Racing turned into the pits, without signaling. Josh Holley broke his arm and brought out the third red flag. With less than one-hour left in the race, it became a sprint to the finish.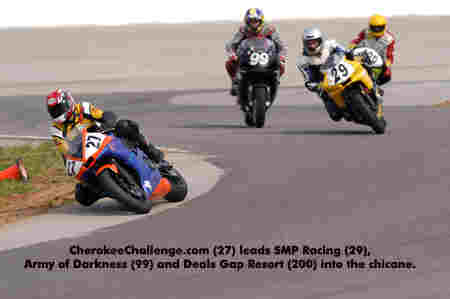 The battles for class wins heated up, Army battling with FDK for Middleweight SuperBike. Neighbor and B & S Roadracing contested Middleweight SuperStock. Vesrah Suzuki had their class win wrapped up, as did Team Xtreme/Maxxis in the Heavyweight SuperStock class. Lynn dropped the FDK Suzuki in turn two, losing their one-lap advantage to Army of Darkness. Bellís Suzuki II SV quit coming off the front straight with seven minutes to go, handing the win in the Lightweight SuperBike class to Dixie Mafia. It was down to checkered flag, as Neighbor of the Beast triumphed over B & S Roadracing. Vesrah Suzuki took the win, but Army of Darkness leads in the overall points.

Results:

Overall: 1. Vesrah Suzuki, Suz 1000, 2. Army of Darkness, Suz 600, 3. FDK, Suz 600, 4. Canton Racing #1, Suz 750, 5. Team Xtreme/Maxxis, Suz 1000, 6. Canton Racing #2, Yam 600, 7. Dixie Mafia, Suz 650, 8. Neighbor of the Beast, Yam 600, 9. B & S Roadracing, Suz 600, 10. Rapid Transit, Suz 650, 11. Deals Gap Resort, Yam 600, 12. Bells Suzuki II, Suz 650, 13. Yeager Racing, Suz 650, 14. Blue Ridge Performance, Suz 650, 15. Team Chicago, Yam 600.

Overall By Class:

HSB: 1. Vesrah Suzuki, 2. Canton Racing #1

HSS: 1. Team Xtreme/Maxxis, 2. BP Pipeline, 3. Team Velocity Racing

MSB: 1. Army of Darkness, 2. FDK, 3. Canton Racing #2

MSS: 1. Neighbor of the Beast, 2. B & S Roadracing, 3. Deals Gap Resort

LSB: 1. Mixie Mafia, 2. Rapid Transit, 3. Bellís Suzuki II

Point Standings:

1. Army of Darkness, 2. FDK, 3 Vesrah Suzuki, 4. Canton Racing #2, 5. Canton Racing #1, 6. Team Xtreme Maxxis, 7. Bellís Suzuki II 8. B & S Roadracing, 9.Team Velocity Racing, 10. Dixie Mafia

Photos by Adrenaline Sports Photography, LLC

www.adrenalinesportsphotography.com