Dunlop/WERA National Endurance Series, Round 8
Nelson Ledges Road Course, Garrettsville, OH
Saturday, September 11, 2004 by Dan Schmitt
The WERA National Endurance Series returned to Nelson Ledges after an absence of ten years. Nelson Ledges has been part of WERA folklore as the site of many 24-Hour races in the eighties and nineties. In fact, Army of Darkness got their start at the infamous 1993 24-hour. After a moment of silence for the victims of the September 11 attack on America, the green flag flew to start the 6-Hour skirmish in eastern Ohio. Rueben Frankenfield took the Team Velocity R-1 to the early lead with Tray Batey on the Vesrah Suzuki close behind. A few clicks back, Ben Walters had the Army of Darkness GSXR-600 in third with JP Tache running fourth on the CherokeeChallenge.net R-6 in fourth. Larry Denning, riding on the B & S Racing Suzuki was fast closing in fifth. A race long scuffle began between Velocity Crew's Paul Youngman and Neighbor of the Beast's Chris Pyles, vying for sixth. Running in seventh, and leading the Lightweight SuperBike class was Dixie Mafia. Phil Caudill had the George Bush for President, Alan Keyes for Senate, 4 & 6 Racing R-6 in tenth place.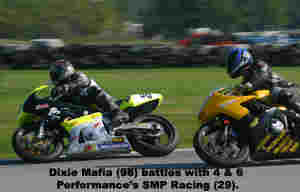 During the second hour, disaster struck Army as they lost the front brakes. Going immediately to their back-up bike, they lost the first hour laps. Vesrah took a two-lap lead over Velocity as this SuperStock bike made their first of five scheduled pit stops. Dixie Mafia was flying, running in fifth overall. Velocity Crew was now leading the Middleweight SuperBike class with 4 & 6 Racing's Team SMP second in class. Cherokee led the Middleweight SuperStock class.
During the fourth hour, Frankenfield made a major mistake, missing a shift in the kink, going sideways and crashing in the outside grass. After stripping the busted bodywork, Chuck Ivey returned to the fight with just a gas tank and seat on the bike. With only one hour to go, Vesrah held a ten-lap advantage over second place Velocity Crew Racing, Neighbor of the Beast held third with Dixie in fourth.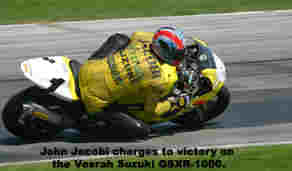 With twenty minutes to go, CherokeeChallenge.net was in the pits with a worn out rear sprocket. Changing the rear wheel, readjusting the chain and getting the chain on the front sprocket, Scotty VanScoik took back to the action, trying to retain some points.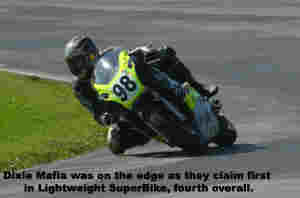 After 6 hours, Vesrah was victorious again. Mark Junge stated, "The pit stops all went fine, Tray and John rode two stints each and we always had a good Pirelli tire, there is plenty of traction here. Winning the Middleweight SuperBike class, Velocity Crew's Kevin Perkins said, "The race went really smooth, but we chewed up many tires. Paul stayed out for his two full stints, which put us into second overall." The first lady of roadracing and owner of Neighbor, Melissa Berkoff declared, " We have good rhythm, you have to make good rhythm, We push and we have a good crew. We have fast riders and they make a big fight and we win." Winning the Heavyweight SuperStock class, Team Xtreme's Billy Etheridge explained, "This layout is really fun, I like the layout, We rode the entire six hours on a 1000 Suzuki with one set of Maxxis tires. We went 562 miles on tires just like the ones you can buy at your local dealer."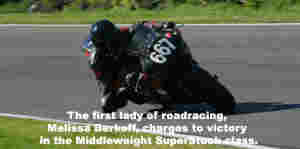 I got crashed out in practice on Friday and did not ride up to my expectations. We went on to finish in fourteenth, not a great showing, but we did get some more points and moved up in the overall standings.

PHOTOS BY MotorSports Photos photos@raex.com

RESULTS:

1.Vesrah Suzuki, Suz 1000, 2. Velocity Crew Racing, Suz 600, 3. Neighbor of the Beast, Yam 600, 4. Dixie Mafia, Suz 650, 5. B & S Roadracing, Suz 600, 6. Team Xtreme/Maxxis, Suz 1000 , 7. Touring Sport Racing, Yam 600, 8. Ridge Racing II, Kaw 1000, 9. CherokeeChallenge.net, Yam 600, 10 SMP Racing, Yam 600, 11. Team Velocity Racing, Yam 1000, 12. Team HMR, Hon 954, 13. Bell's Suzuki II, Suz 650, 14. Team Chicago, Yam 600, 15. The Notorious P.I.G. Suz 650.

By Class:

HW/SBK: 1. Vesrah Suzuki, 2. Ridge Racing II 3. Temper Mental Racing

HW/STK: 1. Team Xtreme/Maxxis, 2 Team Velocity Racing, 3. Team HMR

MW/SBK: 1. Velocity Crew Racing, 2 SMP Racing, 3. Army of Darkness

MW/STK: 1. Neighbor of the Beast, 2. B & S Racing, 3. Touring Sport Racing

LW/SBK: 1 Dixie Mafia, 2. Bell's Suzuki II, 3. The Notorious P.I.G.

POINTS OVERALL (after 8 rounds)

1. Vesrah Suzuki, 890, 2. Army of Darkness, 778, 3. Neighbor of the Beast, 681, 4.Team Velocity Racing, 677, 5.CherokeeChallenge.net, 657,

6. B & S Roadracing, 583, 7. Dixie Mafia, 556, 8. Bell's Suzuki II, 546,

9. Team Xtreme/Maxxis, 528,

10. Velocity Crew Racing, 472, 11. Blue Ridge Performance, 466, 12. Deals Gap Racing, 454, 13. Team HMR I, 424,

14. FDK, 408, 15. Team Chicago, 403