DUNLOP/WERA National Endurance Series
Road Atlanta, Braselton, Georgia
October 15, 2004 by Dan Schmitt
Cloudy and cool, forty-eight qualified teams took the green flag to start this four-hour endurance. Tray Batey snatched the lead on the Vesrah/Suzuki 1000 with Bradley Champion on the Team Velocity Yamaha R-1 second. A six-way battle developed for third between Team Xtreme, Army of Darkness, Team Eclipse,CherokeeChallenge.net, Velocity Crew Racing and Neighbor of the Beast. B.P. Pipeline, coming through the pack, moved to third just after six laps. Yamaha R-6 mounted Team Eagle Racing caught the pack and moved to fourth overall at the twenty-minute point.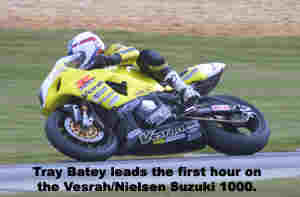 As the SuperStock teams began to make their first pit stop before the top of the first hour, Neighbor moved to third overall and first in the middleweight SuperStock class. Their teammates, Army of Darkness, were out with a dropped valve. Sam Fleming highsided the other racebike during practice, totaling the motorcycle. Therefore, Army had no backup bike to continue on with. In the middleweight SuperBike class, Stroud Motorsports held the lead with Velocity Crew second and SMP/4 & 6 Racing in third.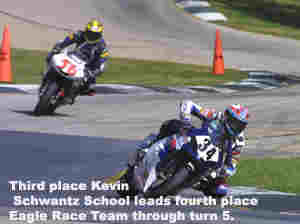 Right at the top of the hour, Idestory Racing dropped their bike in turn five, bringing out the red flag, and leading to a complete restart. Vesrah again took the lead and in turn six, Neighbor ran out of gas, dropping them back to thirty-fourth. This disaster lost them the chance to win their first title, coming into this race only four points shy of Cherokee. In the Lightweight class, Bells Suzuki II had a broken fairing bracket and had to pit for repairs, losing the title to a hard charging Dixie Mafia.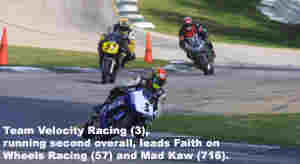 During the second hour, Team Schwantz School began to make their presence noticed as they moved to third overall, second in class. This team of local heroes included Kevin Schwantz, Jamie James and Ben Spies. Team Velocity stayed solid running second and Vesrah Suzuki continued to lead. Velocity Crew Racing again was looking like the favorite in the Middleweight SuperBike class. Team Xtreme/Maxxis crashed out of the race in the chicane.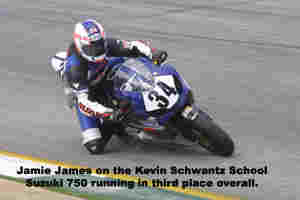 Eagle Race Team moved to fourth overall, first in class during the third hour. B & S Roadracing was second in class and thirty-five seconds ahead of Cherokee, now third. Vesrah Suzuki now had a four-lap advantage over Velocity. Team Schwantz moved within thirty-seconds of Velocity.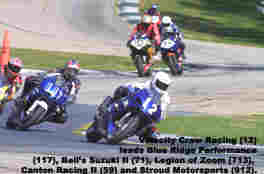 B & S moved to fifth overall, one up on Velocity Crew. Cherokee, now known as Four Feathers Racing, held down seventh just ahead of the hard charging Arnchu Racing. SMP/4 & 6 Racing took tenth, one lap down on Canton Racing II. At the checkered flag, Vesrah maintained their four laps over Velocity, who beat Team Schwantz by over one-minute.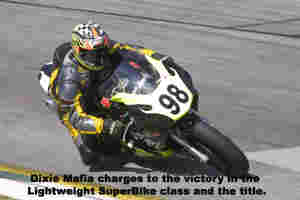 Mark Junge said this of their victory, "It has been a tough season, but we will be back next year with the same crew and riders." Kevin Schwantz added, "Ben Spies asked me on Wednesday, if we could ride the endurance. So we decided to team up with Jamie James and ride this 4-hour event. We borrowed a crashed Suzuki World Cup bike, got it as straight as we could, replaced a few parts, put a set of Michelin tires and added some Brembo brakes. I have run a few endurances, but this was a tough race and we had a great time." Bruce Stanford of Dixie Mafia stated, "We planned on running a consisted race, running good lap times and making great pit stops. Again Bell's Suzuki had problems, so our plans paid off. We intend to be back next year, but we don't know what class we will be racing in." Chuck Ivey of Team Velocity Racing stated, "We have a great crew and great riders, we intend to be back next year, but we don't know at the moment what class we will run in."

RESULTS:

OVERALL: 1. Vesrah Suzuki, Suz 1000, 2. Team Velocity Racing, Yam 1000, 3. Team Schwantz School, Suz 750, 4. Eagle Race Team, Yam 600, 5. B & S Roadracing, Suz 600, 6. Velocity Crew Racing, Suz 600, 7. Four Feathers Racing (Cherokee), Yam 600, 8. Arnchu Racing, Suz 600, 9. Canton Racing II, Yama 600, 10. SMP/4 & 6 Racing, Yam 600, 11. Stroud Motorsports, Kaw 600, 12. Ridge Racing II, Kaw 1000, 13. Elijay Racing, Suz 750, Dixie Mafia, Suz 650, 15. Leagon of Zoom, Suz 750.

Overall Points:

1.Vesrah Suzuki, 1000.4, 2. Team Velocity, 849, 3. Army of Darkness, 833, 4. CherokeeChallenge.net, 781, 5. Neighbor of the Beast, 771, 6. B & S Roadracing, 677, 7. Dixie Mafia, 652, 8. Velocity Crew Racing, 629, 9. Bell's Suzuki, 611, 10. Team Xtreme/Maxxis, 610, 11. Blue Ridge Performance, 521, 12. Deals Gap Racing, 509, 13. Team Chicago, 500, 14. SMP Racing, 487, 15. Arnchu Racing, 463

Points by Class.

HSB: 1. Vesrah Suzuki 1050, 2. Touring Sport II Racing, 612, 3 Canton Racing #1, 357

HSS: 1. Team Velocity Racing, 986, 2. Team Xtreme/Maxxis 896, 3 Team HMR 1 805

MSB: 1. Army of Darkness, 975, 2. SMP/4 & 6 Racing, 764, 3. Velocity Crew Racing, 762

MSS: 1. CherokeeChallenge.net, 968, 2. Neighbor of the Beast, 945, 3. B & S Roadracing, 880

LSB: 1. Dixie Mafia, 950, 2. Bell's Suzuki II, 933, 3. Blue Ridge Performance, 804

PHOTOS by Etech Photo

www. etechphoto.com