DUNLOP/WERA National Endurance Series Round 7
Summit Point Raceway, Summit Point, WV
August 6, 2005 by Dan Schmitt
The temperature was near perfect for eastern West Virginia in early August for the seventh round of the DUNLOP/WERA National Endurance Series. When Al Wilcox flew the green flag to start this six-hour event, it was eighty-four degrees.
Tray Batey on the Vesrah Suzuki led the field of forty teams, with the Yamaha R1 of Team Velocity running second. Behind this duo, Bellís ARNCHU Racing, Red Star, Dalke Motorsports, Team Xtreme/Maxxis and Wikle Racing jockeyed for position.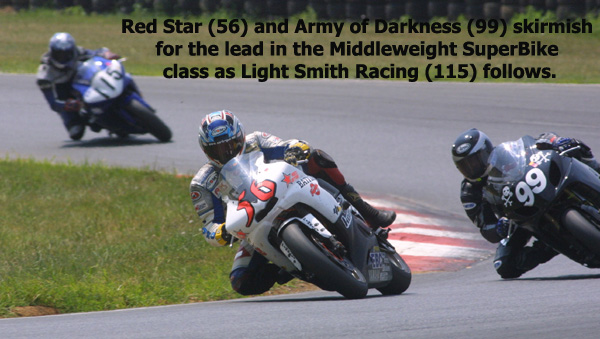 At the top of the first hour, Vesrah continued to lead with Velocity second. Army of Darkness charged to third with ARNCHU fourth. The SuperStock teams began to make their first of many pit stops, running with stock fuel tank.
Whereas Brandon Griffith, my grandson, started the race and was running fine during the first hour, I took over during the second hour and made one of my few mistakes of the season. Going into the first corner, I held the front brake on too long and when the front wheel hit the concrete in that corner, the front wheel slid, putting me down and into the gravel pit.
After picking the bike up, I rode it back to the pits using the dirt road outside the track. Once in the pits, we look it over and there was gravel and water everywhere. I assumed that the radiator was leaking and like a goof, I decided to give up right then and went to videotape some more of the race. If I had taken a couple of minutes more to evaluate the situation, I should have ran the bike, looking for leaks. It turned out that the radiator was not leaking and with a little work, we could have returned to the track, racing for some valuable points. A dumb mistake, and Brandon was not happy with my decision.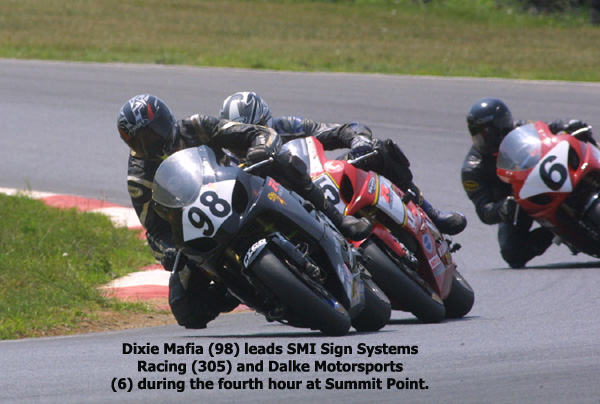 One hour and forty minutes into the race, the red flag flew. Jamie Miller of Wilke Racing high-sided coming out of turn five. Both he and his bike were on the track. After a long delay, the team charged into the first corner again. Vesrah and Velocity led with ARNCHU third and Red Star fourth. Notorious P.I.G. led the Lightweight SuperBike class with a lap over Ghetto Customs and Blue Ridge Performance.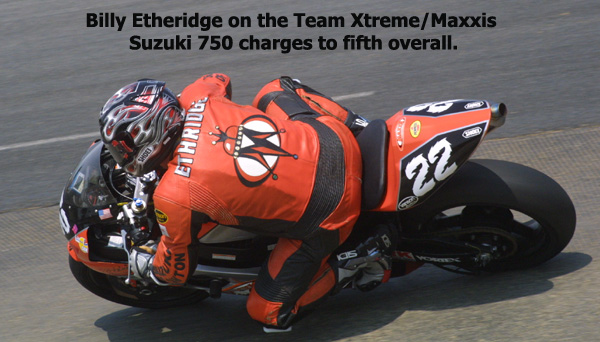 During the fourth hour, Dalke Motorsports had a shockingly slow pit stop for both tires and Dixie Mafia charged to the lead in the Middleweight SuperStock class. Team Velocity Racing had a great pit stop, changing both tires and refueling in one minute flat, but this allowed Vesrah Suzuki to stretch their lead. Team Xtreme/Maxxis and 5150 Racing moved up to sixth and seventh. Light Smith Racing moved their Yamaha R1 to the top ten.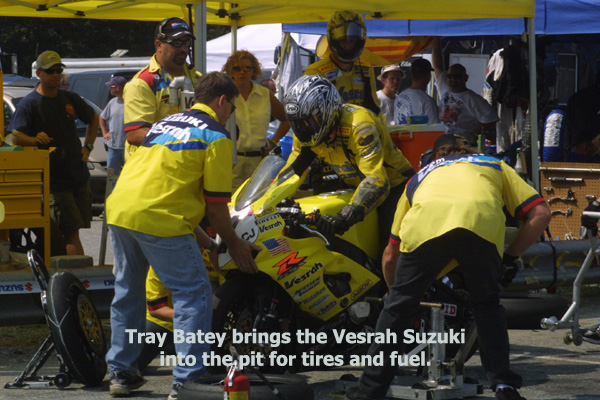 The race to watch on the track became the battle between Bellís ARNCHU Racing, Red Star and Army of Darkness for third place overall. Twenty seconds separated these three teams with the horsepower advantage going to ARNCHU on the 750 Suzuki, and the local track knowledge going to Army with their 600 Suzuki and Red Star on the 600 Yamaha. Notorious increased their lead over Blue Ridge. Dixie Mafia held onto their lead in the Middleweight SuperStock class.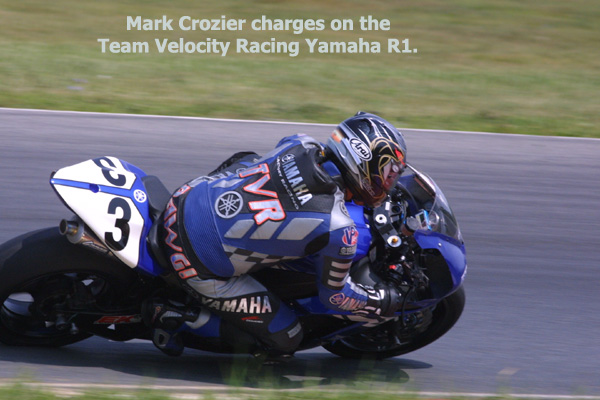 It became a sprint to the end during the sixth hour. Army was out and ARNCHU and Red Star were at it. Back and forth they went, an hour of leather-swapping racing. Team Xtreme/Maxxis ran securely in fifth and another battle developed for sixth between Dalke, 5150 and Dixie. This trio was on the same lap, just seconds from each other.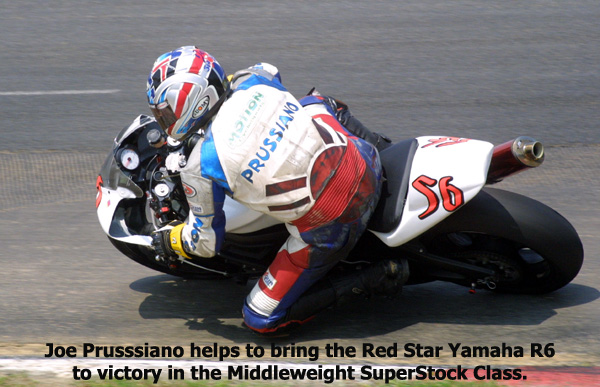 At 5:00 PM, the checkered flag flew and Vesrah claimed the victory. It was a flawless race, making up for the their last two disasters. Velocity did everything right and earned a well-deserved second. The Yamaha of Red Star was screaming as it crossed the line .594 seconds ahead of Bellís ARNCHU Racing Suzuki. Dalke took the victory in their class over Dixie, and the gang from Notorious P.I.G. lined the hot pit celebrating their victory at their home track.
RESULTS:
Overall:
1.Vesrah Suzuki, Suz1000, 2. Team Velocity Racing, Yam1000, 3. Red Star, Yam600, 4. Bellís ARNCHU Racing, Suz750, 5. Team Xtreme/Maxxis, Suz750, 6. Dalke Motorsports, Suz600, 7. 5150 Racing, Suz750, 8. Dixie Mafia, Suz600, 9. Light Smith Racing, Yam1000, 10. D & D Racing, Suz750, 11. Team Eclipse, Suz750, 12. MRP Motorsports, Kaw600, 13. Velocity Crew Racing, Suz600, 14. BP Pipeline, Suz750, 15. The Notorious P.I.G., Suz650
Results by Class:
HS/Bk: 1. Vesrah Suzuki, 2. Bellís ARNCHU Racing, 3. Team Extreme/Maxxis
HS/Sk: 1. Team Velocity Racing, 2. 5150Racing, 3. Light Smith Racing
MS/Bk: 1. Red Star, 2. MRP Motorsports, 3. Velocity Crew Racing
MS/Sk: 1. Dalke Motorsports, 2. Dixie Mafia, 3. Hollywood (SBR)
LS/Bk: 1. The Notorious P.I.G., 2. Blue Ridge Performance, 3. Ghetto Customs
Overall Points after 6 rounds
1.Vesrah Suzuki, 738; 2. Team Velocity Racing, 717, 3.Red Star, 630; 4. Army of Darkness, 561, 5. Bellís ARNCHU Racing, 541 , 6. Darke Motorsports, 527, 7. Team Xtreme/Maxxis, 519, 8. Team Eclipse, 483, 9. Dixie Mafia, 445, 10. 5150 Racing, 427.
PHOTOS BY: E TECH PHOTOS
for pictures go to: etechphoto.com