History of Team Chicago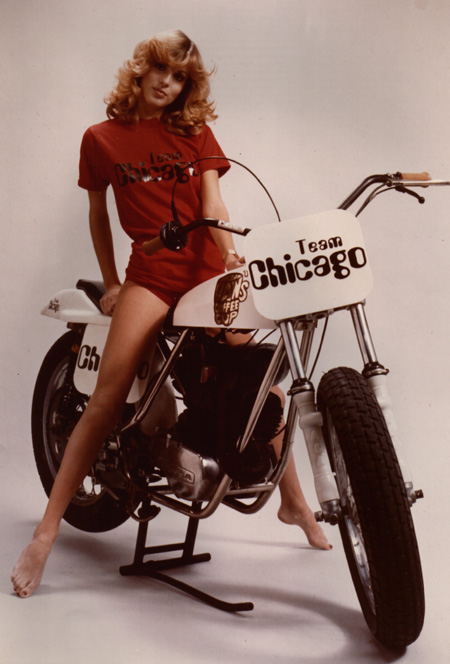 When Dan Schmitt went to see his first motorcycle race in 1969 at Santa Fe Speedway outside Chicago, he was so impressed he immediately asked how to get into this fast and exciting sport.
With information he gained that night at the racetrack, he contacted the American Motorcycle Association and gained the needed information about the required amateur racing experience needed to advance to the professional status needed to race at Santa Fe Speedway. What he found out was that there was a nationwide network of motorcycle flat-tracking racing. Within a hundred mile radius of Chicago, there were ten racetracks holding amateur racing.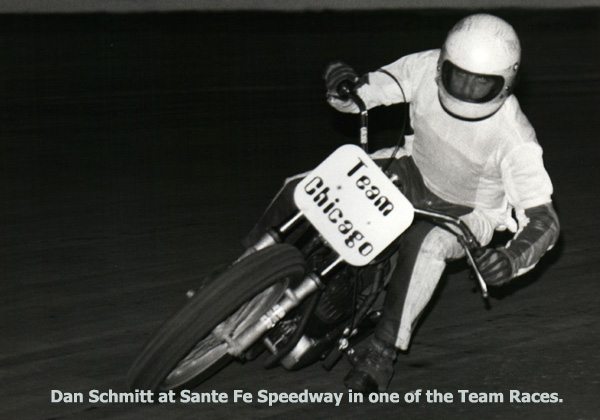 After two seasons of amateur racing, Dan applied for his Novice Professional license. This allowed him to race at Santa Fe Speedway and any other of the numerous professional races held during the summer season in the Midwest.
What Dan Schmitt found out was that Santa Fe's weekly Wednesday night race program presented the best motorcycle races in the nation. Some of America's fastest racers made the trip weekly to hone their skills and win some of the prize money. Gary Nixon, Jim Rice, Dave Aldana, Bart Markel, Dick Mann, Jay Springsteen, Scotty Parker and Neil Keen are a few of the greats who have raced over the years at Santa Fe.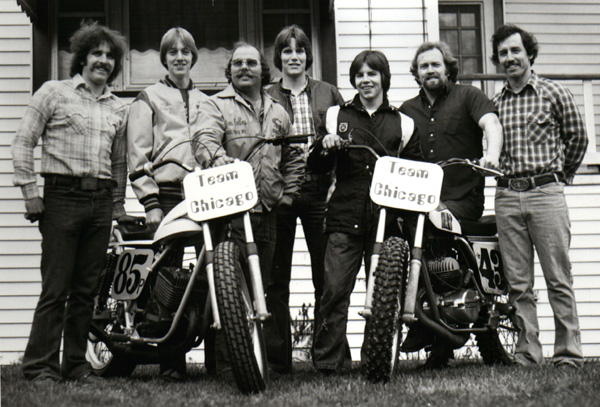 With all this great racing going on just 20 miles from downtown Chicago, and drawing paying spectators in greater numbers than the Chicago Cubs, Dan Wondered why the local newspapers and television news shows continued to ignore this great sport. After much research, he concluded that the average sports reporter was more interested in team sports than individual sports.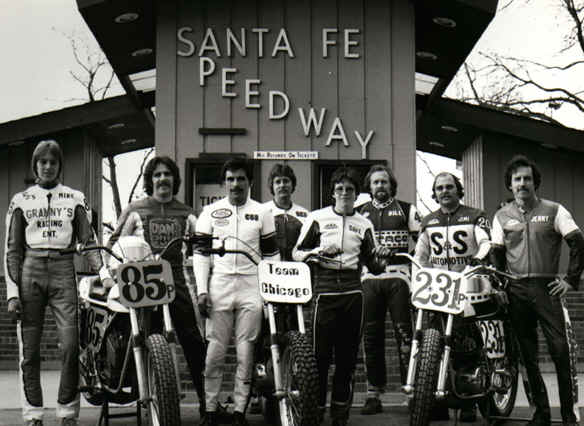 In 1977, Dan Schmitt decided to do something to bring motorcycle racing to the people of Chicagoland. Knowing about the great fan appeal of the extra team races held at the annual half-mile at Norville Down Raceway outside Detroit, Michigan, Dan approached Howard Tiedt, owner of Santa Fe Speedway, and secured an additional purse for a weekly team race to be held in conjunction with the regular Wednesday night program.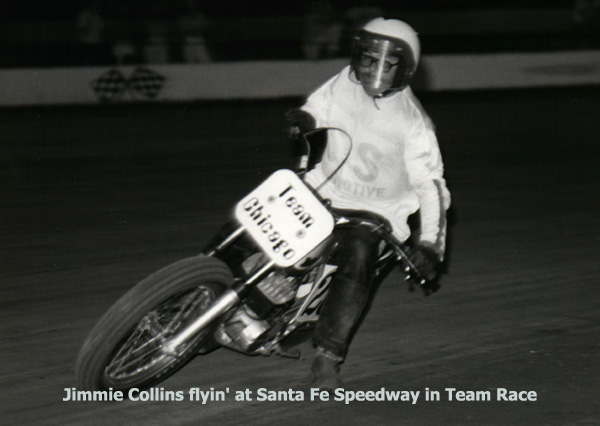 Editor's Note: There was a group of roadracers from Chicagoland that used the name, Team Chicago. Dan Schmitt approached this group and asked for permission to use the name. They welcomed the addition of a dirt track arm for Team Chicago. After this roadrace group broke up and went their separate ways, Dan kept the name, Team Chicago, and filed for the Trademark with the U.S. government.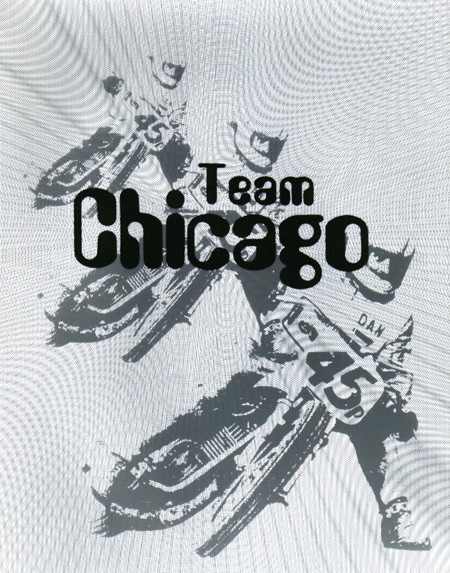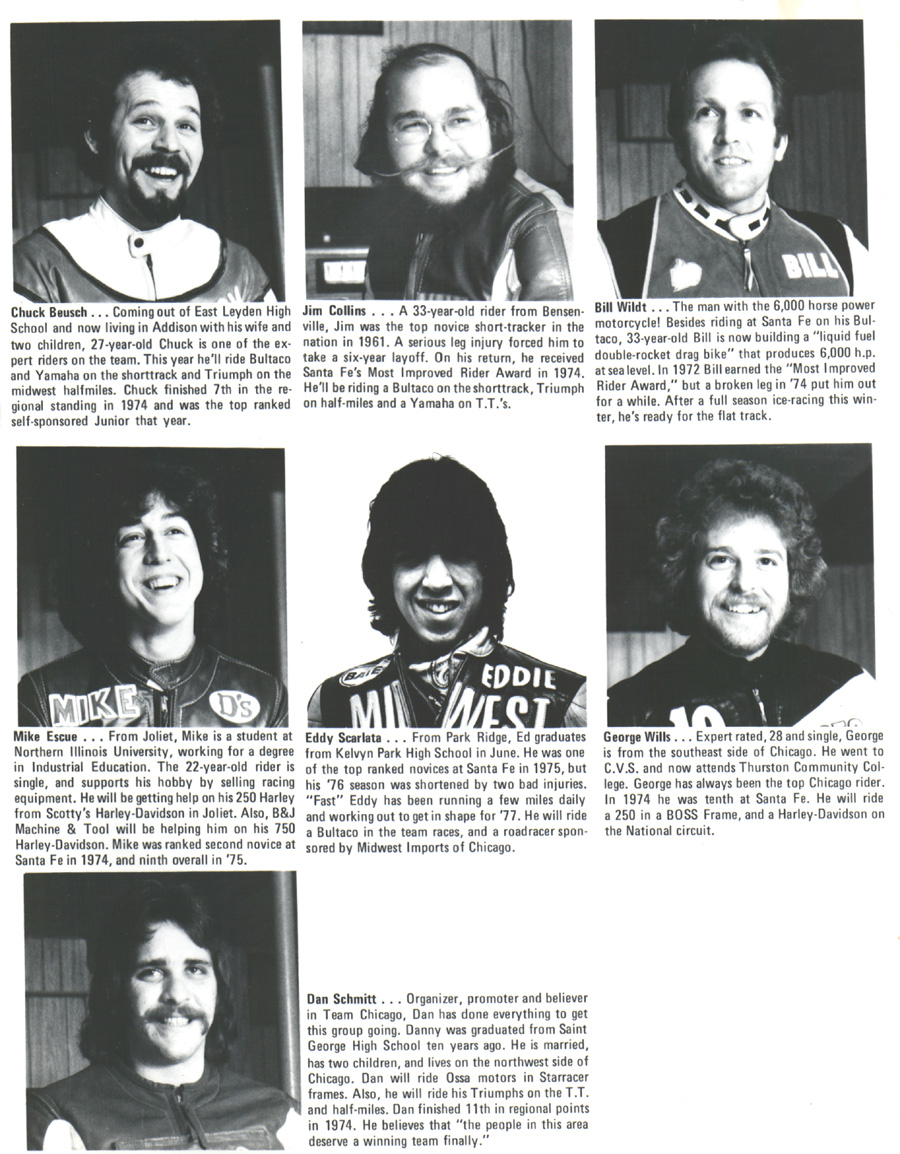 Team Chicago Flat-Track Team was born. Ten racers from greater Chicagoland were selected. The plan was for the five fastest Team Chicago members to compete with five fastest from different states in a ten-lap shootout for an additional $300 purse. Immediately after the race program, Dan called the results into the local newspapers for Thursday's morning newspaper. Whereas the local papers would print race results and do stories, the television stations chose to continue to ignore this exciting weekly race. This did not discourage Dan; it only made him more determined to bring this great sport to a greater number of fans.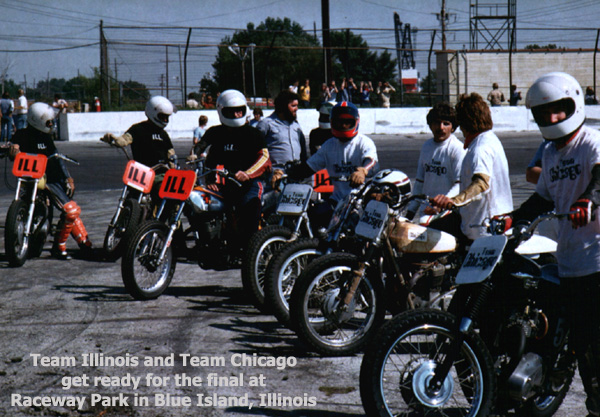 During the two years that Team Chicago raced at Santa Fe, Dan also produced printed programs with the members of the team listed. During 1978, Team Chicago also competed at Raceway Park in Blue Island, Illinois. The team racing did bring in some new fans and some local press, but the growth was just not fast enough. The AMA never really accepted this extra program, so in 1979, the team racing was replaced with a new 500 four-stroke race.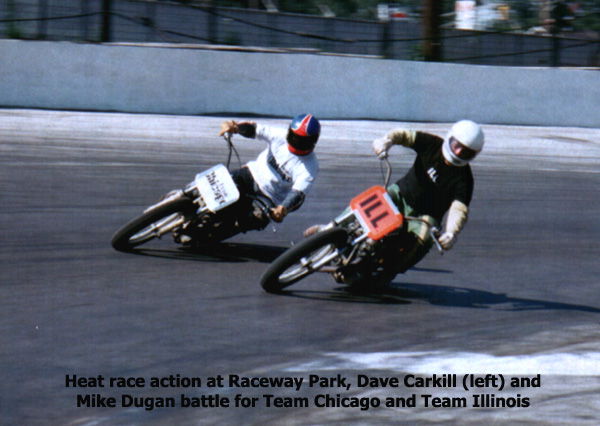 Team Chicago lived on. In the 1980's, Dan took Team Chicago to the WERA National Endurance Series. During this era, Team Chicago ran a few races with WERA. Then in 1995, Team Chicago went full time racing in this great racing series.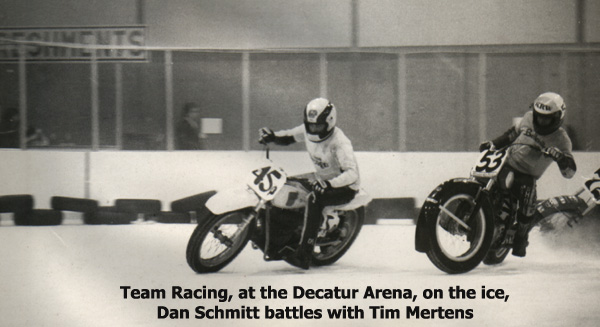 MINEOLA ICE RACING SERIES 1976-1986
In 1972, Dan Schmitt traveled to the Mineola Hotel and Restaurant in Fox Lake, Illinois to observe motorcycle ice racing. A group of local racers plowed a clear oval track on the ice in front of this national historical structure and just raced around for fun. Hundreds of spectators had been showing up each Sunday afternoon to watch this exciting motorcycle action.
Dan asked those involved about organized racing. They told him that there were organized races at Eagle Lake in Wisconsin. Dan raced at one race held at Lake Geneva, Wisconsin during the local winter festival. He realized first how great this sport could be if it was well organized.
A group of northern Illinois riders got together in 1973 and organized a weekly series of races at Long Lake, Illinois. It was great to have organized ice racing only 50 minutes from Chicago. Although the racing was great, the facilities were lacking. While these facilities were fine for the racers, the hundreds of fans who came were too great for the local community to accommodate.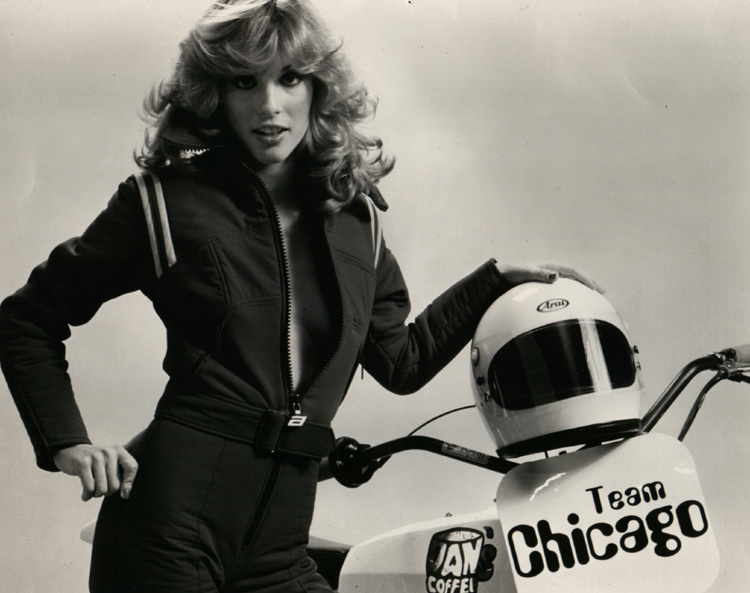 It became apparent that a better location was needed for ice racing. The result was the Mineola Bay Ice Racing Series, which was started in 1975. Dan Schmitt promoted this ten-race series, working with the owners of the historic Mineola Hotel. Besides organizing the races, he began to notify the media outlets from Milwaukee, Wisconsin to Gary, Indiana. This series was able to attract newspaper coverage with weekly results and several features. One hundred ice racers participated during the first year of this series in five classes.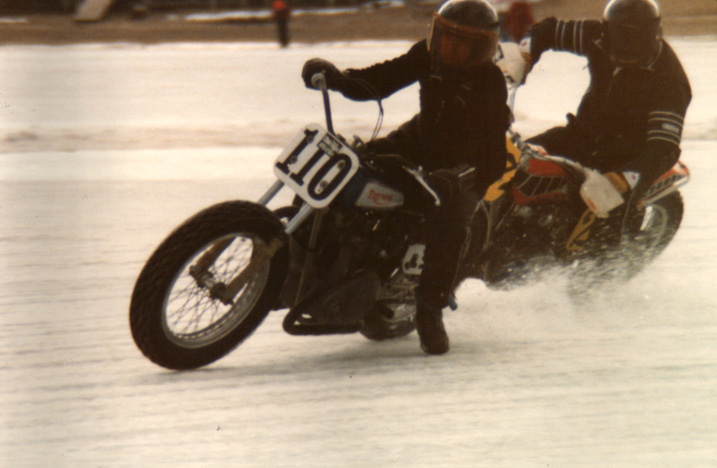 Dan Schmitt introduced team racing during the third year of the Mineola Ice Racing Series. Four teams with three members each raced in a 15-lap race for a cash purse. This was seen as a continuation of the Team Racing Series held at Santa Fe Speedway in Willow Springs, Illinois during the summer.
Dan published the fist issue of Ice Racer Magazine in 1981. A portion of the revenue from this magazine was used to promote the largest pro purse for motorcycle ice racing in the USA at that time. The National Pro Championship Race paid out $1,000. Some of the fastest ice racers came to participate in this national race at Mineola Bay.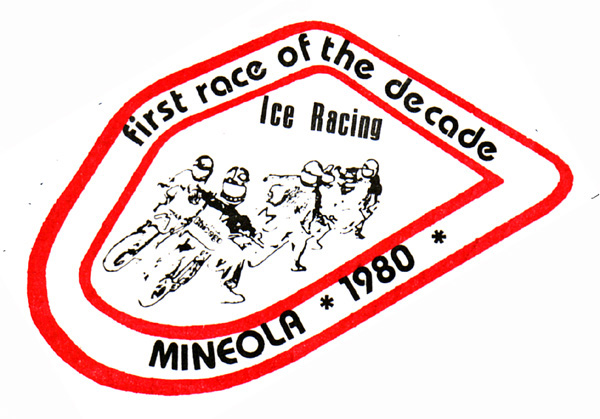 In 1983, Dan Schmitt joined Bill Sparks to promote the Amateur National Ice Race at The Lambs in Libertyville, Illinois. The Lambs is an organization dedicated to the development of mentally challenged adults. It is located conveniently near Interstate 94. Over 200 racers competed at this national championship event. More importantly, Dan Schmitt met Reno Minori, a local public access television producer. Reno introduced Dan to the world of public access television.
The Mineola Series continued in 1984 with over 150 riders racing weekly. Dan joined Bill Sparks to promote the Midwest Championship at The Lambs. Reno was there again to provide the local television coverage. Some of the greatest ice racing action was recorded at this two-day event.
The Amateur National Championship Ice Race returned to The Lambs in 1985. Dan again joined Bill Sparks to promote this event. Reno Minori set up a two-camera shoot for this event and the video footage was the greatest yet. This event is still considered the best amateur national ice race ever held.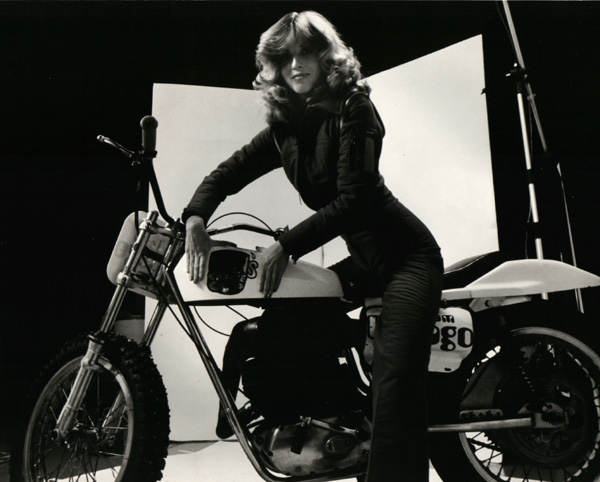 The Mineola Series held eight races in 1985 and over 200 ice racers raced in this series. This was the eleventh year for this nationally recognized series. During this time, two of Chicago's television stations came to cover some of the events. UPI and AP sent cameramen for photo coverage. Chicago Tribune and Sun-Times, Milwaukee Journal and Waukegan Sun-News printed the results and included feature articles over the eleven years. Cycle News, the national newspaper for motorcycle racing, printed a weekly feature for every race since 1975.
Public access television finally came to Chicago in 1986. Dan Schmitt eagerly took the first introduction class to qualify for access television. He was the first to produce television shows cablecast on Chicago's public access channel. He had to make the decision to either continue promoting ice racing or to produce a weekly television show. Bruce Bober had worked with Dan to schedule his ice racing series in conjunction with the Mineola Series for the previous two years. Dan felt that promotion of ice racing was in competent hands with Bruce. Thereafter, Dan devoted full time to produce his first series, "The Other Side," and later the "Team Chicago Challenge" weekly television series.
Team Chicago BMX Team
Bicycle motocross racing was in its infancy in the Midwest in 1978. Danny Schmitt was seven years old when his dad, Dan Schmitt, founder of Team Chicago, took him to his first BMX race in Zion, Illinois. This BMX race was held in a public park and the track was just a dusty little track with one jump and a water hold. There were only three classes, over 13 years old, 10-13, and under 10. Up against bigger and older riders, Danny finished fourth in his first BMX race. The seed was set. This was a great way for the younger Schmitt to get into racing. One thing that the older Schmitt noticed was that there were some older inner-city kids from Chicago at this race and they were a very tight-knit and determined group. He learned that they packed their bikes into boxes and rode the Northwestern commuter train from the north side of Chicago to Zion to race.
At the next race during 1978 in Tinley Park, Illinois, there was a class for seven-year-olds and Danny won that race in great style. Two weeks later in Itasca, Illinois, Danny won again. Once again this group of inner-city kids from Chicago rode their biles 22 miles to race in Itasca. They knew most of the other BMX racers and seemed to be a great group of guys.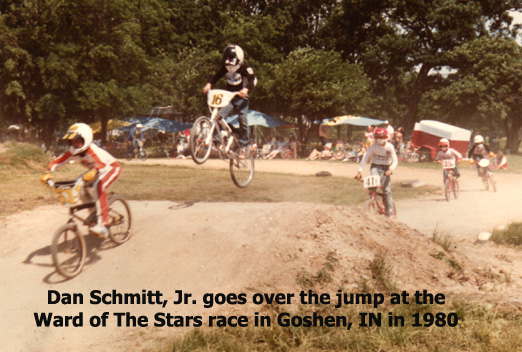 Dan Schmitt hit the wall and cracked his pelvis during a race at Santa Fe Speedway in June. Realizing he would not be racing for a long while, he decided to go to Collinsville, Illinois and St. Louis, Missouri for two NBL National BMX races. The NBL officials asked what class his son was to race in, expert or novice. The bigger trophies were for the expert class, so that was their decision. This was the first time they had ever seen a big downhill track. After one practice run, Danny said he liked the track. In his first national race, Danny won first place over another seven-year-old who had previously won every national. In St. Louis the next day, Danny ran second on a flatter track.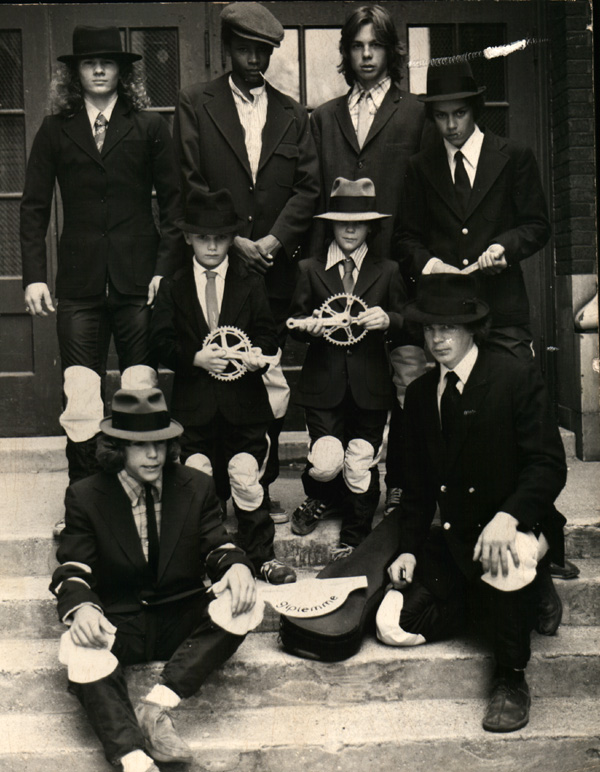 Later in Chicagoland, Danny and the group of riders from the city became great friends. They decided then to borrow the name Team Chicago from his dad's team. Thus, the Team Chicago BMX Team was formed. The new team members raised the money for new team uniforms by organizing a raffle and selling tickets. Together they made plans to contest the entire NBL National Series in 1979.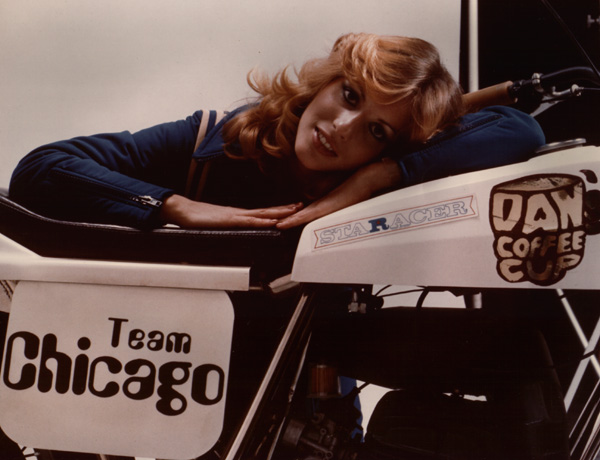 The First Team Chicago/Grattan Raceway FREE ROADRACE SCHOOL
At the end of the 1992 road-racing season, E.J. Fasson, owner of Grattan Raceway, approached Dan and asked if they could put on a free riders' school in the spring of 1993. He felt that the best way to get new racers was to offer them an opportunity to take a school without having to spend over $100. In order to road-race motorcycles, you must take an approved instructional course. Dan told E.J. that Team Chicago could meet that challenge if Roger Edmondson of AMA/CCS would approve it.
With the approval and blessing of AMA/CCS, through the television show, Dan let his audience know about this school at Grattan. Every student would need their own motorcycle and have leathers, helmet and boots. Over 125 viewers stopped by their local participating motorcycle dealer and picked up a pre-entry form and mailed it in by the March 15, 1993 deadline.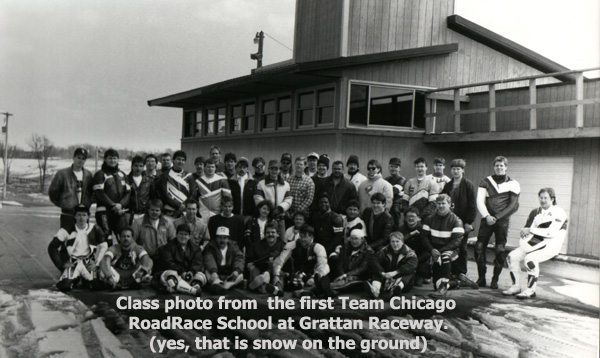 In order to conduct this school, Dan had some of the best local road-racers volunteer to help at this event. Some of the top experts included Kevin Graham from Canada, Greg Gibson, Jeff Vos and Steve Kok of Holland, Michigan, Brian Conley and Steve Karson of Chicagoland, plus the rest of the racing members of the West Michigan Sport Bike and Wine Tasting Club.
With the spring snowfall of the 1993 season, the track was covered with snow on Friday, April 2nd. The Saturday school was moved to Sunday the 4th. The staff at Grattan Raceway plowed one-third of the track on Saturday, and the track was ready for the school on Sunday. Forty brave students showed up and had a great learning experience.