DUNLOP/WERA National Endurance Series, Round 8
Talladega G.P. Racetrack, Talladega, AL
Saturday, August 20, 2005 by Dan Schmitt
It was hot and humid as the thirty-three teams charged off the line with the flip of the green flag in Talladega, Alabama. Ben Thompson took the early lead on the Red Star Yamaha R6, but Tray Batey on the Vesrah Suzuki GSXR-1000 overtook him before the end of the first lap. Mark Crozier took second during the fourth lap on the Team Velocity Yamaha R1, as Bellís ARNCHU Racing, Army of Darkness, Dixie Mafia and Team Xtreme Maxxis jockeyed for fourth.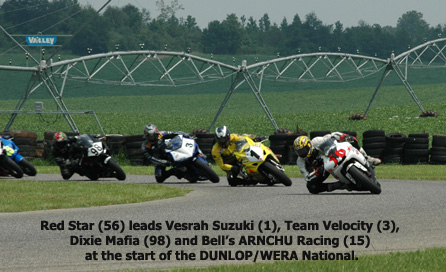 Brandon Griffith took the start for Team Chicago. It was so hot, I was worried that he may not be able to finish the first hour. How hot was it? Letís just say this, if you sat in the shade, with out moving and wearing only a pair of shorts, you would be dripping within two minutes. Thatís how hot it was.
Batey made his once in a decade mistake when he tried to pass Ghetto Customs on the Suzuki SV in the first corner on the non-existent inside line. Tray ended up knocking himself out and the Vesrah Suzuki ended up laying on the track. This brought out the red flag and a complete restart.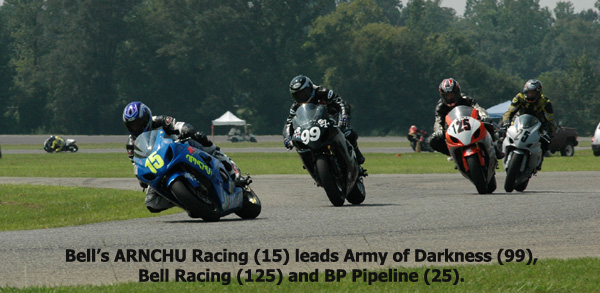 It was a scuffle for the lead between Team Velocity, Red Star and ARNCHU Racing as this threesome went at it for five laps. Finally, Crozier took the lead for Velocity and began to stretch it out.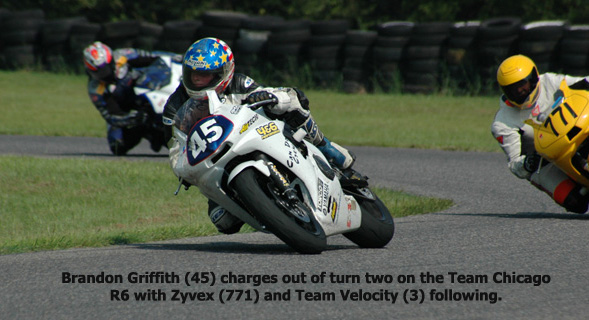 Red Star held a one-lap advantage over their class rivals, Army of Darkness. The boys from Georgia, Team Xtreme/Maxxis Tires held down a solid fifth as 5150 Racing and Ed Bargy Race School Endurance swapped positions a few times in their personal battle for sixth as the cross flags were shown to mark the halfway point in the race.
During my ride in the second hour, everything went well. I picked up a few spots by catching a few teams and took advantage of some teams mistakes. It was riding a one-hour sauna at one-hundred miles per hour.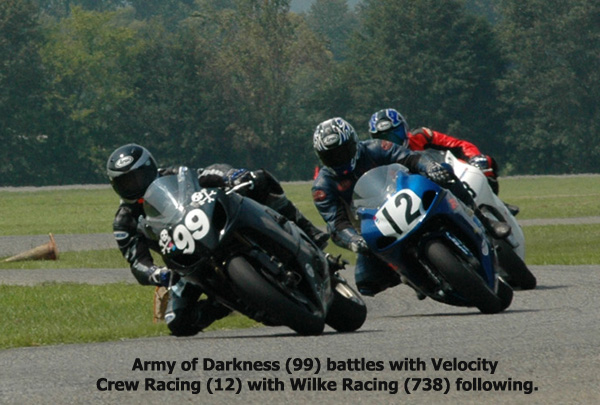 Bikes began to hit the pits again and it was not a pretty sight for some of the front running teams. As Phil Caudill handed the 5150 Suzuki over to Justin Marm, they couldnít decide to change the rear tire or not. This indecision cost them an extra minute in the pits and dropped them to thirteenth overall. ARNCHU had a slow pit stop and Army of Darkness gained a position on the track. Zyvaxís pit stop was so slow changing both tires and taking on fuel, you could have smoked a cigarette during their time in the pits. Velocity Crew Racing took advantage of the disarray in the pits and moved up four positions to run sixth overall.
The final pit stops of Red Star and Team Velocity Racing determined the final outcome. Velocity was spot on with a very quick pit stop for a SuperStock team and gained some on Red Star, who also had a quick pit stop. With this twosome running away with the race, Vesrah Suzuki ran steadily making up a thirty-five lap disadvantage to charge to twenty-third overall and only twenty-two laps off the leaders. With minutes to go, and Red Star only twenty-two seconds shy of Velocity, they had to make a splash and go pit stop, and this move put them one-lap down on Velocity. With the wave of the checkered flag, Crozier wheelied across the line, giving Team Velocity Racing their third overall victory of the year and moving them into first place in the overall point standings. With only three races left in this eleven race series, Vesrah Suzuki will have to win all three to retain their National title. Chuck Ivey of Velocity added, ďAgain, we just did everything right and we were ready to take advantage of any situation that came our way. We got a great crew and we get the job done right.Ē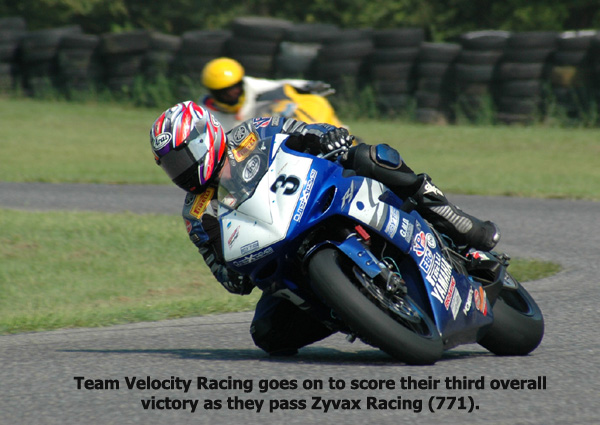 We finished this race and got a few points, but we are still stuck in fourth place in the Middleweight SuperStock class.
RESULTS:
Overall:
1.Team Velocity Racing, Yam 1000, 2. Red Star, Yam 600, 3. Army of Darkness, Suz 600, 4 Team Xtreme/Maxxis, Sus 750, 5. Velocity Crew Racing, Suz 600, 6. Wikle Racing, Suz 750, 7 Dalke Motorsports, Suz 600, 8. Ed Bargy RS Endurance, Suz 750, 9. Dixie Mafia, Suz 600, 10. D & D Racing, Suz 750
By Class:
HS/Bk: 1.Team Xtreme/ Maxxis, 2. Wikle Racing, 3. Ed Bargy RS Endurance
HS/Sk: 1. Team Velocity Racing, 2. 5150 Racing, 3. B.P. Pipeline
MS/Bk: 1. Red Star, 2. Army of Darkness, 3. Velocity Crew Racing
MS/Sk: 1. Dalke Motorsports, 2. Dixie Mafia, 3. Double Vision Racing
LS/Bk: 1. Blue Ridge Performance, 2. Collegiate Bookstores, 3. Deals Gap Racing
Over Points:
1. Team Velocity Racing, 819, 2. Vesrah Suzuki, 781; 3.Red Star, 722; 4. Army of Darkness, 649, 5. Team Xtreme/Maxxis, 601, 6. Darke Motorsports, 597, 7. Bellís ARNCHU Racing, 577, 8. Team Eclipse, 538, 9. Dixie Mafia, 508, 10. 5150 Racing, 484.
PHOTOS by Albert Hicks