DUNLOP/WERA National Endurance Series, Round Seven
Talladega Gran Prix, Talladega, AL
Saturday, August 21, 2004 by Dan Schmitt
Forty-two teams lined up to take the start on what may be the last national endurance on this very technical 1.3 mile roadcourse. With the Alabama Highway Department taking parts of turns 7 and 8, hopefully this historic road course will be expanded to over two miles by next year. Under cloudy skies and the threat of rain, the green flag flew at 12:45 pm. Rueben Frankenfield on the Team Velocity R-1 snatched the start and led for two laps. Tray Batey on the Vesrah Suzuki moved to the lead with Ben Walters on the Army of Darkness Suzuki 600 in third. Roger Bell had the Bellís Suzuki II SV in fourth as CherokeeChallenge.net and Neighbor of the Beast battled for fifth.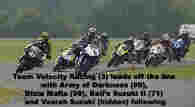 The hard charging Deals Gap Resort on the Yamaha R-6 blew the first corner and went down in the mud as they lost their front brakes at the forty-minute mark. Bellís Suzuki II came into the pits with a serious engine noise. This class leading team tried to nurse the bike around, but had to retire after a few more laps. At the one-hour point, Vesrah Suzuki led, Team Velocity held second, as the teammates, Army and Neighbor battled for third.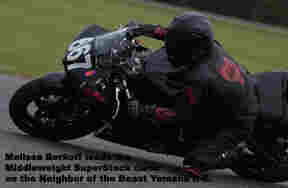 With Bellís Suzuki out of the race, Dixie Mafia began to pour on the coals. This SV mounted team from Gray, Georgia, ran eighth overall during the second hour. Team Velocity Racing, a SuperStock team with a stock gas tank, made their first of three pit stops and maintained second overall. Army and Neighbor continued on in third and fourth, although Neighbor had to pit early, again a SuperStock team.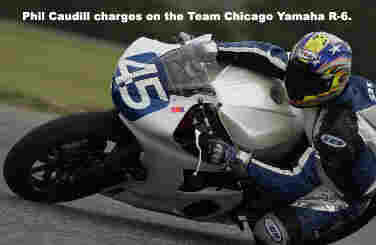 During the third hour, the SuperBike teams began to move up as they made one less pit stop. Army grabbed second from Team Velocity Racing. Velocity Crew Racing, Canton Racing and Dixie got by Neighbor. CherokeeChallenge.net moved up to challenge Neighbor for the lead in the Middleweight SuperStock class. Running a solid second in the Lightweight SuperBike class, Blue Ridge Performance crashed in turn four u-turn, dropping back to tenth in class by the time they got going again.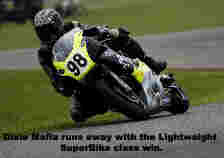 As the sun began to break through the clouds, Canton Racing II on the Yamaha R-6 SuperBike upped the pace and finally got by Suzuki GSXR-600 mounted Velocity Crew Racing, taking second in class and fourth overall. Vesrah Suzuki continued to lead with a four-lap advantage over Army. By running consistent 1:02ís all day, Suzuki SV 600 mounted Dixie Mafia came home sixth overall and taking their second victory in the Lightweight class. Melissa Berkoffís Neighbor of the Beast took their second victory in a row in the Middleweight SuperStock class. They are now only sixteen points shy of the class lead and Melissa has proven again that she is the fastest female roadracer in the country.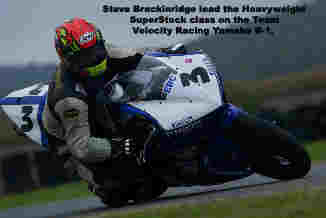 When asked about another overall victory for the Nielsen Enterprises sponsored Vesrah Suzuki, team owner Mark Junge said, ďWe like this track, but it is very busy out there, you barely have time to look at your lap-counter. Tray ran flat 1:00ís while John ran 1:02ís all day.Ē
RESULTS:
1.Vesrah Suzuki, Suz 1000, 2. Army of Darkness, Suz 600, 3.Team Velocity Racing, Yam 1000, 4. Canton Racing II, Yam 600, 5. Velocity Crew Racing, Suz 600, 6 Dixie Mafia, Suz 650, 7. Neighbor of the Beast, Yam 600, 8. CherokeeChallenge.net, Yam 600, 9. Arnchu Racing, Suz, 10. Team Xtreme/Maxxis, Suz 1000, 11. Eeam Eclipse, Suz 750, 12. Ellijay Racing, Suz 750, 13. Need a Sponsor, Yam 600, 14. Team Chicago, Yam 600, 15. Legion of Zoom, Suz 750.
By Class:
HW/SBK: 1. Vesrah Suzuki, 2. Ellijay Racing, 3. Touring Sport Racing
HW/STK: 1. Team Velocity Racing, 2. Team Xtreme/Maxxis, 3. Team Eclipse
MW/SBK: 1. Army of Darkness, 2 Canton Racing II, 3. Velocity Crew Racing,
MW/STK: 1. Neighbor of the Beast, 2. CherokeeChallenge.net, 3. Team Chicago
LW/SBK: 1 Dixie Mafia, 2. Collegiate Bookstores, 3.Performance Psycle Racing
POINTS OVERALL (after 6 rounds)
1. Vesrah Suzuki, 755, 2. Army of Darkness, 703, 3. Team Velocity Racing, 591, 4.CherokeeChallenge.net, 564, 5. Neighbor of the Beast, 563, 6. B & S Roadracing, 476, 7. Bellís Suzuki II, 463, 8. Dixie Mafia, 442, 9. Team Xtreme/Maxxis, 426, 10. Blue Ridge Performance, 425, 11. FDK, 408, 12. Arnchu Racing, 390, 13. Deals Gap Racing, 376, 14. Velocity Crew Racing, 348, 15. Team HMR I, 339
Photos by IYFPHOTO@HOTMAIL.COM