WERA/BRIDGESTONE National Endurance Series, Round 2
Talladega GP, Talladega, AL
April 8, 2006 by Dan Schmitt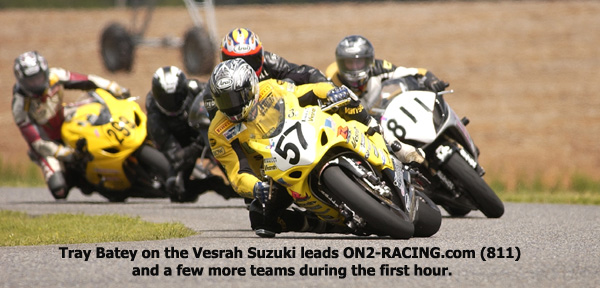 It was pretty stormy at Talladega. First of all, I like this track and the people that own it. It is a great motorcycle racing track, but just a little short at 1.3 miles. Everything was going well in practice, Brandon was getting faster, but then he crashed during his fourth practice. A trip to the hospital and this took up most of the day, maybe a crack in his femur, but definitely a twisted knee. I would need another rider for the race on Saturday. At two-thirty in the morning, the sirens went off and we (everyone camping at the track) were under a tornado warning. (a tornado hit only twelve miles from the track) It wasn't looking good as a steady rain fell all morning, Mr. Sun finally broke through thirty-five minutes before the start of the second round of the WERA/Bridgestone National Endurance. At 12:45 the green flag flew and thirty-nine teams charged into turn one.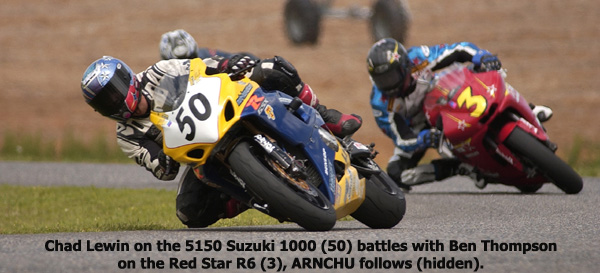 Chad Lewin on the 5150 Racing Suzuki 1000 took the lead with Tray Batey on the Nielson Enterprise/Vesrah Suzuki running second. Red Star, Team Velocity, Triple R Racing, TVR II and Dalke Motorsports followed. In the very competitive Lightweight class, Ghetto Customs, Neighbor of the Beast and Blue Ridge Performance ran one,two,three.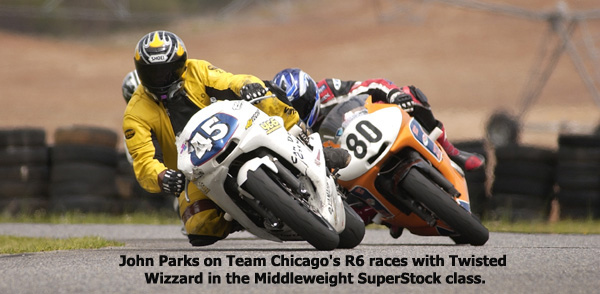 After five laps, Batey took command and Scott Fisher on Neighbor's SV took the point of the Lightweight scrimmage. My substitute rider, John Parks, ran okay trying to get used to the Team Chicago Yamaha R6. John is a big kid and the suspension was a little soft.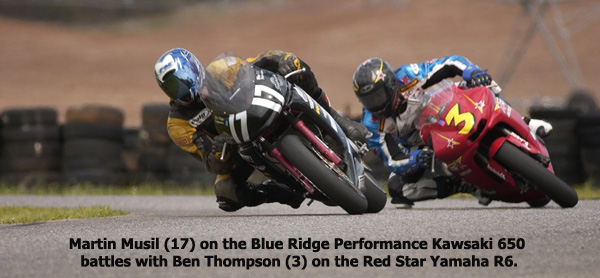 Forty-eight minutes in and there were three bikes down in the first corner. This brought out the first red flag. At the restart, Vesrah captured the lead. 5150 and ARNCHU ran second and third with Red Star right there. Triple R Racing got a great launch and led the Middleweight SuperStock class. The two Team Velocity teams ran together. Ghetto again led Neighbor with Blue Ridge third in the Lightweights. Within ten minutes, Ben Thompson finally caught Vesrah, so Vesrah pitted, changing both tires and Red Star had the lead. I took the start from the third wave and started to work my way up through the field.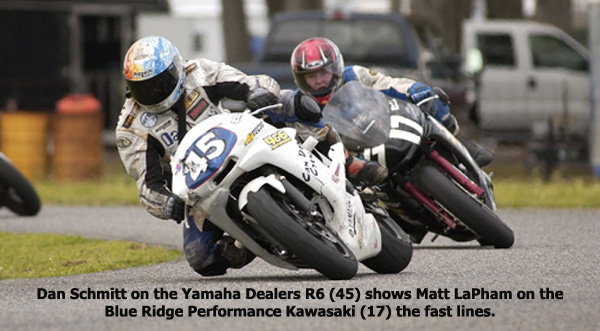 During the second hour, Velocity Crew moved to sixth and Macheca Motorsports on the Kawasaki 1000 charged to eighth. After racing for twenty minutes, the gas began to run out and I pitted for some more Torco Racing fuel. 5150 had another off-track excursion and a bike was down in the first corner, bringing out the second red flag. This red flag removed the advantage Red Star had over Vesrah at this point of the race.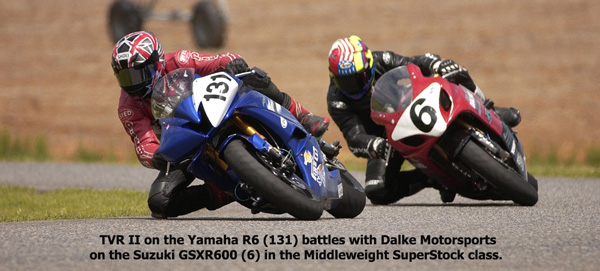 With the flip of the third green flag of the day, Vesrah and Red Star battled for the lead again with Team Velocity third and Triple R Racing fourth. Ghetto moved to eleventh, with Neighbor only four seconds back. We didn't finish our pit stop when the red flag flew, so we finished up the fueling one second after the green flag flew. Within a lap, I was catching and passing the bikes that started in the last wave. I was having fun turning some pretty good lap times.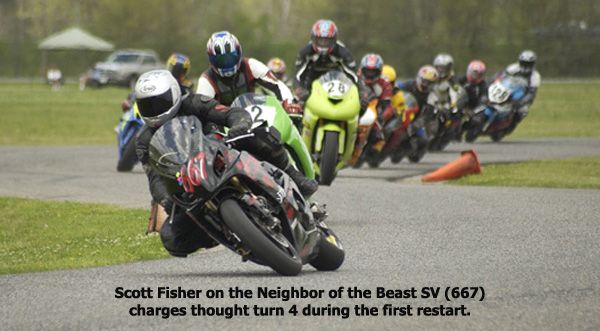 Velocity Crew charged to fifth overall during the third hour as Vesrah recaptured the lead. Dalke ran off the track and dropped to twelfth as Ghetto and Neighbor ran within eleven seconds of each other. Team Maxxis Racing and Ed Bargy RS Endurance battled for eighth with Wizard Racing a few clicks back. Ghetto and Neighbor continued to dominate the Lightweights. With less than one-hour left in the race, I came back in and turned the bike over to John. Our plan was working perfectly, just run good laps and don't crash.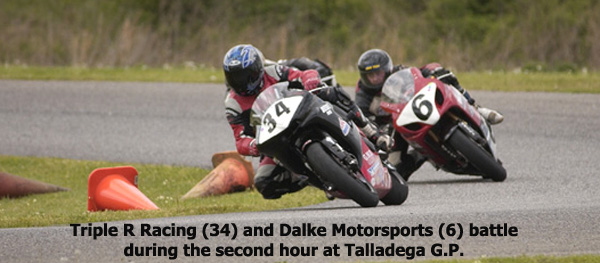 During the final hour, TVR II gained two laps on Triple R and looked to win the class. Wizard moved to eighth overall as Neighbor put thirteen seconds on Ghetto. With a few more tire changes, Vesrah finally gained four laps on a fading Red Star who raced the entire race on one set of Dunlops, but held on to second overall. William Lindsay, team owner and rider stated, "The overall is elusive especially for a 600 team. Our best chance for an overall win was at this track, but Vesrah is tough to beat and they ran a perfect race. We ran a good race and came up a little short."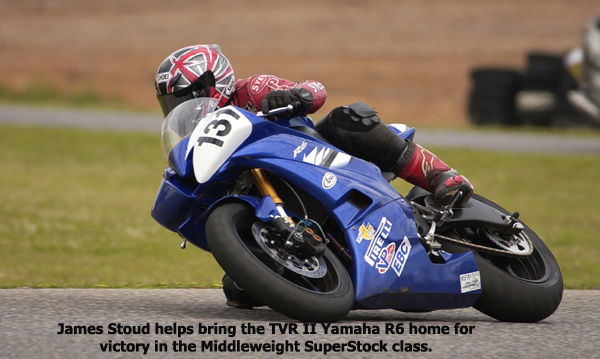 We finished twenty-fifth overall and sixth in class. Not great, but at least we got some good points. At one point in the race we were up to twenty-second, but I am happy that after a crash on Friday, we came back to run a decent race. Next race is at Autobahn in Joliet, Illinois, and I hope we have the new 2006 Yamaha R6 ready by then.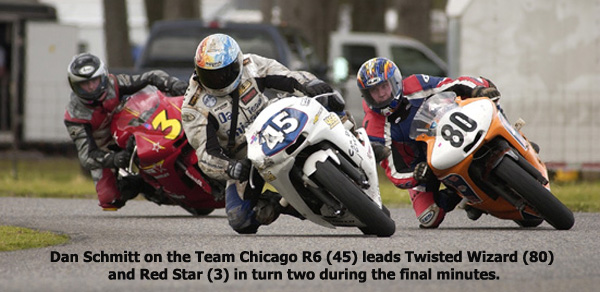 PHOTOS by Mirror Images (Ken Gossom)
mymirrorimages@yahoo.com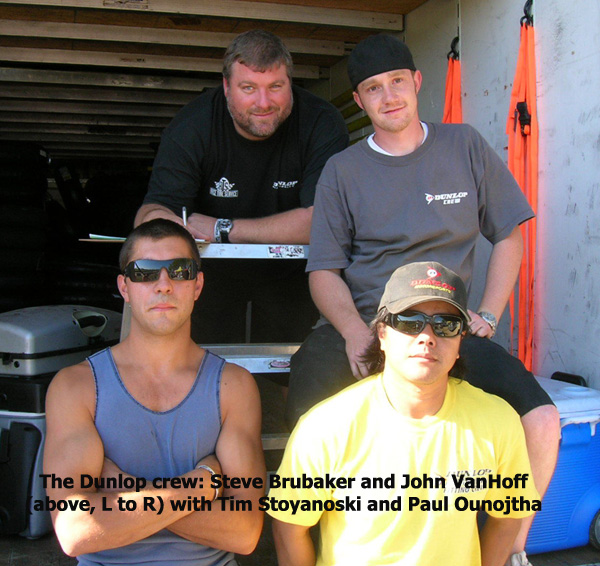 The Crew from RaceTire Service Dunlop took care of their teams at Talladega. Plus they had a riders' appreciation party after the four hour endurance.
RESULTS
OVERALL
1. Vesrah Suzuki, Suz 1000, 2. Red Star, Yam 600, 3. Team Velocity, Yam 1000, 4. TVR II, Yam 600, 5. Velocity Crew Racing, Suz 600, 6. Triple R Racing, Yam 600, 7. ARNCHU Racing, Suz 1000, 8. Wizard Racing, Suz 1000, 9. Ed Bargy RS Endurance, Suz 750, 10. Dalke Motorsports, Suz 600.
BY CLASS
HWSB: 1. Vesrah Suzuki, Suz, 2. Wizard Racing, Suz, 3. Ed Bargy RS Endurance, Suz 750
HWSS: 1. Team Velocity Racing, Yam, 2. ARNCHU Racing, Suz, 3. Team UK, Suz,
MWSB: 1. Red Star, Yam, 2. Velocity Crew Racing, Suz, 3 Wikle Racing, Suz
MWSS: 1. TVR II, Yam, 2. Triple R Racing, Yam, 3. Dalke Motorsports, Suz
LWSB: 1. Neighbor of the Beast, Suz, 2. Ghetto Customs, Suz, 3. Deals Gap Racing, Suz
Overall Points:
1. Vesrah Suzuki, 211, 2, Red Star, 190, 3. Team Velocity, 174, 4. Team Velocity II, 164, 5 Triple R Racing, 149, 6. Wizard Racing, 138, 7. Dalke Motorsports, 135, 8. Ed Bargy Racing, 123, 9. Wizard Racing II, 119, 10. Wikle Racing, 116.