DUNLOP/WERA National Endurance Series, Round 3
Virginia International Raceway, Danville, VA
May 20, 2005 by Dan Schmitt
Returning to Virginia International Raceway for the third round of the DUNLOP/WERA National Endurance Series was a treat for me. This is the first time in many years of racing at this facility that I got all the practice that I wanted. VIR is a very complex roadcourse with many blind corners, elevation changes and a fast front straight with a kink to the right. With the new look of Team Chicago, I enlisted the riding skills of Joe Ball to ride with me in this four-hour race.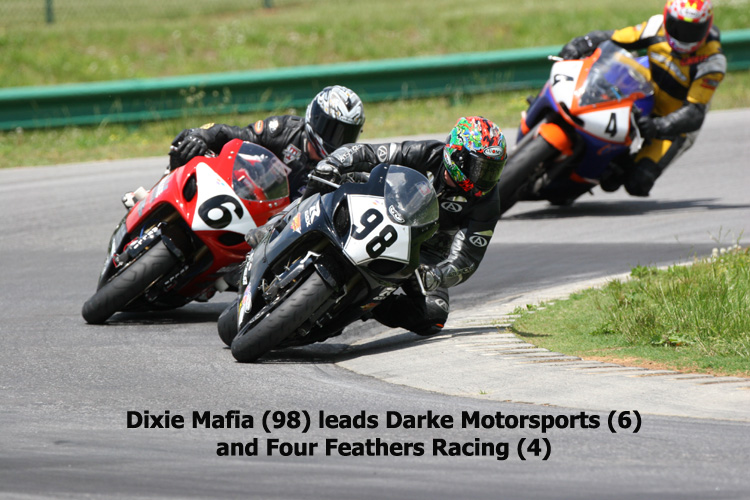 It looked like rain, it smelled like rain, it rained, but at 12:30 PM with the green flag, fifty teams charged into a dry turn one. Tray Batey on the Vesrah Suzuki 1000 took the early lead and extended his lead to ten seconds on the second lap. Team Velocity on the Yamaha 1000 and Team Eclipse on the 750 Suzuki battled for second as Yamaha 600 mounted Red Star and Suzuki 750 mounted 5150 Racing contested fourth. Dixie Mafia was back in the pits, having crashed on the seventh lap. I was videotaping the race when a WERA official found me and informed me that we started the race without the transponder on the bike. It was in my truck on charge, not on the bike. He took it back to the hot-pits and the Team Chicago R-6 was black flagged back to the pits to install the transponder. Team Chicago lost eleven precious laps. This represents one of the reasons to have a human scorer during the race. With an event like this, or the scoring system going down during the race, the written score is imperative to keeping an accurate record of laps completed.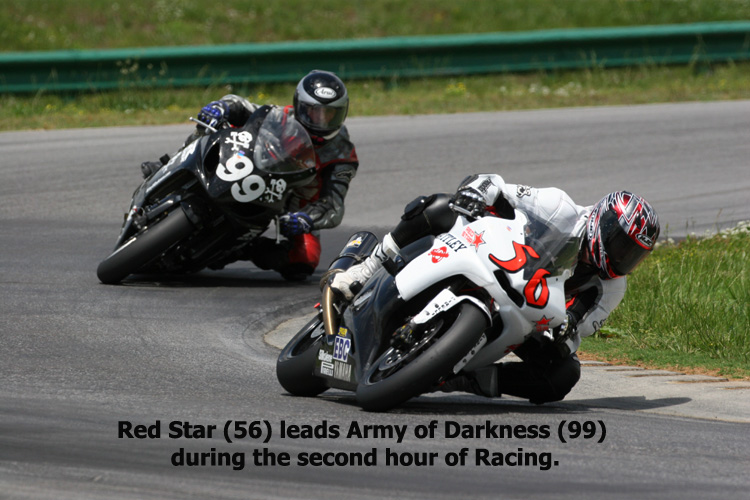 Ghetto Customs was flying, running in eighth place overall and first in the Lightweight SuperBike class at the top of the first hour. Vesrah Suzuki held a one-lap advantage over Velocity and Eclipse. Fifty-eight minutes into the race, a bike was down in turn nine and spilled oil in the turn. This brought out the red flag, stopping the race.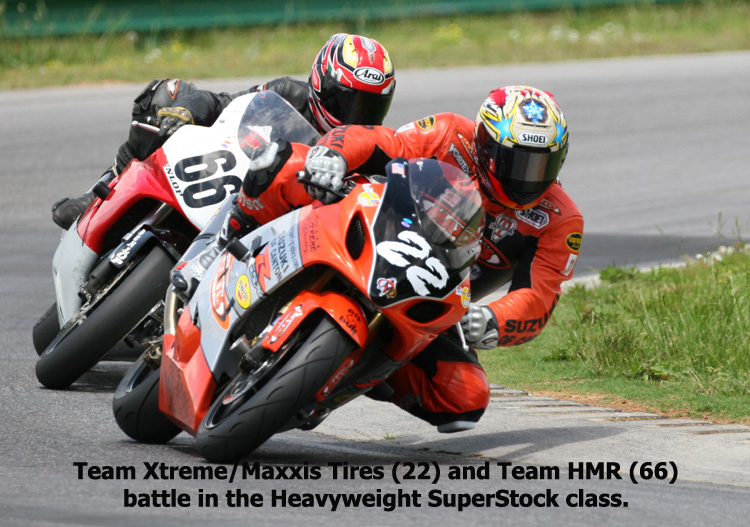 I took the restart, from the back of the third wave. This provided great helmet camera footage as I charged through the traffic, but I had to stop for fuel. With a very good stop, I was out again turning my best laps ever at VIR. Vesrah Suzuki continued to lead, but when they pitted for tires and fuel, Rueben Frankenfield on the Team Velocity Racing Yamaha took the lead and tried to unlap themselves, but Vesrah was in and out in twenty-seven seconds, maintaining the lead.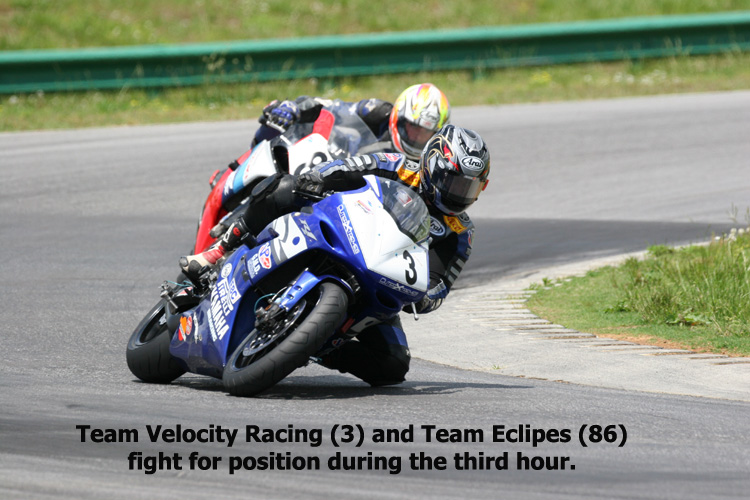 Forty minutes later, another bike was down in turn seventeen and a red flag was thrown. There was only one ambulance at the track and the rider needed transport. After a brief delay the race was restarted and our grid position was improved. We were now in fortieth overall. I got a good start and ran a solid race. Army of Darkness moved up to third overall as Red Star dropped to fourth. Team Eclipse and Dalke Motorsports continued to fight for fifth overall.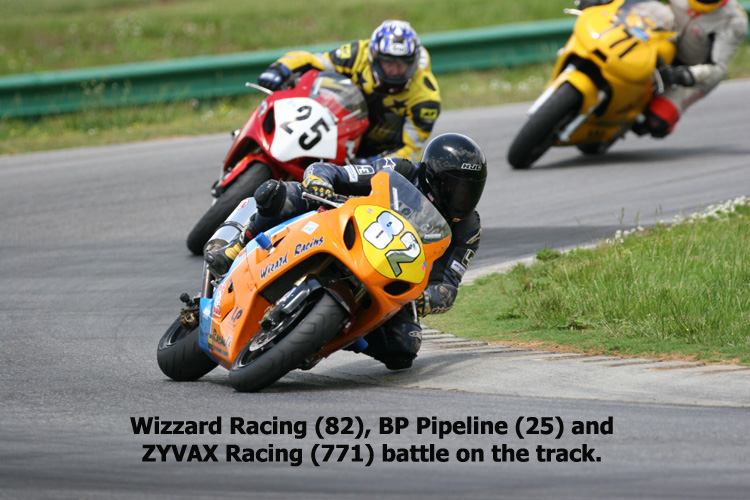 In the Lightweight class, Collegiate Bookstores replaced Blue Ridge Performance in second place. It seems that Gary Schillingís SV developed an oil leak and they had an extended pit stop. Ghetto Customs was flying, running in thirteenth overall. John Jacobi and Tray Batey rode a perfect race, building a three-lap advantage over second place. The Team Chicago electrical problem returned as I came to the end of my stint. We changed batteries, but Joe only ran about ten laps before the bike began to slow down again. With ten minutes left in the race, Joe pulled into the pits. We managed to finish in fortieth overall and we moved up in the point standings, but not a great showing for our team. Maybe we will do better at Willow Springs in the Mojave Desert of California.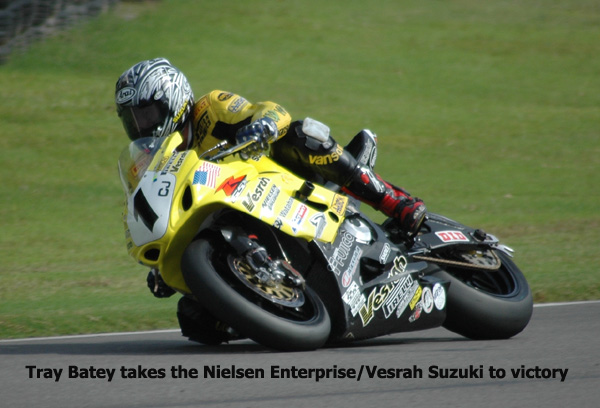 RESULTS: Overall
1. Vesrah Suzuki, Suz 1000, 2. Team Velocity Racing, Yam 1000, 3. Army of Darkness, Suz 600, 4. Red Star, Yam 600, 5. Team Eclipse, Suz 750 6. Dalke Motorsports, Suz 600, 7. Velocity Crew Racing, Suz 600, 8. Racers of the Deals Gap, Hon 600, 9. Four Feathers Racing, Yam 600, 10. Team WFO Racing Yam 600, 11. Bellís ARNCHU Racing, Suz 750, 12. Team Xtreme/ Maxxis Tires, Suz 750, 13. Ghetto Customs, Suz 650, 14. Collegiate Bookstores, Suz 650, 15. Two Brothers-N-Law Racing, Suz 600
RESULTS: By Class
H/S/Bk: 1. Vesrah Suzuki, 2. Racers of Deals Gap, 3. Team WFO Racing
H/S/Stk: 1. Team Velocity Racing, 2 Team Eclipse, 3. Bellís ARNCHU Racing
M/S/Bk: 1. Army of Darkness, 2. Red Star, 3 Velocity Crew Racing
M/S/Stk:1. Dalke Motorsports, 2. Four Feathers Racing, 3. Two Brother-N-Law Racing
L/S/Bk: 1. Ghetto Customs, 2. Collegiate Bookstores, 3. Blue Ridge Performance
Point Standing: Overall (after 3 rounds)
1. Vesrah Suzuki, 318; 2. Red Star, 265; 3. Team Velocity Racing, 252; 4.Team Eclipse, 229; 5. Army of Darkness, 222, 6 Four Feathers Racing, 198; 7. Velocity Crew Racing, 194; 8. Racers of Deals Gap, 192; 9. Dalke Motorsports, 190; 10. Ed Bargy Racing School Endurance, 168:.
PHOTOS by VHS Photography Vicki Sulpy
VHSPhotoraphy.com e-mail: Vsulpy@aol.com 770-356-8094