DUNLOP/WERA National Endurance Round 3
Virginia International Raceway, Danville, VA
May 21, 2004 by Dan Schmitt
Fifty-seven teams took the green flag at 12:30 PM to start the third round of the DUNLOP/WERA National Endurance Series. Tray Batey on the Vesrah Suzuki GSXR-1000 took the early lead with Reuben Frankenfield on the Team Velocity Yamaha R-1 a few clicks back in second. A five-bike battle for third came next with Canton Racing #1, D & D Racing, CherokeeChallenge.com, B & S Roadracing and Army of Darkness.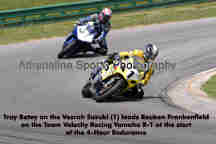 After twelve laps, Steve Karson sent the Team Chicago R-6 off turn 3, bouncing like a piece of corewood, end to end, coming to rest away from the track. Thirty-five minutes later, Mr. Science Racing crashed in the same corner, leaving a fuel spill and this brought out the red flag, ending the action for twenty-two minutes. At this point of the race, Vesrah Suzuki led with Canton Racing #1 in second and Army of Darkness in third.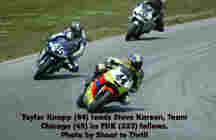 A fierce battle for second overall and first in Middleweight SuperStock developed between the Yamahas of D & D Racing and CherokeeChallenge.com as the halfway flags were shown. Team Velocity ran fourth, one lap up from Canton Racing #1, Army of Darkness and Taylor Knapp/Ray 'C' Racing. Both of the Team Xtreme/Maxxis Tires teams suffered crashes and were out of contention. Bells Suzuki II ran thirteenth, first in Lightweight SuperBike.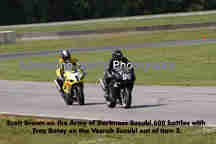 During the third hour, and making one less pit stop, Army of Darkness moved to second overall. Vesrah Suzuki continued on, gaining another lap on this 2.3 mile roadcourse. SV mounted Bells Suzuki II moved into the top ten turning 1:36 lap-times. Blue Ridge/BBC Racing charged to thirteenth, second in class on their 4 & 6 Racing prepared Suzuki SV.
Riding the wheels off their Yamaha R-6 and making one extra pit stop, D & D Racing moved to second overall at the start of the final hour. Army of Darkness was in third. Batey relieved John Jacobi on the Vesrah Suzuki, continued to turn 1:32 lap times and gained another lap on the field, putting the team 4-laps up. Cherokee, Knapp and B & S continued to struggle for second in the Middleweight SuperStock class. Velocity Crew on their Suzuki 600 ran ninth overall and second in the Middleweight SuperBike class.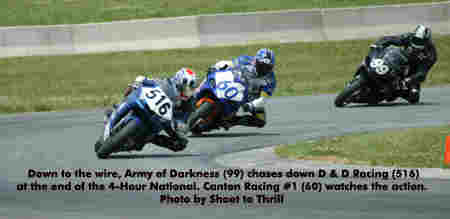 With less than forty minutes to go in the race, Sam Fleming got on the Army of Darkness Suzuki 600. D & D held a thirty-second advantage. On the next lap, Carney Racing ran off the track and as this Kawasaki cut across the grass to re-enter the track, it hit D & D Racing. Although D & D did not go down, this incident cost them thirteen seconds. Now Army was only seventeen seconds behind. Reeling in D & D, at a rate of two seconds a lap, Sam finally got by D & D on the last lap to capture second overall. Team Velocity ran a solid fourth and took the win in the Heavyweight SuperStock class. Blue Ridge finished second in the Lightweight class, two laps behind Bells Suzuki. Army of Darkness continues to lead in the overall points with Vesrah Suzuki nine points back.

RESULTS

:

OVERALL: 1. Vesrah Suzuki, Suz 1000, 2. Army of Darkness, Suz 600, 3. D & D Racing, Yam 600, 4. Team Velocity, Yam 1000, 5. Canton Racing #1, Yam 1000, 6. CherokeeChallenge.com, Yam 600, 7. Taylor Knapp/Ray 'C', Yam 600, 8. B & S Roadracing, Suz 600, 9. Velocity Crew Racing, Suz 600, 10 Bells Suzuki II, Suz 650, 11.Neighbor of the Beast, Yam 600, 12. Canton Racing II, Yam 600, 13. Team Tachyon, Hon 600, 14, Blue Ridge/BBC Racing, Suz 650, 15. Touring Sport Racing, Apr 1000

BY CLASS

:

HSB: 1. Vesrah Suzuki, 2. Canton Racing #1, Touring Sport Racing

HSS: 1. Team Velocity Racing, 2. Team Tachyon, 3. Team HMR, Honda 1000

MSB: 1. Army of Darknes, 2. Velocity Crew Racing, 3. Canton Racing #2

MSS: 1. D & D Racing, 2. CherokeeChallenge.com, 3.Taylor Knapp/Ray 'C'

LSB: 1. Bells Suzuki II, Blue Ridge/BBC Racing, 3. Yeager Racing, Suz 650

Photos by Adrenaline Sports Photography, LLC

www.adrenalinesportsphotography.com