DUNLOP/WERA National Endurance Series Round 1
Jennings G.P., Jennings, Florida
March 27, 2004 by Dan Schmitt
Photos by Adrenaline Sports Photography, LLC
Great weather, sunshine and a perfect racetrack provided the venue for the first race of the DUNLOP/WERA National Endurance Series in Jennings, Florida. Forty-seven teams from sixteen states took the green flag and charged into the first corner of this two-mile roadcourse. Tray Batey led the charge on the Vesrah Suzuki GSXR-1000. Hot on his heels was Bradley Champion on the Team Velocity Racing Yamaha R-1. Ben Walters had the Army of Darkness 600 Suzuki near the front with Taylor Knapp on the Ray 'C Yamaha R-6 closing.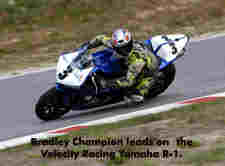 Thirty minutes in and disaster struck as Blue Ridge/BBC Racing's SV lost more oil than it's belly pan could hold. With oil on the track from turn seven through turn eleven, bikes began to go down. One of the victims of this blunder was Vesrah Suzuki. The red flag flew and the teams returned to the 'hot pits'. As the green flag flew again, forty-one teams began their quest again. Champion took the lead and led on the Team Velocity/T Force R-1. Scotty VanSoeik ran second on the Cherokee Challenge R-6 with Team Xtreme/Maxxis Tires Suzuki 1000 in third.
Vesrah Suzuki spent twelve minutes in the pits, replacing the fairing, front brakes, clip-ons, wheels and various other broken parts. They re-entered the race in thirtieth place. As the team began to make their first pit stops, Army of Darkness grabbed the lead. One of the advantages of racing in the SuperBike classes is the permitted use of enlarged gas tanks. Walters had the lead, in spite of his killing the engine with the kill-switch and pulling off the track during the first hour. He figured out his mistake and re-entered race. Phil Caudill lost sixth place on the Team Chicago/4 & 6 Racing R-6 when he unloaded in turn eleven.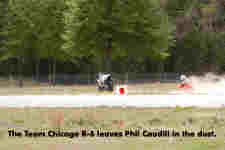 At the halfway point, Roger Bell took his Bell's Suzuki II SV-650 to third overall with steady, fast riding. Army was in the lead as Team Velocity Racing followed one lap down. Taylor Knapp/Ray C's R-6 led the Middleweight SuperStock class, fourth overall. Vesrah Suzuki moved up to twenty-seventh.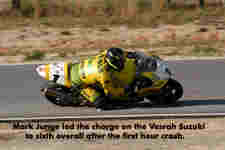 FDK Racing made their charge during the fourth hour, moving to fourth overall. Velocity Crew Racing and B & S Roadracing continued the struggle for fifth overall. Canton Racing II and Bell's Suzuki II held seventh and eighth places with Deals Gap Resort in ninth. Performance Psycle Racing rounded out the top ten.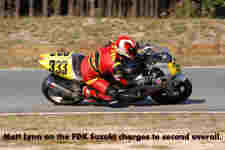 With eighty minutes remaining in the race, FDK got by Taylor Knapp/Ray C's to grab third. Army continued to lead with Team Velocity second. Sam Fleming of Army stated, "Fortunately, Louden Motorsports gave us an additional bike, and with all the mechanical problems we have had over the last two days, this is the bike we are now leading on. Both Ben Walter and Scott Brown have ridden incredibly well, Scott brings age and treachery and Ben bring youth and skill."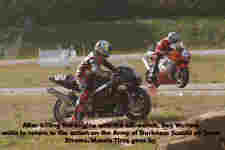 Into the final hour, FDK took second overall, gaining one lap on Team Velocity Racing. Champion said, "We are running SuperStock, with a stock gas tank, so we have to stop every hour and it is hard to make that lost time up. The Velocity Racing R-1 is running really well and we are happy with what we have accomplished so far in the race." Taylor Knapp ran off the track out of turn three and was out of the race. Velocity Crew Racing moved to fourth with Canton Racing II in fifth.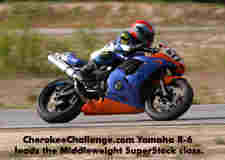 As the checked flag flew at 5:30 PM, Army of Darkness took the overall win and first in Middleweight SuperBike. FDK took second in class and overall. Cherokee Challenge took the Middleweight SuperStock win. VanSoeik said after the race, "We are committed to this series and this is a great way to start the season."
RESULTS:
OVERALL: 1. Army of Darkness, Suz 600, 2. FDK, Suz 600 3. Team Velocity Racing, Yam 1000, 4. Velocity Crew Racing, Suz, 5.. Canton Racing II, Suzuki 600, 6. Vesrah Suzuki, Suz 1000, 7. Bells Suzuki II, Suz 650, 8.CherokeeChallenge.com, Yam 600, 9. Hillbilly Racing, Yam 600, 10. B & S Roadracing, Suz 600.
By Class:
HSB: 1. Vesrah Suzuki, Suz 1000, 2. Canton Racing #1, Suz 1000,
HSS: 1. Team Velocity Racing, Yam 1000, 2. Team Xtreme/Maxxis Tires, Suz 1000, 3. Team HMR, Honda 954
MSB: 1. Army of Darkness, Suz 600, 2. FDK, Suz 600, 3. Velocity Crew Racing, Suz 600.
MSS: 1. CherokeeChallenge.com, Yam 600, 2. Hillbilly Racing, Yam 600, 3. B & S Roadracing, Suz 600.
LSB: 1. Bells Suzuki II, Suz 650, 2 . Rapid Transit, Suz 650, 3. Dixie Mafia, Suz 650.
Photos by Adrenaline Sports Photography, LLC
www.adrenalinesportsphotography.com