DUNLOP/WERA National Endurance Series, Round 10
Barber Motorsports Park, Birmingham, AL
September 24, 2005 by Dan Schmitt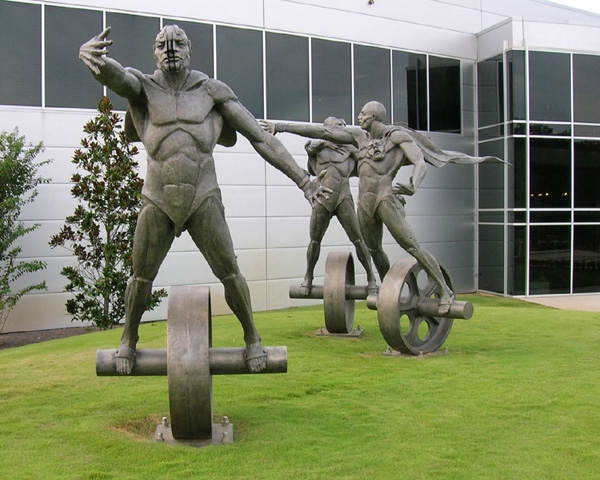 Dan Schmitt's story about the Barber Motorsports Museum as submitted to Walneck's Classic Cycle Trader Magazine
It was a pleasant day for racing in Alabama as forty-seven teams charged off the line to start this four-hour National. Team Velocity led Vesrah Suzuki, reflecting the overall point battle between these two teams. Behind this duo, Red Star led Army of Darkness, This twosome were battling for title in the Middleweight SuperBike Class. Dalke Motorsports, Bellís ARNCHU Racing, 5150 Racing and Team Xtreme/Maxxis followed closely. Chuck Ivey of Velocity charged through the pack on the TVR 2, Yamaha R6 to tenth overall.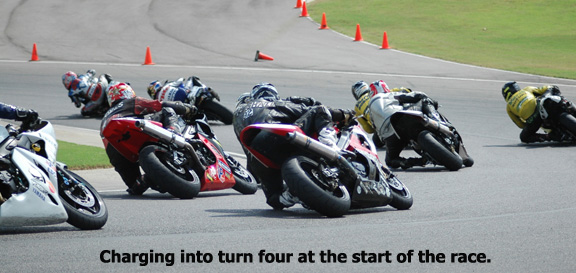 Joe Ball ran a solid first hour with the Team Chicago/4 & 6 Performance Yamaha R6. We had a great pit crew and the pit stop went flawless as I took over for the second ride.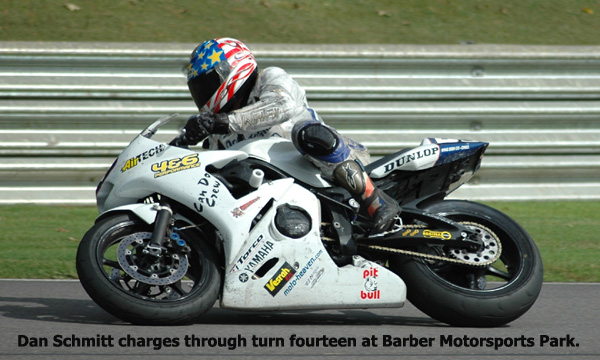 With the help of Robert Jensen, Army flew to second overall, one lap shy of Vesrah during the second hour. Local heroes, Lucky 7 Racing, moved to ninth and the Honda boys, Team HMR, took tenth. TVR 2 took the lead in the Middleweight SuperStock class taking seventh overall, right in front of Dalke in eighth.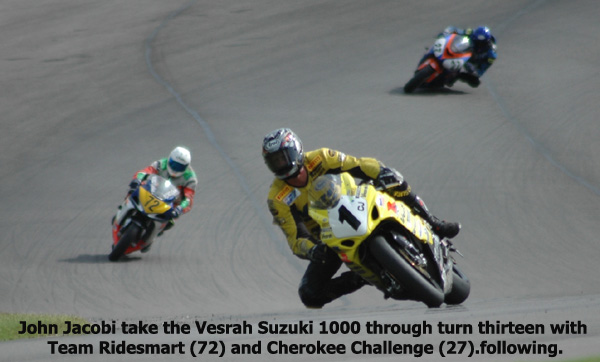 Two hours and fifteen minutes in and the red flag flew as Wikle Racing crashed coming out of the pits, it seems they had no front brakes after their pit stop. D & D Racing and Blue Ridge Performance also crashed during the previous lap. As the three bikes were returned to the pits, the grid was gathered for a restart.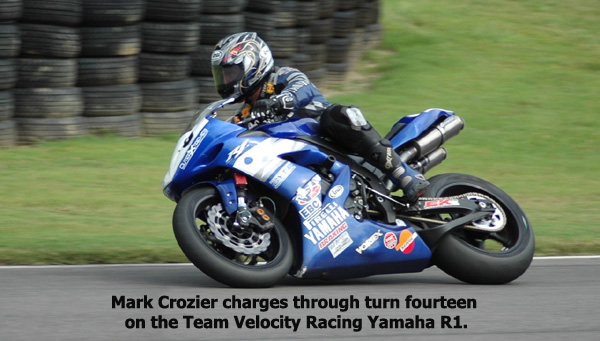 It was a one and one-half hour sprint to the finish, Vesrah led Army and Velocity with Red Star fourth. ARNCHU and 5150 ran fifth and sixth. Notorious P.I.G. dominated the Lightweight SuperBike class with Melissa Berkoff and Chris Eklund riding. They held a three-lap advantage over Ghetto Customs and Deals Gap Racing.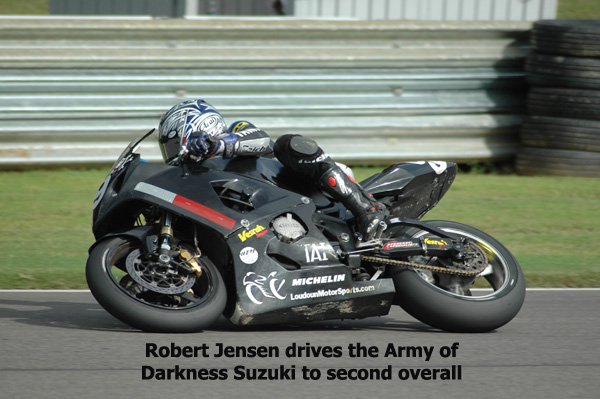 During the last hour, TVR 2 charged to sixth overall, Team HMR held eighth on their 954 Honda and Team Eclipse moved into the top ten with Need A Sponsor in eleventh. With minutes left in the race, Velocity coasted into the pits with a dead engine. The Vesrah crew helped to push them to their pit spot, and then the Velocity began to check for fuel and remove the battery. Just then, Rueben Frankenfield began to check the kill switch, and then the engine fired up. Rueben was back on the track, but this team lost enough time to allow Army to grab second overall.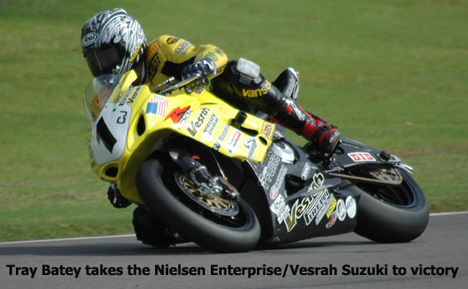 Velocity finished third overall and retained their overall points lead over Vesrah. Army beat Red Star, creating a five-point separation in their class. Additionally, Notorious P.I.G. won the lightweight class and took the point lead. It will be a four-way battle for that class championship. Going into the final at Road Atlanta in three weeks, these three conflicts will be resolved.
We ran a solid race and got some points, but going into Road Atlanta, it seems we are stuck in fourth place in the Middleweight SuperStock class.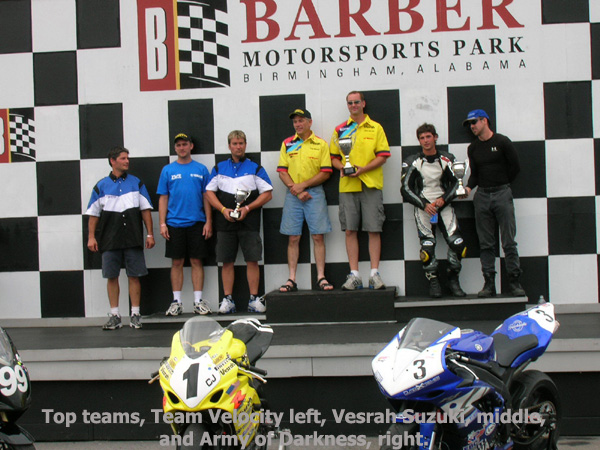 RESULTS:
Overall:
1.Vesrah Suzuki, Suz 1000, 2. Army of Darkness, Suz 600, 3. Team Velocity Racing, Yam 1000, 4. Red Star, Yam 600, 5. Bellís ARNCHU Racing, Suz 750, 6. TVR 2, Yam 600, 7. 5150 Racing, Suz 750, Team HMR, Hon 954, 9. Dalke Motrosports, Suz 600, 10. Team Eclipse, Suz750, 11. Need a Sponsor, Yam 600, 12. Lucky 7 Racing, Suz 600, 13. Velocity Crew Racing, Suz 600, 14. Ed Bargy RS Endurnace, Suz 750, 15. Martinelli-Wizzard Racing, Suz 1000.
By Class:
HWS/Bk: 1. Vesrah Suzuki, 2. Bellís ARNCHU Racing, 3. Team HMR
HWS/Sk: 1. Team Velocity Racing, 2. 5150 Racing, 3. Ridge Racing
MWS/Bk: 1. Army of Darkness, 2. Red Star, 3. Velocity Crew Racing
MWS/Sk: 1. TVR 2, 2. Dalke Motorsports, 3. Need a Sponsor
LWS/Bk: 1. Notorious P.I. G., 2. Ghetto Customs, 3. Deals Gap Racing.
Over Points:
1.Team Velocity Racing, 1032, 2. Vesrah Suzuki, 1019; 3.Red Star, 913; 4. Army of Darkness, 854, 5. Bellís ARNCHU Racing, 773 6. Darke Motorsports, 754, 7. Team Xtreme/Maxxis, 731, 8. Team Eclipse, 669, 9. 5150 Racing, 632, 10. Velocity Crew Racing, 570.
Photos by Pure Sports Design, Jerry Van Horn