THE BARBER VINTAGE MOTORSPORTS MUSEUM
By Dan Schmitt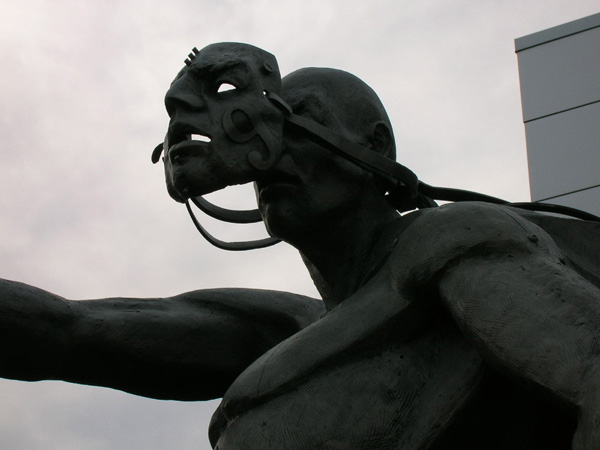 The Barber Motorsports Park was built to be the center of the universe for motorcyclists. Gamblers have Las Vegas, families have Disney World, auto-racing fans have Indianapolis Motor Speedway and now motorcyclists have Barber Motorsports Park. Three years in planning and construction, this museum and the 2.3-mile roadcourse are located just east of Birmingham, Alabama.
Along with the Barber Vintage Motorsports Museum, the park has a roadcourse that was designed for motorcycle racing. This track provides fast corners with challenging straights. Built as a natural amphitheater, this facility provides great viewing for the tens of thousands of motorcycle racing fans that have attended national championship races over the last three years.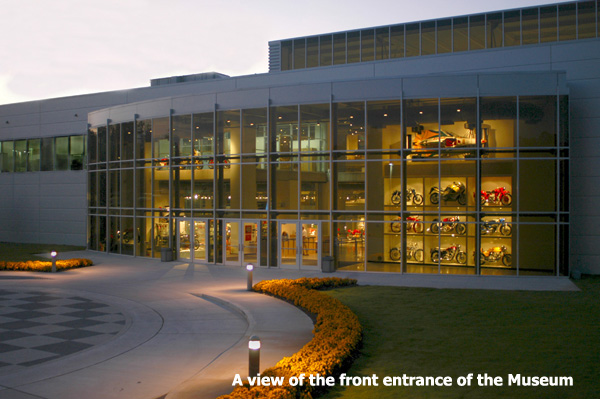 To understand the Barber Museum, you first have to understand the man that built this beautiful building and Barber Motorsports Park. As a younger man, George Barber rode motorcycles in college. He raced Porsches in the sixties, at one point racing the 24 hours of Daytona with co-driver Peter Gregg. He then went on to build his family business, Barber Dairies, into one of the largest dairies in the South. In 1988 Barber started collecting and restoring classic cars. Soon after, at the suggestion of close friend and restoration shop supervisor Dave Hooper, he decided to buy a motorcycle as an investment. One motorcycle led to another then another one, etc (you get the picture!). Between '88 and 2000, he acquired over 800 motorcycles; the oldest being a 1901 Steffey.
In 1994 Barber established a 501c3 not for profit foundation to maintain the collection. On March 14,1995 the Barber Vintage Motorsports Museum opened at the old dairy truck warehouse that housed the motorcycle collection. This museum was located just south of downtown Birmingham. It became a collection of hundreds of special motorcycles mounted in plastic cubes and stacked floor to ceiling. This presented a good way to see these motorcycles, but not a very personal way for the motorcycle aficionados to appreciate these bikes. One example of the old layout; along one wall was a display of every Yamaha roadracer built in the sixties and seventies. Starting with the TD1 with the clutch mounted on the crankshaft, TD2's and TD3's. Next to these came the TZ 250 A's, B's, etc. Hundreds of motorcycles, but you could only look.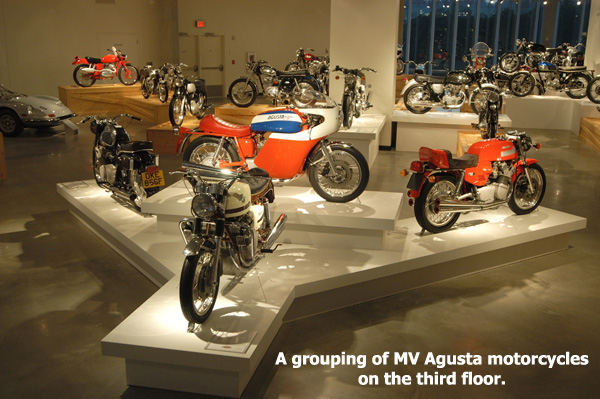 Fast forward to today. The new museum puts these gems right out there, where you can walk around them, smell them, and see the magnificent engineering of these motorcycles. The philosophy on collecting motorcycles from a museum standpoint is this: it is more desirable to have the bikes as they looked in their time. Every bike is evaluated on its own merit, if it has 70% of the original paint and it has not be badgered, it will be left as is, it will be cleaned up and any missing parts will be installed. Museum director, Jeff Ray states, "From the museum standpoint you have to do an authentic representation, so a lot of times we have to go back and do a complete restoration. In America, many of the bikes over the years have been personalized. And after a while, this owner will begin to add any part to keep it running, so many of the bikes have parts that can be screwed on or taped on that never came on the bike originally."
George Barber designed the museum building and all of the other buildings in the park, with the Birmingham architectural firm KPS putting it to paper. These buildings are the product of Barber's imagination. All of the buildings have a common theme. Whereas the museum has a large elevator in the middle with a circular walking ramp around it, the Race Control building at the racetrack has an outdoor elevator with a spiral staircase surrounding it. Even the flagging tower has a matching spiral staircase leading to the upper level.
Upon entering the museum, it becomes apparent the size and openness of the building. It is 144,000 square feet. As you walk in, the gift shop is on your left and the Easy Rider chopper is right above you, pretty impressive. The circular ramp leads to five different levels. There are between 500 and 600 bikes on display at any time.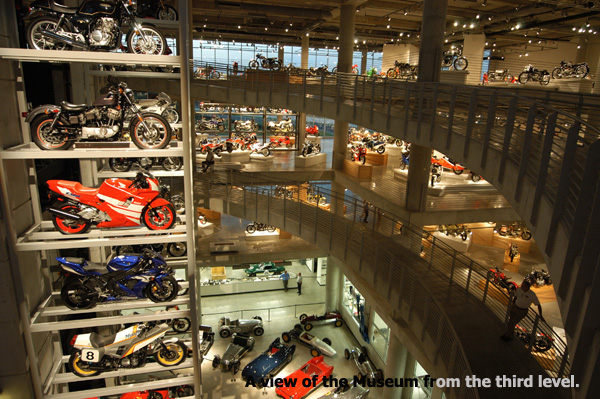 The top level contains motorcycles that represent Barber's interpretation of the 'Art of the Motorcycle' exhibit. In fact, many of the motorcycles that were in that exhibit were borrowed from the Barber Museum. This broad selection of motorcycles embodies the evolution of motorcycling worldwide.
Some of the European bikes include a MV 125 two-stoke, BMW's, a bike manufactured by Maserati, a Ducati Super Mono, a Cagiva Mito, a Moto Guzzi 500 'salami slicer' single with exposed valve springs, a Paton Roadracer, a Benelli four-cylinder street bike, a Benelli 900, a three-cylinder MV roadracer and a Morbidelli V-8.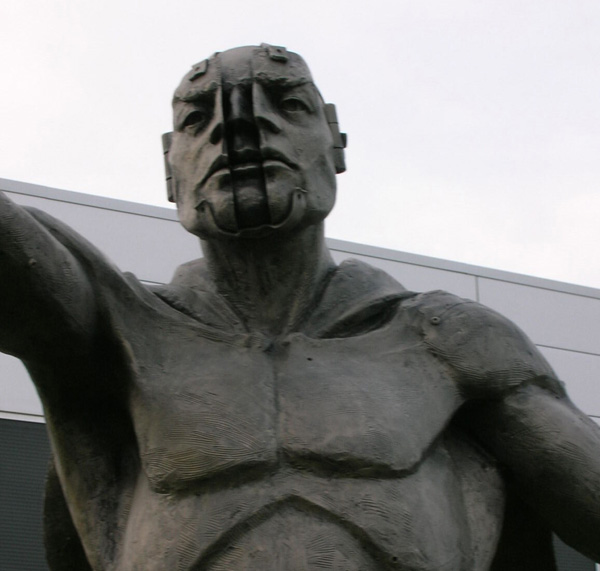 American made motorcycles include an early Harley Davidson two-stroke, a military Harley with a sidecar, a Cushman Eagle, an Indian Scout, XR-750 Harley dirt-tracker, a '50's Sportster and Roger Rieman's KR 750 Harley Davidson that won the 1961 Daytona race.
There is a good number of Japanese bikes such as a Kawasaki 900, a Suzuki Titan, a Honda Scrambler, a Kawasaki 650, a Honda Super Hawk, a Suzuki V-Storm, a Honda NR750 and a three-cylinder Kawasaki roadracer.
There is a good collection of British motorcycles that dominated manufacturing from the late forties through the late sixties. This includes Triumphs, a Nor-Vin (a Vincent engine in a Norton Featherbed frame), a Norton Formula 1 Rotary, a Matchless roadracer, a Triumph Trophy, and both Triumph and BSA triples.
Again, at the end of this level at the far left side, just like at the 'Art of the Motorcycle' exhibit sits one of the few Britten roadracers and a brand new MV Agusta 750.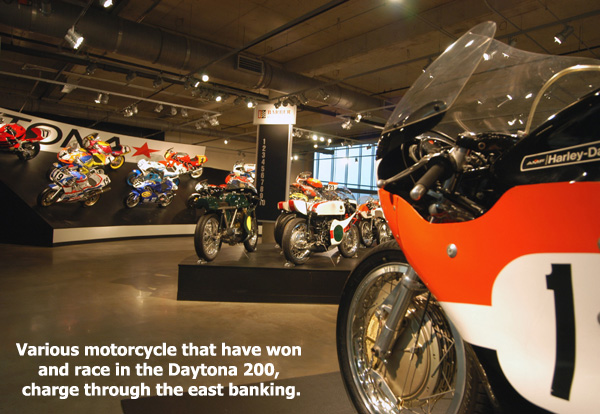 From this upper level, you can look down on the Daytona exhibit. This display represents the back straight leading into the east banking. This exhibit contains a good number of motorcycles that have raced at and have won the Daytona 200 over the years. Some of the bikes in this display include the Vance and Hines Yamaha 0W01 750, a number of Yamaha TZ750's, a Yoshimura Suzuki and a selection of Honda fours. Other bikes in this display include Matchless 500 singles, Jamie James' YZF 600 Yamaha, a great number of Yamaha TZ250's, TZ350's and early TD1-TD3's.
On the fourth level and to the left, a replica of Harley Davidson's first manufacturing building sits in the middle. Along the back wall is a board track built with two by fours laid side-to-side, fifteen feet high. Mounted on the board track are two Indian twins and a Harley with four valves per cylinder. Next to the track there are a dozen more including single-cylinder Harleys, Indians, Crocker, etc.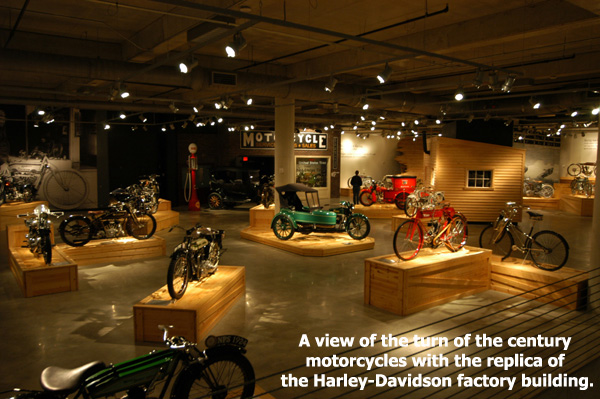 Some of the other early era bikes in this area include a Shaw, a single cylinder Erie, a 1912 three wheeled Wall, a Ford Model T, a well restored 1905 Indian, a couple of Hendersons, an inline Indian Four, a Reading Standard, a Marsh, a nice Triumph with a Ricardo head, a Royal Enfield two-stroke with twin exhaust, a Douglas oppose twin and a Militor Inline 4 with side car. There are many more, too many to remember…a group of Indians not restored, a Yale with sidecar, Harley Peashooter, etc.
On one of the lower levels, there is a large group of military bikes including a non-restored Harley, a grey Harley in the U.S. Navy colors, a Rotax (built by Harley Davidson), a German BMW R75 with a sidecar, a Zundupp with sidecar, a British BSA single, a military Swiss Condor Ducati, a Indian built V-Twin and other World War II Indians and Harleys. This may be the largest collection of military motorcycles in one place.
On another level, there are more bikes including an Indian Four, a couple of Nortons, a good number of American motorcycles, a Dunstall Triumph, a Triumph TR-6 and a bunch of good, clean Triumph Bonnevilles. Some of the modern bikes include a Suzuki Hyabusa, a good selection of Honda and Kawasaki turbos, a Benelli Six, an Aprilia, a 650 Laverda, a R-7 Yamaha, a nice Ducati, a Honda NR750, a Norton Classic (rotary), a British Silver Jubilee Triumph, an Indian Enfield 750, a bunch of Triumph 3-cylinders and there is another MV back there.
Compared to the old museum, these bikes are "on" display. You are able to walk around the motorcycle and look closely at what details you find of interest. From one point you look around and there is a Slippery Sam Replica, a Vetter's Mystery Ship RC turbo, some small Japanese street bikes not sold in USA, a bunch of Buells, the new Honda Rune, a complete collection of Cushmans and Vespas, a Jeff Gordon "Driver of the Year" Indian, a MotoGuzzi 250 single, a Jawa with side car and a nice group of MV Agusta race and street bikes. There are a few drag bikes including the championship Star Racing/ Wax Shop dragster ridden by the late John Myers, a Birmingham native.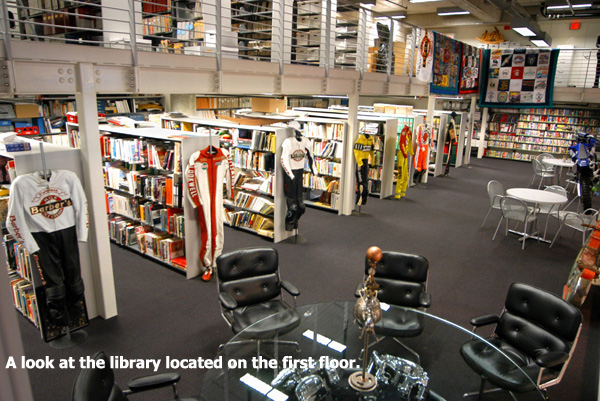 On the main level, there is the gift shop and library. This library contains more that five thousand motorcycle related books, magazines, factory manuals and videotapes. It began as a research tool to aid in the restoration of motorcycles and has grown over the years. In the far left corner of the first floor is a sixty-seat theater. It should be pointed out that the top level, the lower level, the patio and the theater are available for rent for special occasions.
On the lower level, and not accessible by the walkway, you find the work areas. This whole ground floor is dedicated to the restoration and maintenance of the collection. There is a machine shop, body shop, frame shop and race shop. Polishing and plating are done in house as well. The lower level has many windows so you will be able to view the work in progress. It is a living museum. In the center of the lower level there are a few green and yellow Lotus sports and racing cars.
The Barber Museum racing team has been reactivated and works out of this shop. They maintain their vintage racing motorcycles and plan to race them at select AHRMA National Road races. Rather that sitting around, these motorcycles get to 'stretch their legs'. The riders on this team have won a number of National Championships over the years.
To fully enjoy this museum and the park, it is advised to attend one of the four National Championship motorcycle races held annually. The AMA brings the National Championship Super Bike show in the spring, Formula USA comes in the middle of summer, WERA runs their National Championship Endurance and National Challenge races at the end of summer and AHRMA ends their National Championship Vintage Roadracing Series in the middle of the fall.
The AHRMA National may be the best event for the true motorcycle aficionados. Hundreds of vintage motorcycles, like some in the museum, will be racing around this beautiful roadcourse. The sights, the sounds, the smells and the action will surely add a thrill to the adventure. A trip to the pits will bring back memories from the past. The smell of Castrol R mixed with that of hot Avon tires, the thunder from the British singles mixed with the scream from the Honda fours, spinning primary chains and spoke wheels, this is vintage racing and you are invited to experience it.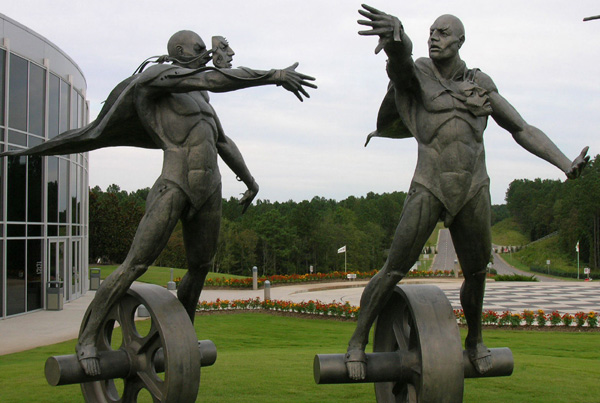 Barber Vintage Motorsports Museum probably has the largest collection of race bikes in the world. At its current count of 970 motorcycles this may also be the largest collection of motorcycles in the world available to the general public. This is definitely a great location to plan your next ride. It is very easy to get to. It is approximately 16 miles east of I-65 in Birmingham on I-20. It is less than one mile off I-20 at the Bankhead Highway/U.S. 78 (exit 140). Just follow the signs.
For more information call: 205/699-7275 or write: Barber Vintage Motorsports Museum, 6030 Barber Motorsports Parkway, Leeds, Alabama 35094, www.barbermuseum.org.
Photos for use of WALNECK'S ONLY by Darrell McCalla
Copyright 2004-2005
Barber Vintage Motorsports Museum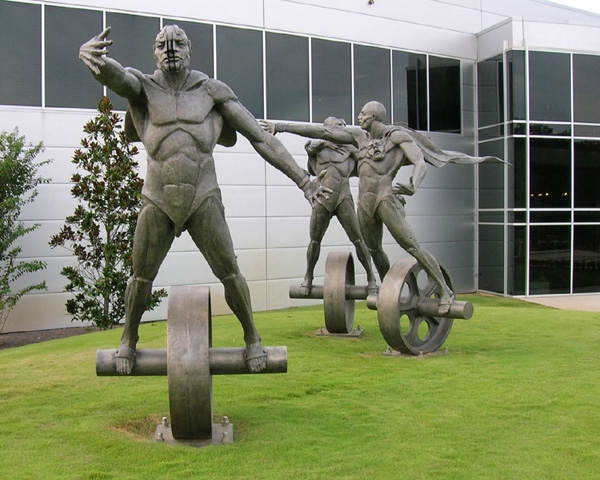 three gods photos by Dan Schmitt