WORLD OF MOTORCYCLES MOTORCYCLE MUSEUM
By Dan Schmitt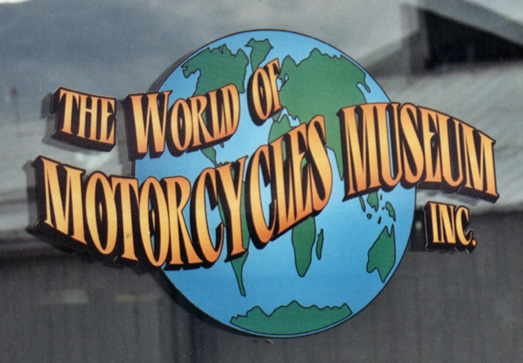 "The greatest little motorcycle shop in the middle of nowhere". This may describe Kersting's Harley-Davidson store, but built right in the middle of everything is a large fantastic motorcycle museum, 'The World of Motorcycles'. Ten years ago, the museum was located on the second floor of the bike shop with a few bikes hung above the entrance. As the buildings began to expand five years ago, the museum occupied the far end building, but that was still not large enough to hold the bikes, so last year a brand new building was constructed smack dab in the middle of everything. With over 100 motorcycles, it contains most of the Kersting collection, but there are and always will be more to add.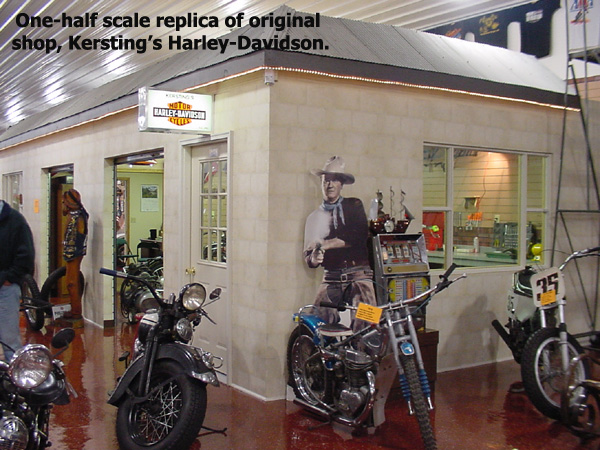 Jim Kersting got into motorcycles over the summer of 6th grade. He got a frame out of a junkyard, either a Cushman or a Simplex, and took the washing machine motor off his mother's Maytag. There were only 4 bolts that held the motor down and a drive belt to go up to the mechanism that turned the agitator. He installed a step-starter pedal and you would think it was a hit and miss motor because of the sound it made. A few years ago, his son built a replica of the original, fifty years later, and it still works fine. People who see it now still remember it from when Jim was in grade school.
Jim bought an Indian Sports Scout in 1954 and a Chief in 1955. He then bought a Harley in 1956. After a couple of years in the army, he got a Harley-Davidson franchise in 1962. John Davidson himself signed the paperwork. Jim was now in business.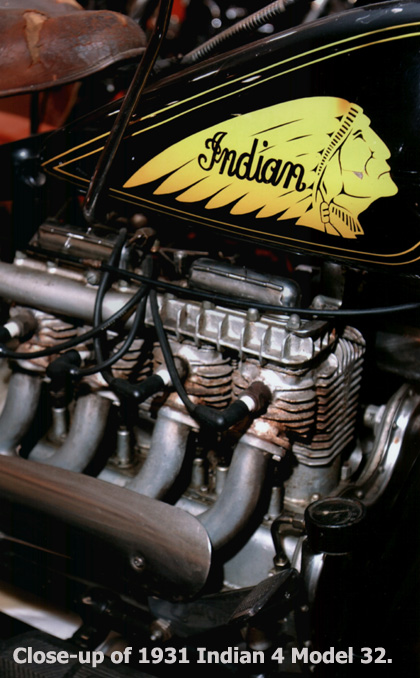 Later, he took on Gilera but they only had 125's. It was a good bike. He ran the Alligator Enduro one year on a Gilera and got 4th place in the 125 class. He had been hearing about Kawasaki and it was new to the U.S., so he researched it and they had a nice variety of bikes, something that people could buy inexpensively and work their way up to a Sportster or a big twin. They could ride a motorcycle and it wouldn't cost them very much. So he took on the Kawasaki line in 1966. Back then, the Kawasaki distributor for the first several years ways Dave Mehney from Grand Rapids, It was a 5-state area distributorship, and he did a tremendous job and a tremendous justice to Kawasaki. After a local Yamaha Dealer had a fire and decided to quit, Jim took on that brand also.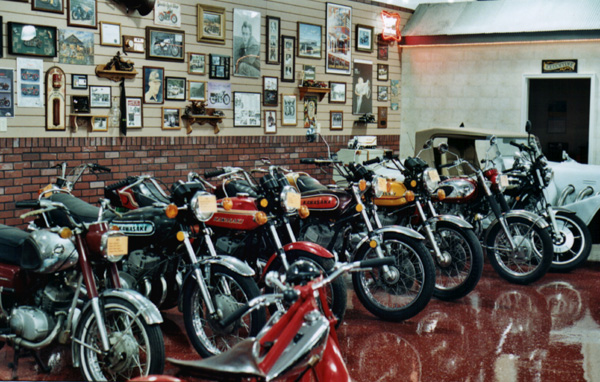 He started collecting motorcycles in 1967 when he was at a farm auction. There was a 1931 Indian 4-cylinder and he outbid all the Indian collectors. It was in pretty good shape and didn't really need anything except an exhaust pipe. He had to make one because he couldn't find one. Jim explains, "Years later, I found out it was actually a Model 32 that was built in 31. It was built after August so it was the next year's model, but back then the title said 'year built' or 'year manufactured'. There is quite a difference between the 31 and the 32. The 32 had much nicer looking fenders, gas tank and enclosed frame tubes running from the headstock down to where the seat mounts." He always liked this Indian 4 and rides it in numerous parades, etc. It still runs good and never needed any engine work. It was only repainted one time.
His next collectable came when a couple of young guys traded in a 1926 BA, which is a Harley 26 cubic inch single cylinder bike. It is a neat old motorcycle. He got it running, it didn't need much more than a condenser. One time he took it down the main street of town about 10:00 PM. His wife's twin brother was the town's marshal. Jim really got chewed out over that stunt by his brother-in-law because this Harley had no exhaust and hardly any lights. Some people turned him in, but he wasn't arrested for riding that old motorcycle.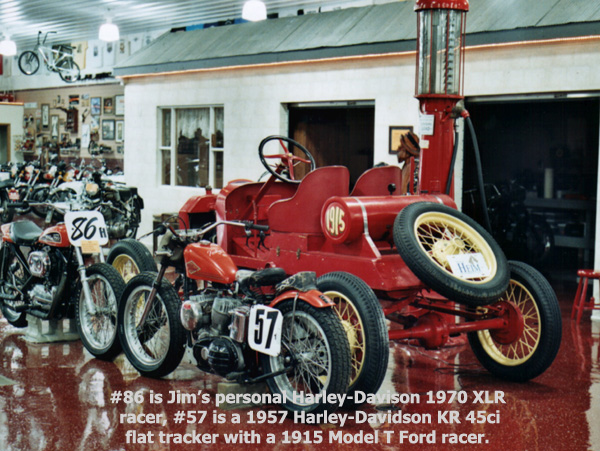 Jim started racing before he was a dealer. He had a Harley knucklehead and made a scrambler out of it, and raced it on the scrambles tracks and did quite well. Jim states, "I remember racing against John Goodpaster on his BSA. He was the only guy who could beat me on the track in Michigan City. I tried hill-climbing, but you sat around too much, so I stuck to hare scrambles, enduros, TT's, etc." In the Pro class, he rode a Harley Sprint on the short-tracks and a Sportster on the TT's. When Kawasaki came out with the 650 twin, he raced that also.
Then he got interested in road racing because it is so clean and easy. Jim added, "You could just go fast and turn either direction, scrape the footpegs and see if you can't get your elbow down to the pavement." That became his passion, road racing in the early 1960s. In 1969, he took his twin cylinder 250 Kawasaki A1R and changed it to a A7R by adding the 350cc cylinders. At Daytona that year in the 100-mile Junior Race, Jim finished fifth in a field of eighty competitors. He beat the Harleys, Triumphs, BSA's, Yamahas and Nortons of that era. He still remembers passing Bart Markel.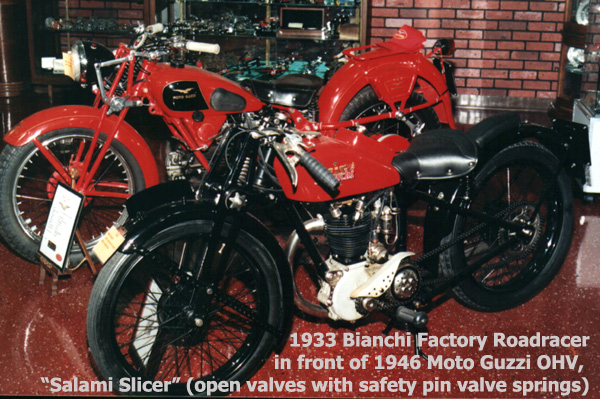 This qualified him one of the only forty H1R built in 1969 for the March 1970 Daytona race. This 3-cylinder 500cc racer was very fast. He qualified at 156 MPH, 3rd in class for the Junior 100, and he sat in the center of the front row. His drastic mistake was not putting new plugs in, he chose to use the plugs that were in the motorcycle for the race and fouled the center plug on the line. So he couldn't keep up and had to pull in and change the fouled plug. They had a mandatory gas stop back then, and when he rejoined the race, he was with a few riders he knew. He thought he'd show those guys how to ride. He bent down underneath them and then turned up the wick and the front wheel came off the ground on top of the banking, he was sliding in every direction.
He quit racing AMA professionally a few years later, about 1972. Jim said, " I still have my H1R and A1R road racers because they were not too salable. I'm happy they weren't salable because they are such dandy collector motorcycles. They aren't even in the museum yet, but they are part of the collection that's still in the main store."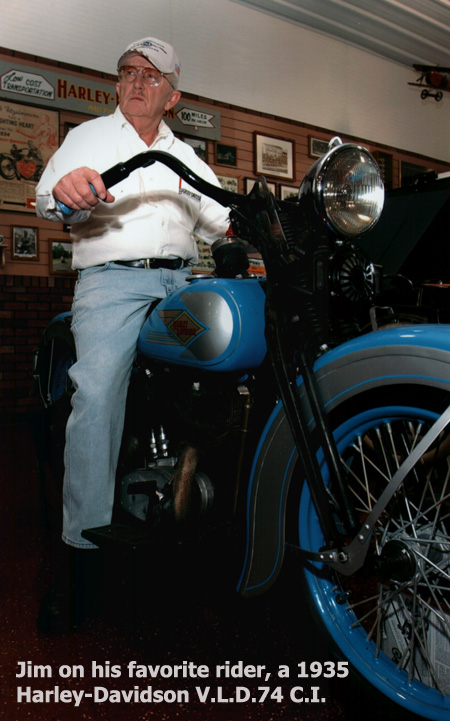 He currently runs vintage bikes at Davenport. It gave him an opportunity to run his Harley Sprint again. He got it going again after all those years in the rafters. "It ran really good again, and I got 2nd place in 1994, 30 years after running the same bike at Santa Fe Speedway in Chicago" Jim stated.
A few years ago, he had an opportunity to buy a 1914 Harley, and he raced it in the Board Track Class, no brakes and no clutch. This '14 model has a two-speed in the rear hub. He did ok, got fourth one year and had trouble with the rear hub gearbox the next year. Over the years he says he has a great time racing a Davenport because his son races with him. It's a great time for the family.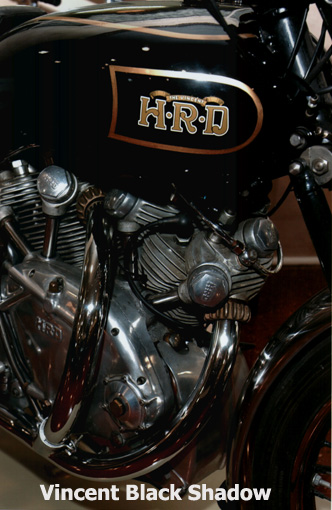 Located in the center of the new 'World of Motorcycles Museum' is a one-half scale replica of his first shop. This first shop was built to be a repair shop. It was called Kersting's Welding and Repair Shop in 1961. In this old shop, the living quarters were about 30' x 28', and the workshop was 40' x 28' which gave him two nice big overhead doors and a little room to have a little showroom for about 4-5 motorcycles. He continued to work on tractors and cars for probably a year or two, and then he got so busy fixing and selling bikes that repair of cars and tractors was dropped. He was having fun, and it just became a way of life.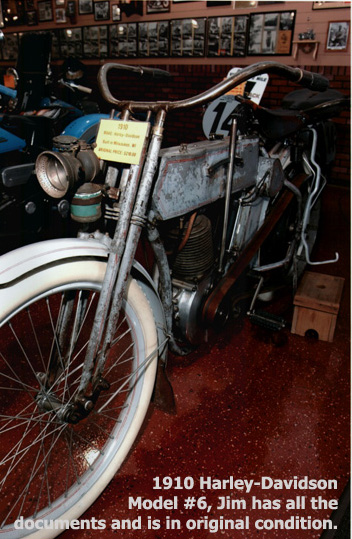 The original old building is still encased within the new building and now has about 27,000 square feet, plus there is 10,000 square feet of museum. The first museum was on the second floor, which was created by connecting two buildings together, and some of the bikes are sitting on the rafters of the other buildings. He is going to keep it open for awhile because people would miss seeing those neat old bikes up there if he moved them out.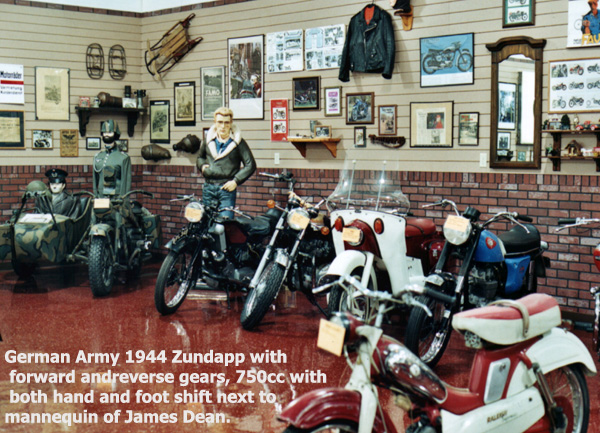 There are 110 bikes on the floor of the museum right now, and he has about 40-50 more in storage. He actually needs to clean up some more of the machines right now, and perhaps even sell a few to buy something different. He has duplicates of a few like his XLCR. He has two of them, but the problem is which one to sell because they are both really nice. He also has a couple of 1965 Panheads, the first year for the electric starter. He will perhaps sell a few to get funds to buy some more.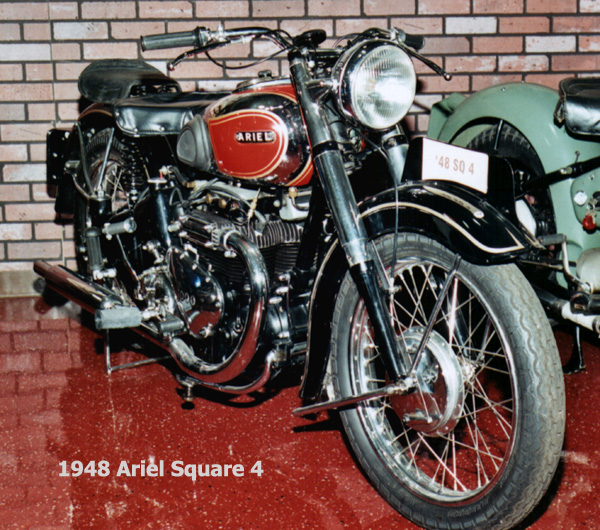 This museum has all brands from many different countries. The complete collection of 3-cylinder Kawasaki's are grouped together. The European bikes are in the back section. There are two rows of American made bikes. Which one's are Jim's favorite? He is very partial to the 1910 Harley-Davidson. When asked if he is ever going to restore it, Jim says, "It took ninety-four years for that paint to look like that, you could never duplicate that paint. The engine has never been apart and it runs perfectly." He says he loves to ride his Moto Guzzi 500cc 'salami slicer'. It runs as perfect as when it was new.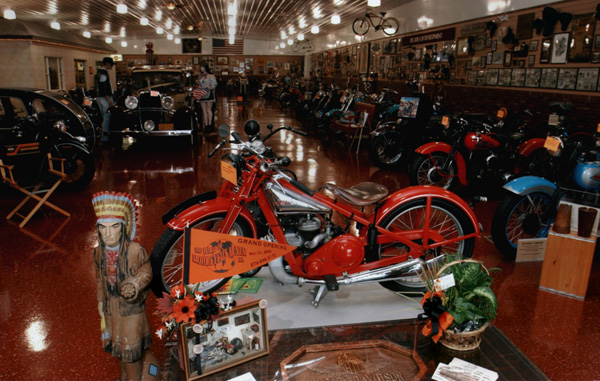 The 'World of Motorcycles Museum' is a 501C-3 educational foundation, educating people on the life and times of motorcycling and the men and women who rode them. It is owned by the Kersting family. Jim has donated a few motorcycles each year and plans to do so continually. School kids come out and tour the museum. The Boy Scouts have also come out and toured, and he talks to them about the motorcycles. Donations can be made to the museum and there are some tax benefits depending on the donor's tax level.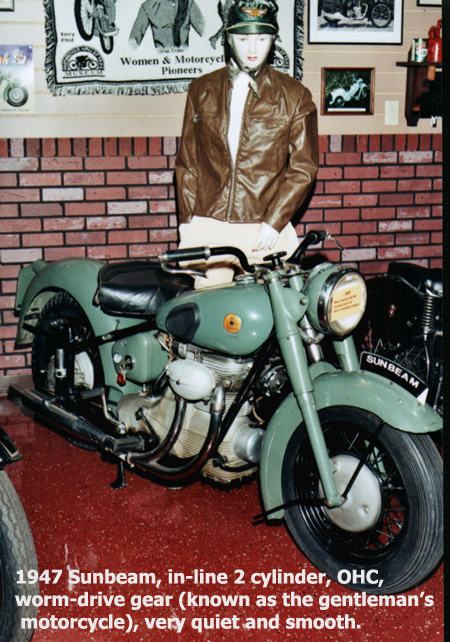 As far as volunteering to work at the museum, some of his customers are retired and looking for something to do, and they volunteer to sit in so Jim can go riding for a day or two. The museum hours are Tuesday through Saturday, 9:00 AM – 6:00 PM, but closing at 4:00 PM on Saturday. On Sundays, if there is a good-sized group that would like to come in and tour, they can call the museum at 574-896-3172 to make arrangements to have it open. If a club wants to organize a ride, parking can be arranged and the museum can be open as a destination. The tour takes an hour or two. There is no admission charge, but donations are appreciated. May 31, 2003 was the official grand opening of the new museum.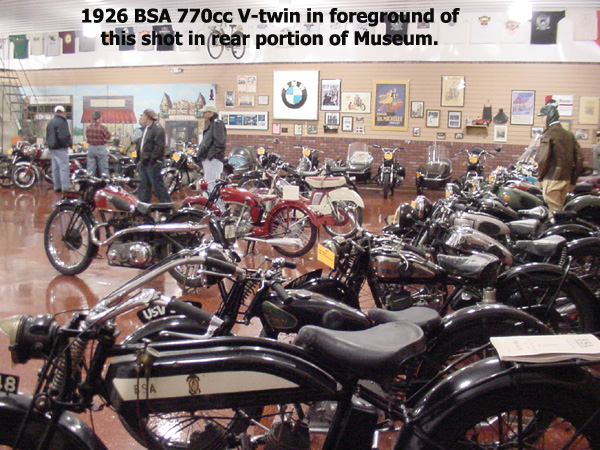 Each year in June, an antique swap meet is held on the 40-acre field where the Museum, Harley, Kawasaki and Yamaha stores are located. The Museum and stores are located 4 miles south of North Judson, Indiana on Indiana State Highway 39.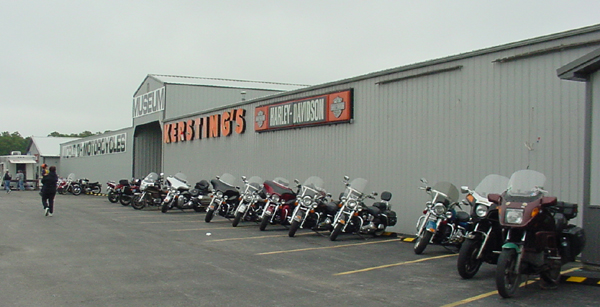 PHOTOS from Kersting's Files and Dan Schmitt